Dragons Temple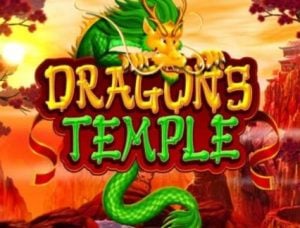 If you're looking for an online slot game that's both exciting and easy to play, Dragon's Temple is definitely worth checking out. With 50 paylines and a cool Chinese-inspired theme, you'll enjoy every spin of the reels.
And let's talk about those graphics! They're stunning, from the intricate dragon animations to the golden coins that gleam just like the real thing. Play Dragon's Temple, and you'll feel like you've been transported to another world entirely.
But it's not all about looks. Dragon's Temple really delivers when it comes to gameplay too. With the chance to land a full and expanding reel or up to three free spin options when you hit a scatter, you'll be on the edge of your seat every time you spin the reels.
So what are you waiting for? Give Dragon's Temple a try today. Who knows? You just might win big – and have a blast doing it!
Symbols and Payouts in Dragon's Temple
If you're looking for a slot with a Far Eastern flair, Dragon's Temple is the game for you! The game's visuals are quite stunning, with intricate details that will instantly transport you to China. The symbols include dragons, koi carp, lanterns, and more, but if you're just a casual gambler, don't worry – you don't need to be an expert in Chinese mythology to appreciate the game.
The lower-paying symbols of the game are the typical playing card symbols that are seen in most slot games, but the higher-paying symbols are where the real money can be found. These symbols include the various Chinese elements, with each one having its own individual payout. However, if you really want to strike gold, keep an eye out for the Dragon's Temple logo and the colorful dragons – these symbols pay out quite well, with matching symbols giving huge payouts that can really make your day (or year).
Whoever said that learning about Chinese mythology couldn't be profitable was definitely wrong. Take a chance on Dragon's Temple, and you may just find that this game is your new good-luck charm! However, we caution you to not get so caught up in the excitement that you start trying to breathe fire like a real dragon– at least not without proper training.
The Two Main Features of Dragon's Temple
If you are seeking a slot game that breathes fire and full of adventure, look no further than Dragon's Temple – a game that comes with two scorching features that will intensify your gaming experience. This game is brimming with high-quality graphics and breathtaking animations that scream the Chinese culture, and when coupled with the sound effects, it feels like you are on set for an epic martial arts film.
The first of the two main features of Dragon's Temple, involves the dragon symbols, which are Wild symbols, and let's face it; we all love dragons. It's hard not to, with TV hits such as Game of Thrones. When a dragon lands as part of a winning combination, it expands, covering the entirety of the reel. Who knew dragons were so generous?
The second feature concerns the Yin Yang symbol, which is also the Scatter in the game. The Yin Yang has been used in Chinese philosophy for centuries, but more importantly, finding three is the key to unlocking the free spin bonus feature. Players are given three options to choose from, which is pretty great. The different options offer varying numbers of free spins, and you get to select how many. Not too shabby for a mythical symbol!
Experience the Authentic Chinese Culture in Dragon's Temple
Get ready to be immersed in the rich culture of China with Dragon's Temple, a slot game that pays homage to the country's traditions. The stunning graphics and traditional Chinese instrumental music are sure to transport you to ancient Asia. The most outstanding part is the use of Chinese hanzi characters on the reels, making you feel that you are in China.
As you place your bets, you will hear the sound of stringed instruments, flutes, and drums in the background, leading to a harmonious experience. Each time you activate a win or a bonus feature, the sounds intensify, creating an immersive atmosphere that reflects the beauty of the land of the dragon.
The symbols in the game reflect Chinese culture in an impressive way. You may come across gold and jade artifacts, fans, and pagodas. But the real highlight is the dragon. As the most iconic creature in Chinese mythology, the dragon represents power and luck in Chinese culture. So, the dragon in this game is the most valuable symbol, and whenever it shows up, be ready to win big!
This slot game not only has a pleasing Chinese theme but also offers a fantastic gaming experience. The game has five reels and fifty pay lines, giving players many ways to win. There are bonus features like expanding wilds, free spins and the red envelopes bonus. The expanding wilds can cover entire reels, giving you the chance to win significant payouts. Free spins are triggered by landing three or more of the yin-yang symbols somewhere on the reels. Lastly, the Red Envelope bonus is triggered when three red envelopes appear, and you get to pick one to reveal a cash prize.
Overall, Dragon's Temple is a great journey to Chinese culture for every online slot game player. You can appreciate the traditional instrumental music and learn about Chinese mythology while having fun and winning some great payouts. If you are lucky and embrace the energy of the dragon, you could hit a massive jackpot and have good fortune for years to come!
Looking for More Dragon-Themed Slot Games? Check These Out!
If you're a fan of Dragon's Temple and looking for more dragon-themed slot games, look no further! One great option is Triple Dragons by Pragmatic Play. Not only does this game offer captivating graphics, but it also has an impressive RTP of 96.51%. Winning big has never been so dragon-licious!
For those who enjoy a little more magical flair with their dragons, why not give Dragon Spin by Bally a try? This game has five different dragon-themed bonus features that are sure to keep you on the edge of your seat. Plus, with its multiple jackpots, there's always a chance to hit it big.
Feeling brave? Then hop on over to A Dragon's Story by NextGen Gaming, where you can help Ruff the dragon protect his treasure from the sneaky Sir William. With its fun animations and unique features, this game is sure to keep you entertained for hours.
FAQ
How many paylines does Dragon's Temple have?
Dragon's Temple has 50 paylines.
What is the theme of Dragon's Temple?
Dragon's Temple has a distinct Chinese theme.
What symbols can players expect to see in Dragon's Temple?
Players can expect to see Chinese symbols such as dragons, koi carp, and the yin and yang symbol.
What features does Dragon's Temple offer?
Dragon's Temple offers expanding Wilds and up to three free spin options triggered by the Scatter symbol.
Does Dragon's Temple have good graphics?
Yes, Dragon's Temple has excellent graphics that pay homage to Chinese culture.
What is the maximum payout in Dragon's Temple?
The maximum payout in Dragon's Temple depends on the symbol, with the highest being 3,000,000,000 coins for x5 of the Dragon's Temple logo.
What is the first of the significant paying symbols in Dragon's Temple?
The blue ornamental vase is the first of the significant paying symbols in Dragon's Temple.
Are there similar slot machines to Dragon's Temple?
Yes, Triple Dragons by Pragmatic Play is a similar slot machine that also has a Chinese theme.
What we like
Simple setup with excellent graphics
Chinese theme with authentic graphics and sounds
Dragon symbols expand to cover the entire reel
Free spin bonus allows players to choose from three options
What we don't like