Dragons of the North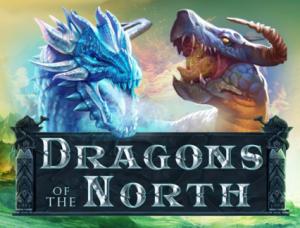 Get ready for a fiery adventure with Dragons of the North, an online slot game developed by PariPlay. You'll be transported to a mystical world of dragons, where you will find 5 reels and 50 paylines awaiting you. Don't worry about burning your hands, this game runs without a hitch.
The game offers several exciting features. One of them is the chance to retrieve dragon eggs to win cash prizes. It's like the dragon version of Easter egg hunt, but with real money involved. Additionally, there is a Wild symbol that can help you win up to 20x your bet. This symbol is none other than the almighty Dragon himself. It's good to have a dragon on your side, isn't it?
During the free spins session, all reels become active, and jackpot icons may appear on reels 2 and 4. This feature increases your chances of winning the game's four jackpots, namely mini, minor, major, and grand. And who doesn't love jackpots? They are like the pot of gold at the end of the rainbow, only with dragons.
The game has an RTP of 95.91%, which is on par with industry standards. So, be ready to breathe some fire and have a blast. But don't forget to set your bet amount before starting the game. We wouldn't want you to get burnt by betting too much on your first try.
Visuals and Graphics
What do you get when you mix dragons, fantasy, and online gambling? The answer: Dragons of the North, one of the most visually stunning slot games out there!
The graphics in this game are so masterful, it's as if the dragons have flown straight out of a J.R.R. Tolkien book and into your computer screen. The design team clearly spent a lot of time and effort to ensure that every single facet of this game is visually flawless.
Even the eerie soundtrack that plays in the background as you spin the reels is perfectly designed to heighten the game's overall atmosphere. It reminds me of when you walk through a haunted house, only Dragon of the North is not at all scary.
Overall, I must say that the visuals and graphics in Dragons of the North are nothing short of eye candy. Even if you don't win big, you'll still feel like you've hit the jackpot just by looking at those beautifully designed dragons and creatures.
Special Features
Are you ready to uncover the hidden treasures of Dragons of the North? This slot game is designed to deliver an immersive and engaging experience that will keep you glued to your screen for hours. One of the biggest selling points of the game is its special features that add to the excitement and help you earn extra rewards.
Dragons of the North features several dragon symbols of different colors – Blue, Red, Green, and Opaque. While they look intimidating, these dragons could be your key to success! If you can find five dragons in a row, you could be rewarded with up to 5x your initial bet. Not bad, right? Don't be afraid to embrace your inner dragon and bet big!
That's not all. The dragon egg symbol is the Scatter symbol and can trigger free spins, cash prizes, and access to the game's internal jackpot. Oh, the joy of free spins! Keep an eye out for the dragon egg symbol and watch as it works wonders for your bankroll. And when the bonus game is activated, players have a chance to win an instant cash prize that could increase up to 100 times the value of their original bet. Talk about a fiery win!
Hit the Jackpot with Dragons of the North
Dragons of the North is an incredibly exciting slot game that offers players a chance to take home some truly magnificent winnings. And with its jaw-dropping jackpots, it's no wonder this game is quickly becoming a favorite among slot enthusiasts everywhere.
First off, let's talk about those jackpots. There are four of them, each more tantalizing than the last. And let's be real, who doesn't love a good jackpot? The mini jackpot may be 15 times the bet, but don't underestimate it – it's still worth playing for. The minor jackpot is 35 times the bet, which is even juicier. But if you're really looking for a premium payout, the major jackpot may be more your speed, coming in at 250 times the bet. Oh, and let's not forget the grand jackpot – a whopping 1000 times the original bet. Yeah, you read that right.
Of course, the best way to win that jackpot is to hit the bonus wheel during gameplay. It's a true test of luck, but boy is it worth it. Why settle for a measly payout when you could walk away with thousands of dollars? And who knows? Maybe even the grand jackpot.
Overall, Dragons of the North is a great game that offers a lot of excitement and potential winnings. The chance to hit that jackpot is always in the back of your mind, making each spin even more exhilarating. Plus, with the fun theme and great graphics, it's just a good time all around. So go ahead, give it a spin. You never know what kind of treasure you might uncover.
Target Audience
Are you a fantasy fanatic who loves dragons and all things magical? Do you enjoy slot games with engaging gameplay and loads of bonuses? Well then, Dragons of the North is just the slot game for you!
With its fantastic graphics, animation, and unique bonuses, this game is sure to captivate both experienced players and newcomers alike. So whether you're a seasoned gambler or a newbie just starting out, Dragons of the North is a great choice.
And best of all, the game offers a free play mode, allowing novice players to practice and learn the ropes without risking any real cash. So why not give it a try? Who knows, you might even be able to slay the dragon and bring home a big win!
FAQ
What type of bonuses can I find in Dragons of the North?
This Megaways-powered slot features free spins, golden eggs, a destruction feature, and many others that can contribute to some profitable outcomes.
Is Dragons of the North mobile-friendly?
Yes, this game uses HTML5 technology that makes it fully mobile-friendly.
Can I play Dragons of the North for free?
Yes, this game offers an excellent free play mode that has all the features of the real game without having to spend anything, perfect for novice players. Later, switch to real money mode to make winning combinations while riding your favorite dragon!
What is the RTP of Dragons of the North?
The game has a Return to Player (RTP) rate of 95.91% that is in line with industry standards.
What can I win from playing Dragons of the North?
You can win cash prizes and four internal jackpots – mini, minor, major, and grand – that range from 15x to 1000x your bet.
What is the role of the dragon egg in Dragons of the North?
The dragon egg serves as the Scatter symbol capable of triggering free spins, cash prizes, and the internal jackpot game.
How many paylines are in Dragons of the North?
The game features 50 paylines that provide various winning combinations.
What is the role of the Wild symbol in Dragons of the North?
The Wild symbol can help you win up to 20x your bet and substituting other symbols to form new winning combinations. Keep an eye on it during your game.
What we like
Engaging gameplay with special features and bonuses
Beautifully designed graphics and fantasy theme
Four internal jackpots offer huge winning potential
Free play mode available for novice players
What we don't like
Limited pay lines compared to other slot games