Dice Dice Baby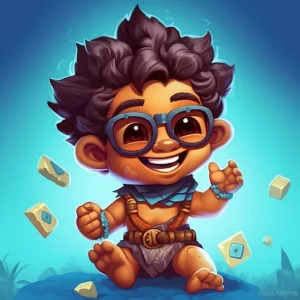 Dice Dice Baby is not only a witty reference to a popular Vanilla Ice song, but also a top-notch casino slot game that guarantees endless fun and rewarding experiences. Developed by Booming Games, this 6×4, 25-payline game will keep players on their toes with its high volatility and an impressive RTP of 95.40%. Get ready to roll the dice and hit those winning spins!
Players can choose from various options like Autospin, Turbo Mode, Max Bet, and volume settings to customize their gaming experience. Who would have thought playing with dice could be so flexible? The game also features a Free demo mode available on the website, allowing risk-averse players to experience the game's thrill without risking a single penny.
While the game's features are impressive, Dice Dice Baby doesn't just rely on them to deliver a satisfying gameplay experience. The game's graphics are bold, colorful, and entertaining – a perfect complement to the upbeat soundtrack. And with its easy-to-use interface, players will have no trouble navigating this game.
All in all, Dice Dice Baby is a blast to play. The high volatility and RTP paired with the game's features and graphics make it an excellent choice for both new and experienced players. So what are you waiting for? Roll the dice and let the good times roll!
Unleash Your Lucky Streaks with Dice Dice Baby
Are you feeling lucky, punk? With Dice Dice Baby, you might just hit the jackpot. This casino slot game offers players a chance to win up to 5000 times their bet, which means they can potentially win big, even with a small wager. Plus, with betting options starting at $0.05 and going up to $25, you're in control of your own luck. Just make sure to hold onto your rabbit's foot and four-leaf clover!
Winning combinations start at 3 symbols and go all the way up to 6 symbols, so keep your eyes peeled for those lucky number sevens. With a little bit of luck and a lot of strategy, you could be on your way to a sweet payout. Remember, the house always wins, but with Dice Dice Baby, you might just be the one to break the bank. So sit back, relax, and let's roll those dice!
Special Symbols in the Game
Are you ready to roll the dice and win big on the casino slot game Dice Dice Baby? Along with the usual fruit symbols like cherries, watermelon, and orange, the game has some special symbols that bring even more excitement to the reels!
The most important symbol to look out for is the Wild symbol. Get six of these symbols on the reels, and you could win up to 5000 times your original bet! That's a lot of moolah! And don't worry about feeling left out, because Wilds substitute for any other symbols to create a winning combo.
The Star symbol is another special symbol that triggers the Free Spins feature when three of them appear on the board. With Free Spins, you have the chance to win even more free games to keep the excitement rolling.
So, whether you're a seasoned slot player or a newbie looking for some fun, Dice Dice Baby has got you covered. Spin the reels and let's see if you have the luck to win big with those special symbols!
Compatibility and Accessibility
If you're like most people, you're probably glued to your smartphone. But what if we told you that you could take your love for Dice Dice Baby with you wherever you go? Yes, friends, it's true! This game is compatible with smartphones, tablets, and computers. So whether you're sitting at a desk or chilling on the beach, Dice Dice Baby can be enjoyed.
Gone are the days where you had to download complicated software to play your favorite games. Dice Dice Baby's seamless integration with HTML5 technology makes it compatible with Android and iOS operating systems. That means no more annoying updates or makeshift workarounds. Just launch the game in your browser and enjoy!
So say goodbye to bulky desktops and hello to sleek mobile devices. With Dice Dice Baby, the possibilities are endless.
Pros and Cons of Dice Dice Baby
Are you still considering Dice Dice Baby as your next go-to slot game? Here are some pros and cons to help sway your decision towards success!
Pros! Where do we even start? How about the fact that you have a super high likelihood of snagging some amazing rewards on each winning spin? Plus, the availability of a demo mode means you can test out the game without spending a dime. Dice Dice Baby is also highly compatible with different devices, making it easy to play on-the-go. Oh, and let's not forget about the Autospin, Turbo Mode, Max Bet, and volume settings to take your experience to the next level!
But, as with any game, there are some cons. For one, there's no progressive jackpot feature, which is a bummer for those of us trying to hit it big. Additionally, to access the Free Spins feature, you'll have to cough up 100 times the bet. Ouch!
FAQ
Does Dice Dice Baby have a progressive jackpot?
No, this game does not have a progressive jackpot, but it can give away numerous Free Spins and Bonus spins.
What is the maximum win in Dice Dice Baby?
Dice Dice Baby can pay up to 5000 times the bet. This means that you can win an average amount of $5000 (when playing with real money) by betting $1.
Can I play Dice Dice Baby for free?
Yes! You can try our free game demo for fun, without the risk of losing money, right here on Slotjava. Or you can create an account at one of our recommended online casinos, claim a nice welcome bonus, and play with real money.
What are the main symbols in Dice Dice Baby?
The main symbols are cherries, watermelon, plum, orange, BAR symbol, bell, diamond, and seven. The Wild and the Star are special symbols.
What is the RTP of Dice Dice Baby?
Dice Dice Baby has an RTP of 95.40%.
Is Dice Dice Baby a high volatility slot?
Yes, it is. Dice Dice Baby has a high volatility and a high probability of getting great rewards on winning spins.
What devices can I use to play Dice Dice Baby?
You can play Dice Dice Baby on smartphones, tablets, and computers. It is compatible with Android and iOS operating systems and runs on a browser.
How can I get Free Spins in Dice Dice Baby?
You can get Free Spins by activating the Bonus symbol with 3 or more appearing on the reels. You can also buy the Free Spins feature for 100 times the bet.
What we like
High likelihood of great rewards on winning spins
Availability of a demo mode
Compatibility with different devices
Availability of Autospin, Turbo Mode, Max Bet, and volume settings
What we don't like
No progressive jackpot
Need to buy the Free Spins feature for 100 times the bet