Diamond Mystic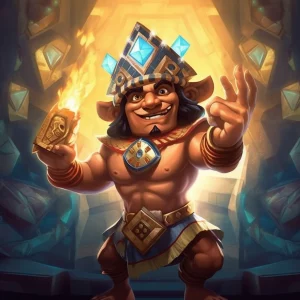 Diamond Mystic is a unique take on the classic slot game and it's got more in common with a lottery game or scratch-off ticket than a typical video slot. So, no need to look out for the bonus rounds, Wild symbols, or scatters – you'll be chasing after simple numbers instead.
The game board consists of 12 numbers and an additional six numbers in the left box. Different bets range from a humble $0.01 to a maximum of $2.00. If the player's numbers match the game's numbers, they get not only a prize but the satisfaction of knowing that they are probabilistically just a bit better at getting lucky than everyone else.
And to make things even smoother, there is an option for automatic spins which can range from 10 up to 100 – so sit back, relax, and enjoy the numbers rolling!
Who would have thought that a game about matching numbers could be so thrilling? Talk about "number-fever"! If you're fond of the lottery, you most certainly want to give Diamond Mystic a shot. Who knows, maybe it's your lucky day!
Payouts and Rewards
Are you looking for a slot game that offers decent payouts without breaking the bank? Look no further than Diamond Mystic. With a minimum bet of just $0.01, players can potentially win big.
And let's be honest, who doesn't want to strike it rich without having to spend a fortune?
If luck is on your side and one of your chosen numbers matches one of the game's numbers, you'll receive your initial bet back ($0.01). But that's just the beginning!
Two matching numbers triples the payout, which means you'll be laughing all the way to the bank. Three matching numbers? That's a sweet payout of $0.60. Four matching numbers? Get ready to add $1.60 to your account balance. Five matching numbers? We're talkin' a serious payout of $10 here. And if you manage to match all six numbers? You'll be taking home a whopping $600!
With a max bet of $2.00, the sky's the limit when it comes to potential payouts. You could be walking away with a whopping $120,000 if Lady Luck is feeling extra generous.
In other words, give Diamond Mystic a spin and see if you can strike it rich. Who knows? You might just end up being the envy of all your friends.
Betting Options
Diamond Mystic offers a flexible betting range that is sure to accommodate most players. Whether you are a big roller or just want to enjoy the game casually, this slot has a minimum bet of $0.01 and a maximum of $2.00. You don't have to be a diamond dealer to play this game, as it's an affordable game that won't break the bank. The value of the diamond symbols may be high, but the betting range is low, which means you can spin them multiple times without emptying your wallet. You don't have to visit a jeweler to enjoy the glittering brilliance of diamonds, just give Diamond Mystic a spin.
The Autoplay function is also available for those who prefer a more hands-off approach to gameplay. It's perfect for those who want to relax and let the game do the work for them. You can set the number of spins you want, sit back and watch the diamond symbols roll by. It's like having your own personal assistant, only with more sparkle. Just don't forget to keep an eye on your balance and set limits for yourself. Nobody wants to lose their diamonds to a robot, right?
Shine Bright Like a Diamond: Design and Graphics
Diamond Mystic's visuals may not be the most complex or dazzling features in the game, but they surely have their own charm. The gradient of black and blue creates a mysterious yet alluring atmosphere, making you feel like you are diving into an infinite universe. Moreover, the empty game grid in the center gives players an exciting sensation of the unknown, waiting to be filled with diamonds.
At the bottom of the screen, you'll find the betting options, and let's be real, that's where the majority of us spend our time in slot games. The chic and minimalist design enables players to make quick and easy adjustments to their bets, without getting distracted by unnecessary complex interfaces. If only life was that simple.
But possibly the best design feature of Diamond Mystic has to be the ability to turn off the music. Don't get us wrong, the background melody mixed with electronic sounds and a flute playing is catchy, but sometimes you just need to play in silence and focus on spinning those reels. Plus, you can always listen to your own tunes in the process, like a curated custom slot game soundtrack, right?
Target Audience
Diamond Mystic is a perfect game for players who have had their fill of traditional slot machines and are seeking a new and exciting challenge. It is also perfect for avid scratch-off ticket and lotto players who want to try something different and gambling enthusiasts who crave a quick-paced game.
With its stunning graphics, sleek sound effects, and swift gameplay, Diamond Mystic delivers on all fronts. However, while the game's speed is one of its biggest selling points, it could benefit from additional features to make the gameplay even more engaging. For instance, incorporating the Return to Player percentage would provide better insight into the game's odds, thus adding transparency and fairness.
Despite this minor issue, Diamond Mystic is an excellent game that should be on every gambler's must-play list. Give it a spin and see for yourself why it is quickly becoming one of the most popular slot games online. So, what are you waiting for? Go on and experience the thrill of Diamond Mystic!
FAQ
How does Diamond Mystic differ from other slot machines?
Diamond Mystic operates more like scratch-off tickets or lotto games with a simple game grid and a series of numbers to match.
What is the minimum betting range for Diamond Mystic?
The minimum betting range is $0.01.
What is the maximum betting range for Diamond Mystic?
The maximum betting range is $2.00.
What is the Autoplay feature in Diamond Mystic?
Autoplay allows for automatic spins ranging from a minimum of 10 to a maximum of 100.
What are the payouts for matching numbers in Diamond Mystic?
Payouts vary based on the number of matches and the size of the bet, with the potential to win up to $120,000 on a maximum bet.
What is the Return to Player percentage for Diamond Mystic?
The game does not provide information on the Return to Player percentage.
What are the pros of playing Diamond Mystic?
Diamond Mystic offers simplicity, speed of gameplay, and the potential for high payouts with minimal bets.
What are the cons of playing Diamond Mystic?
The game's internal menu could use more features or information, such as the Return to Player percentage.
What we like
Unique gameplay mechanics resembling a scratch-off ticket or lotto game
Decent payouts with minimal bets, starting from $0.01
Flexible betting range from $0.01 to $2.00
Simple yet visually appealing graphics
What we don't like
Lack of additional features in the internal menu
No inclusion of Return to Player percentage