Diamond Digger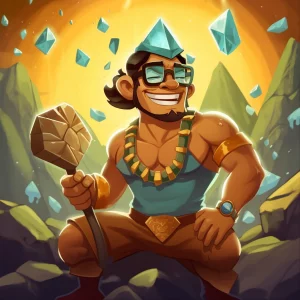 Get ready to dig up some treasures with Diamond Digger. This casino slot game strikes a great balance between traditional elements and modern innovations. It's perfect for players who are looking for a classic slot experience with a few twists.
The game is set up in a 3×3 layout, which makes it easy for beginners to pick up and play. But don't let the simple layout fool you — there's plenty of fun to be had here. With five pay lines and multipliers that can provide significant payouts, there's always a chance to strike gold.
One of the things we love about Diamond Digger is the bonus game. Just like digging for real diamonds, players have to navigate through some obstacles to uncover hidden prizes. It's a fun addition to the traditional slot machine mechanics and adds an extra layer of excitement.
Overall, Diamond Digger is a great choice for anyone who appreciates a good slot game. It's not only fun and engaging, but it can also be quite lucrative. So what are you waiting for? Grab your pickaxe and start digging!
Graphics and Soundtrack: A Diamond in the Rough
Whoever said diamonds are a girl's best friend was obviously not aware of the treasure that is Diamond Digger. The game boasts some seriously stunning visuals that make you feel like you're sitting in the lap of luxury. The attention to detail is awe-inspiring, from the glint of light off a diamond to the sparkle of gold bars. And let's be real, who wouldn't want to be surrounded by riches while playing a slot game?
But it's not just the visuals that make this game a gem, the soundtrack is also noteworthy. The background music is upbeat and energetic, just what you need to get you in the mood for searching for diamonds. The sound effects are also spot on, with the satisfying clink of coins falling into the treasure chest and the satisfying jingle of a winning spin.
If you're one of those people who likes to play in silence, don't worry, you can always turn off the sound. But honestly, why would you want to when the auditory experience is just as enjoyable as the visual one?
Overall, Diamond Digger is a prime example of how a game can be both visually stunning and audibly pleasing. You may not find a real diamond while playing, but you'll definitely feel like you hit the jackpot with this one.
Easy-peasy diamond squeezy
If you're a newbie to slot games and eager to join the action, you would be delighted to know that Diamond Digger is so user-friendly that even your technologically challenged grandma could play it effortlessly. The game's layout is clear and straightforward, without any complicated buttons or menus that require you to be Steve Jobs's brain-child to understand. Just a few clicks, and you're digging up some shiny gems like a real miner.
However, if you're an experienced slot machine player and used to betting big and winning bigger, you might find the minimum and maximum bet limits on Diamond Digger a bit low. But, let me tell you a secret, my dear high-roller friend. Sometimes, it's better to dig shallow and slow, so you can enjoy the diamonds a bit longer instead of breaking your pickaxe with one big swing. Think about it; the real treasure is the memories you make along the way, not the money you won or lost.
Diamond Symbol
Move over Rihanna! This game has got more diamonds than your lyrics! As the name suggests, the diamond symbol is the crème de la crème in this game. And no, we're not talking about the cheap knock-offs you can find at a shady street vendor. These diamonds are presented in various colors and formations, with each one more dazzling than the last. If you're lucky enough to land on one, it can trigger multipliers that can make you feel richer than the Queen of England (no crown included though, sorry).
But don't be fooled by their beauty – these diamonds are not just for show. They can be the key to unlocking your biggest payout yet. So let loose your inner diamond digger and start spinning those reels!
Bet Limits
Are you a high roller or just starting out? Either way, Diamond Digger's betting limits may surprise you. Experienced players who like to bet big might find themselves wanting more from the maximum bet limit. But don't worry, if you're a penny pincher, you'll appreciate the game's low minimum bet. It's like finding a dollar on the sidewalk, but with the added thrill of gambling!
For newbies, the bet minimum and maximum limits allow for a gentler introduction to the game. This allows for players to get used to the game mechanics and fully explore the game's potential. The low maximum bet limit also ensures that you won't lose your shirt in one spin. So, grab your pick and shovel and let's start digging for diamonds!
FAQ
What is Diamond Digger?
Diamond Digger is a virtual slot machine game developed by G Games that features a 3×3 setup with five pay lines and multipliers.
Who can play Diamond Digger?
Diamond Digger is generally suitable for novices looking to start online gaming as it comes with a user-friendly layout.
What is the symbolism and features of Diamond Digger?
Diamond Digger is centered around diamonds of different colors and formations that, when aligned, can offer multiple game multipliers, which helps since the game doesn't offer significant payouts.
What is the minimum and maximum bet in Diamond Digger?
The minimum and maximum bets in Diamond Digger are relatively low and may not appeal to avid slot machine players.
What production quality can players expect from Diamond Digger?
Diamond Digger is well-produced and features excellent graphics, an acceptable soundtrack, and a user-friendly layout.
Who developed Diamond Digger?
Diamond Digger was developed by G Games.
Is Diamond Digger a popular game?
While Diamond Digger is a well-produced and fun game, it has room for improvement to attract a broader clientele.
Why should players give Diamond Digger a try?
Players looking for a user-friendly and easy-to-navigate virtual slot machine could consider giving Diamond Digger a try.
What we like
Combines traditional and modern elements
Excellent graphics and attention to detail
User-friendly layout
Diamond symbol triggers multipliers
What we don't like
Low minimum and maximum bet limits may not appeal to experienced players