Day and Night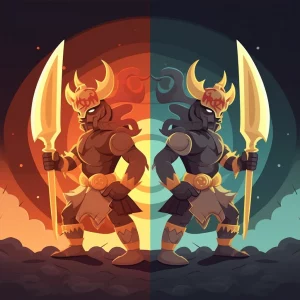 The graphics in Day and Night are on a whole other level. It's a visual feast for players, with a design that's not only pleasing to the eye but also well-thought-out. The art direction masterfully crafts the fight between both deities, making each one's unique qualities stand out. I mean, Ra looks positively majestic, with his spread wings and waving arms, all bathed in a warm orange sunlit glow, in sharp contrast to the grace and mystique of his nighttime foe.
The representation of night with its darkness and the shimmering moon is pure magic; it's no wonder the graphics of Day and Night are truly stunning. The gameplay is engaging and filled with an array of symbols that range from the lower symbols of Jacks, Queens, Kings, and Aces to the richer ones like the scarab, the staff, and the eye of Horus. Each symbol has been tailored so that it fits the game's overall theme and increases the players' enjoyment.
Furthermore, the sound in Day and Night deserves special mention. The music, which plays in an Egyptian style, sets the tone for the game, enhancing it with its rich and sharp sound effects, creating an atmosphere that takes the gameplay experience to a whole new level.
If you're looking for a slot game with crisp visuals, a mystical theme, and engaging gameplay, Day and Night is a game you'll definitely want to play. With a combination of impressive graphics and game symbols, you're guaranteed an immersive experience that will leave you coming back for more!
Special Features
Looking for a slot game that offers more than just the usual spin-and-win action? Well, look no further than Day and Night! This game has a bonus round of free spins that is sure to leave you breathless.
Unlock 10 free spins to use immediately with variations that are simply amazing. Although you cannot reactivate these free spins, the sheer thrill of the game will have you rooting for your favourite character.
Choose between Ra or Bastet, and let the game do the rest. In the case of Ra, you will have from 1 to 24 additional randomly added Wild symbols on each spin, which can increase your chances of winning big. However, if Bastet is your pick, you will appreciate the way that Wilds become fixed when they land, potentially netting you even more points with each spin.
So, if you're looking for a game that has it all – fun, excitement, and big rewards – then Day and Night is the one for you. Give it a spin, and let the magic unfold.
Gameplay And Design
Are you ready to bask in the glory of the sun and dance with the shadows of the night? Look no further than Day and Night, a slot game that offers 20 pay lines that can actually double to 40. That's right! You can double your chances of winning big and feel like a high roller without even leaving your pajamas.
The game's bonus round pays out frequently, making it a great choice for casual players and experienced gamblers alike. Sure, it may not release massive payouts, but who needs a yacht and a private jet when you can have fun and make a few bucks?
And let's talk about the design, shall we? The game's music is played in Egyptian style, offering a unique and fresh experience for your senses. The sound effects are sharp and add to the excitement of the game. Not to mention, the graphics are simply stunning and will leave you wanting more.
Suitability for Players
Are you looking for a slot game that has something for everyone? Well, look no further than Day and Night! Whether you're a casual player or a seasoned gambler, this game is sure to catch your eye. With its vibrant and stunning look, you'll feel like you're on a wild adventure through ancient Egypt every time you hit that spin button!
And don't forget about the bonus round of free spins! This is where things really start to get exciting. With so many variations to choose from, it's easy to get lost in the game and forget about the outside world. But hey, who needs real life when you can be transported to a world of riches and adventure?
Overall, Day and Night is a game that is suitable for players of all experience levels. But be warned – once you start playing, it's hard to stop! So go ahead, give it a spin, and see what kind of treasures you can uncover. The ancient Egyptians would be proud!
RTP and Variance
Are you tired of playing casino slot games that don't reward you enough? Well, say no more because Day and Night has got your back! With an RTP of 96.38%, this game promises to give you a good return on investment. That's right, more chances to win big and have fun!
Day and Night has low variance, which means that you will be racking up small victories throughout the game. You'll feel like the king or queen of the castle with all the coins piling up! However, if you're looking for a big win, you might want to curb your enthusiasm, because you'll have to wait a little longer.
Personally, we're all about the little victories. It means we can treat ourselves to a fancy coffee or a slice of cake, and that's worth celebrating! Who needs a big win when you can have a small reward every minute? Besides, it's a great way to test your patience and see how much self-control you really have.
FAQ
What is Day and Night?
Day and Night is an online slot game that features two opposing deities, Ra and Bastet, and offers special features including a bonus round of free spins.
What is the theme of the game?
The theme of the game is the continuous conflict of life, represented by the opposites of day and night.
What is the graphics quality of the game?
The graphics quality of the game is of the highest level, with excellent design and execution of the two opposing parts that divide the grid.
What kind of symbols are used in the game?
The game symbols include lower symbols such as Jacks, Queens, Kings, and Aces, and richer icons such as the scarab, the staff, and the eye of Horus.
What is the RTP of the game?
The RTP of the game is 96.38%.
What is the variance of the game?
The variance of the game is low, which means players can expect to win many small victories, but big wins may take longer to arrive.
What are the special features of the game?
The special features of the game include a bonus round of free spins with variations depending on who takes control of the grid, and the use of Wild symbols.
Who is the game suitable for?
The game is suitable for all casual players, but it also intrigues experienced gamblers who are recommended to give it a try.
What we like
High-quality graphics and game symbols
Well-designed and executed theme of deities
Stunning visuals and atmospheric music
Bonus round of free spins with variations
What we don't like
Bonus round cannot be reactivated
High winnings are rare