Crazy Mix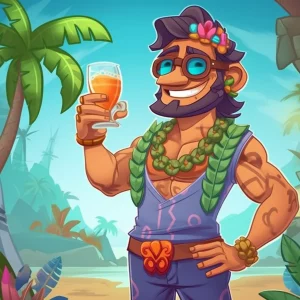 Are you ready to get crazy and mix things up? Look no further than Crazy Mix, the eccentric and fruit-filled slot game developed by TrueLab Games. With five reels and 15 paylines, it may seem like a standard slot game, but it's the sixth bonus reel filled with exotic fruits that really sets it apart.
It's like a fruit salad exploded all over your screen – in the best possible way! With stunning graphics and quirky animation, Crazy Mix puts a fun spin on your typical casino slot game.
Personally, I never thought I'd enjoy staring at fruits spin around on my screen for hours on end, but there's just something addicting about the colorful chaos of Crazy Mix. It's like watching an episode of Chopped, but instead of contestants, it's all about the fruit combinations.
So why not take a break from your daily routine and mix things up with Crazy Mix? Who knows, you may just hit the jackpot and have a fruit-tastic time doing it!
Graphics and Themes
Prepare yourself for a visual feast with Crazy Mix! The graphics are so vibrant, they'll make you want to take a dip in the Great Barrier Reef yourself. With symbols of kangaroos, koalas, and sea turtles, this slot game is the perfect virtual trip to Australia. Who needs a plane ticket, right?
And let's talk about the wild symbols – Chaka and Aneka. These two badasses add that extra touch of indigenous flavor to the design. We could totally see them competing on Australian Survivor. Not to mention, they're also pretty good at handing out some juicy payouts! Gotta love a wild symbol that comes with a little bit of personality.
Bonus Bonanza!
Crazy Mix is one slot game that truly knows how to keep its players entertained. With exciting bonus features like the Boomerang Respins and Free Spins, it's no wonder this game has become such a hit with online casino goers.
Now, let's talk about that Boomerang Respins feature, shall we? As if the name itself isn't intriguing enough, this feature is triggered at random times during gameplay when our mate Chaka throws a boomerang at the bonus reel, hitting fruits that are added to the cocktail. With every fruit that lands, you get extra respins, and the more fruits you gather, the more chances you have to unlock the exclusive Free Spins. Will you throw the boomerang just right to hit that last stubborn kiwi? It all adds to the excitement and anticipation!
Once you've unlocked the Free Spins, the game unlocks an even bigger winning potential, where the progressive win multiplier increases by +1 with every spin. That's enough to get anyone cheering for more. It's like getting served a delicious drink with an extra shot of your favorite liquor – it's tough to beat and always leaves you feeling satisfied.
Now, we know that some people take their slots seriously, but even the most hardcore, straight-faced casino connoisseur will have fun with the Crazy Mix bonus features. It's a fantastic way to score extra cash, and the added entertainment value is just the cherry on top of the winning sundae.
Get Wild with the Wild Symbols
Who needs to tame their inner wild child when you have Chaka and Aneka as the wild symbols in Crazy Mix? These two symbols have the power to replace all other paying symbols, giving you the chance to hit some serious wins. And if you manage to find five of them in a row, you could be walking away with a whopping 66 times your bet! That's enough to make anyone go a little crazy.
Not only do these symbols bring some serious thrill to the game, but they add an authentic Australian indigenous feel that fits in perfectly with the overall theme of Crazy Mix. It's like having a little piece of the land down under right at your fingertips…
So go ahead, let your wild side loose and let Chaka and Aneka take you on a crazy ride.
Gameplay and Experience
Are you ready for a wild ride? Crazy Mix certainly is! This slot game offers an experience that's perfect for both new players and experienced gamblers alike. With its entertaining animations and addictive gameplay, Crazy Mix is sure to keep you on the edge of your seat.
One thing to keep in mind is that Crazy Mix has a limited number of free spins, so you'll need to exercise both patience and luck if you want to hit the jackpot. But luckily, the game offers plenty of opportunities to win big, so you'll never find yourself getting bored.
Let's be real though, the real reason we all play slot games is for the thrill of the game. And Crazy Mix doesn't disappoint in that regard. With its bright colors and zany characters, this game is sure to put a smile on your face. Plus, it's always fun to see what kind of crazy concoctions the game will come up with next!
FAQ
What is Crazy Mix?
Crazy Mix is a slot game developed by TrueLab Games that takes place in a tropical paradise inspired by Australia.
How many reels and paylines does Crazy Mix have?
Crazy Mix has 5 main reels and 15 paylines. Additionally, there is a sixth bonus reel filled with exotic fruits.
What symbols are in Crazy Mix?
The symbols in Crazy Mix include classic playing card figures, kangaroos, koalas, sea turtles, and two indigenous-like characters, Chaka and Aneka, who are Wild symbols.
What special features does Crazy Mix have?
Crazy Mix has two special features: Boomerang Respins and Free Spins. Boomerang Respins can be activated randomly on any spin and can add fruit to your cocktail. Free Spins are unlocked when you have four fruits in your drink.
Can I play Crazy Mix for free?
Yes, most online casinos offer the option to play Crazy Mix for free in demo mode.
Can I win real money playing Crazy Mix?
Yes, if you play Crazy Mix with real money, you have the chance to win real money.
Is Crazy Mix suitable for new players?
Yes, Crazy Mix is a suitable game for new players as it offers fun animations and a unique theme.
What is the maximum win in Crazy Mix?
The maximum win in Crazy Mix is 1,000x your bet.
What we like
Lively and colorful design
Exciting bonus features
Australian indigenous theme
Entertaining gameplay
What we don't like
Limited number of free spins
Requires patience and luck for jackpot