Congo Cash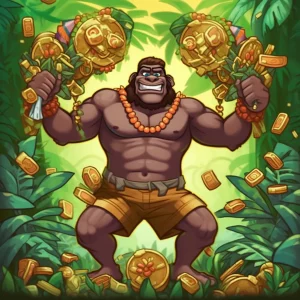 Congo Cash? More like Congo CASH-IN! This game has it all: a 5×4 grid, 432 ways to win, and an RTP of 96.51%, making it a thrill to play for any and all players. But don't let the high volatility scare you – this game pays out big despite less frequent wins.
Ready to bet on the ultimate jungle adventure? Well, you're in luck because Congo Cash allows for a range of bets between $0.20 and $100. With options to customize your experience with up to 1,000 automatic spins and a turbo button for faster gameplay, it's no wonder this game is a favorite among seasoned players.
Congo Cash is loaded with special features and symbols to help boost those winnings. Keep an eye out for multipliers, free spins, and not one, not two, but THREE jackpots up for grabs. And if you're in a hurry to cash in, minimum winning combinations require just three identical symbols adjacent to each other from left to right.
Eye Candy: Visually Stunning Graphics
If you're tired of dull, lifeless slot games, Congo Cash is the breath of fresh air you've been searching for. The game's floor-to-ceiling graphics and 3D animations will suck you in deeper than a safari trek gone rogue. Forget about your time and budget, you'll be lost in a world of vibrant colors and breathtaking landscapes.
The interface of the game places you smack dab in the middle of a dense and lush African forest. The game plays alongside the sounds of nature, making the entire experience feel even more authentic. The gorilla symbol acts as the game's Wild, boosting your chances of winning by substituting any symbols, except the Scatter.
If you want to focus solely on the electric gameplay, you can adjust the game's settings to mute the background music or sound effects that come with each win. Speaking of wins, they're easy to spot and celebrate due to the game's bigger-than-life jackpot payouts and celebratory animations!
Amazing Jackpot Prizes up for Grabs!
Congo Cash is definitely a game worth playing if you're looking for some big wins. The game offers not one, not two, but three Jackpots with varying values depending on your bet level. There's the minor Jackpot, worth $5, the major Jackpot worth $20, and the Grand Jackpot worth a whopping $400! Talk about a chance to hit it big!
But don't forget, the higher your bet level, the greater your chance at hitting one of these amazing Jackpot prizes! So, don't be a penny-pincher if you want to have a shot at winning big. It's always worth it to try your luck and see if you can land that Grand Jackpot.
And let's be real, who wouldn't love to walk away with an extra $400 in their pocket? That's enough to treat yourself to a fancy dinner, a new outfit, or even a mini-vacation! So, come on and give Congo Cash a spin, your bank account might just thank you!
Bonus Games And Features
Congo Cash may appear like a regular casino slot game, but it has some of the best bonus games and features that can lead to big wins!
The game is packed with special symbols and features such as multipliers, free spins, and bonus symbols. The diamond serves as the Wild symbol, and it can substitute for all symbols except the special ones. If you are lucky enough to land on reels 2, 3, and 4, then you will have a chance to activate either multipliers or free spins. These range from 5x all the way up to 200x. It's like hitting the jackpot every time without actually hitting the jackpot!
To activate these exciting bonus games and features, players must match two butterfly symbols to a Congo Cash symbol. It's essential to keep a keen eye out for the butterfly symbols as they are the key to unlocking the special features. During free spins, players are guaranteed at least one Wild symbol per spin, increasing your chances of getting more significant wins.
Congo Cash is truly a fun and exciting game that offers a lot of opportunities for players to win big and have a great time doing it. The bonus games and features are what sets this game apart from others, and it will have you coming back for more with every spin.
So go ahead and give Congo Cash a try, and who knows, you might just be lucky enough to cash out big and take home an unforgettable experience of winning while playing this fantastic and rewarding casino slot game!
Ready to go mobile!
When it comes to enjoying the exciting world of online slot games, nobody wants to be tied down to a desktop computer. That's why Congo Cash has been optimized for mobile play, which means you can enjoy this amazing game no matter where you are.
Whether you're on the bus, at home or even sweating it out at the gym, Congo Cash is always ready to help you pass the time in a fun and entertaining way. And the best part? The game's stunning visuals and graphics are just as amazing on your smartphone or tablet as they are on your trusty desktop computer.
So, what are you waiting for? Take this game on the go and see for yourself why Congo Cash is quickly becoming one of the most popular slot games around!
Disclaimer: playing Congo Cash while on the treadmill may result in injury due to the game's intense excitement. Play at your own risk, folks!
FAQ
What is Congo Cash?
Congo Cash is an online slot game set in the Central African forest with 5 reels and 4 rows, offering 432 ways to win.
What is the minimum bet in Congo Cash?
The minimum bet in Congo Cash is $0.20.
What is the maximum bet in Congo Cash?
The maximum bet in Congo Cash is $100.
What is the RTP of Congo Cash?
The RTP of Congo Cash is 96.51% with high volatility.
What are the special features in Congo Cash?
Congo Cash has special features such as multipliers, bonus symbols, and 3 Jackpots with variable payouts.
What is the Wild symbol in Congo Cash?
The diamond is the Wild symbol in Congo Cash, appearing only on reels 2, 3, 4, and 5, and can substitute for all other symbols except the special ones.
What are the low-value symbols in Congo Cash?
The low-value symbols in Congo Cash are the playing card symbols ranging from 10 to ace.
What are the high-value symbols in Congo Cash?
The high-value symbols in Congo Cash are the frog, lemur, monkey, jaguar, and gorilla.
What we like
3 Jackpots with varying values
Exciting bonus games and features
Stunning visuals and graphics
Fully optimized for mobile play
What we don't like
High volatility may not suit all players
Minimum winning combinations require 3 adjacent symbols