Christmas Tree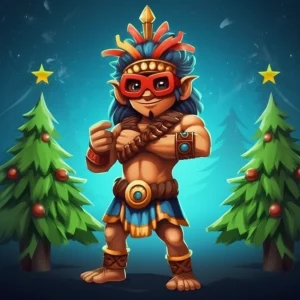 Get ready for some holiday cheer with the Christmas Tree slot game. What could be more fitting to celebrate the festive season than filling up a beautiful Christmas tree with unique symbols? The gameplay of this online slot couldn't be simpler, and yet it has the perfect combination of excitement and strategy to keep you hooked and entertained.
The Cluster Pays engine of Christmas Tree ensures that you can enjoy a win whenever you land 5 or more matching symbols. This means that you do not have to worry about the usual paylines, which can be confusing at times. With this format, you can easily keep track of the matching symbols you have accumulated, which makes it easy to see if you are on the road to a big win!
The cascade wins are a delightful addition to the gameplay that adds an extra thrill with each win. The winning symbols that have made up your cluster will be removed, creating a tumbling effect across the gameboard that leaves space for new ones to drop in. This means that even after you have won, there is still a chance for winning combinations with the help of the symbols that drop.
The gift feature is something to look forward to, as it is triggered by three consecutive cascading wins. It will transport you to a new screen where you can select up to 9 presents, each containing different rewards. It's like Santa came early and gifted you with some surprises you'd never thought you'd have!
Lastly, the betting range is fit for all types of players. Whether you are a beginner or a seasoned player, you are in for a treat as betting limits can go as low as $0.10 and can go as high as $50. This makes it easy for everyone to enjoy this game without having to worry about a big bankroll or breaking the bank.
All in all, Christmas Tree is perfect for those who love to add some holiday merriment to their online gaming. With the Christmas theme and fun mechanics, it's a game that will surely leave a smile on your face. So what are you waiting for? Go ahead and try it and get a taste of the festive season early!
Graphics and Design
Get ready to be dazzled by the amazing graphics and design of Christmas Tree! It's like opening a present on Christmas morning – you never know what surprises await. The festive symbols and colorful backgrounds really capture the essence of the holiday season, and playing this game will definitely give you that warm, fuzzy feeling inside.
Even if you're using a lower-end device, you won't have to worry about sacrificing the quality of the game. The graphics are still top-notch and the gameplay is as smooth as ever. It's like getting a perfectly wrapped gift that still manages to contain everything you could ask for.
Overall, the graphics and design of Christmas Tree are definitely worth a mention. It's a well-crafted masterpiece that's sure to impress players of all levels. So, why not take a break from wrapping presents or decorating the tree and give this game a try? It may just be the best gift you'll receive this holiday season!
Special Features
Christmas Tree comes with several special features, making the gameplay more exciting than opening presents on Christmas day! Firstly, the gift feature is activated after three consecutive cascade wins, which includes a coin win that ranges from 5x to 1000x the player's bet, a multiplier between 2x and 30x, and five free spins in the bonus round. The bonus round transforms game symbols into wild symbols, increasing your chances of winning. So, it's like getting an extra present from Santa!
If you ever wished for a snowstorm on Christmas day, then you're in luck with Christmas Tree's snowstorm feature that releases from 3 to 9 mysterious symbols on the game grid. You can win up to 25,000 times your bet, but even if you don't, a snowstorm is a rare and magical occurrence that's fun to watch! It's like experiencing a White Christmas, minus the shoveling and scraping of ice off your car.
Overall, Christmas Tree's special features add more excitement and chances of winning to an already festive game. It's like finding that last hidden gift under the tree that you didn't know was there. So, grab some hot cocoa, snuggle up by the fire, and let the magic of Christmas Tree's special features fill you with holiday cheer!
Payout Potential – Is Christmas Tree the Real Gift?
Ho ho ho! Welcome to the festive slot game with a cute twist: Christmas Tree. Not only is this game aesthetically pleasing, but it also offers up to 4412 times the total bet as the top prize, which tells me Santa is not the only one handing out gifts this holiday season.
With an RTP that is average for the online market, players can still feel like they are giving themselves an early Christmas present by playing a game that has a potential hefty payout. And let's face it, who doesn't love to hear those coins jingling in the slots?
If you're an experienced player, we suggest giving Christmas Tree a spin and seeing if Lady Luck is on your side. You never know what might happen, maybe even the Grinch will return those presents he stole.
Overall Experience
TrueLab's Christmas Tree slot game is like a breath of fresh North Pole air. The game has an addictive and simple gameplay mechanic that even rudolph's grandmother could understand. The developers of this game have managed to create a game that is both festive and also has a comical twist to it. Imagine a reckless elf sabotaging Santa's operation for laughs and giggles.
Experienced players will appreciate the many exciting features this game has to offer, such as the Gift Feature where you can unwrap hidden prizes or the Snowstorm feature where the snowier, the better. Indeed, this is one of those online slot games that even Scrooge would have a hard time disliking.
The vibrant, fantasy-themed graphics and design of Christmas Tree are stunning and make playing this game a joy. If it weren't for the fact that you have to be 18 years old to play, this would be a recommended gift for children. Adults, on the other hand, can enjoy spinning those reels and entering the Christmas spirit. Overall, if you want to have a memorable gaming experience this festive season, you have to try the Christmas Tree slot game. You won't regret it!
FAQ
What is the top prize in Christmas Tree?
The top prize in Christmas Tree is up to 4412 times your total bet.
What is the RTP of Christmas Tree?
The RTP of Christmas Tree is in line with the average of the online market.
What is the Cluster Pays engine in Christmas Tree?
The Cluster Pays engine in Christmas Tree allows you to earn advantages through cascade wins.
What gifts can you win in Christmas Tree?
You can win a coin win, multiplier, or bonus round in Christmas Tree.
How does the snowstorm feature work in Christmas Tree?
From 3 to 9 mysterious symbols will be released on the game grid, potentially turning into useful wilds.
What is the maximum payout in Christmas Tree?
The maximum payout in Christmas Tree is up to 25,000 times your bet.
What kind of players is Christmas Tree recommended for?
Christmas Tree is recommended for experienced gamblers looking for something new and fun.
What is the design and graphics of Christmas Tree like?
Christmas Tree has a well-crafted, excellently-rendered design, depicting a normal Christmas with a humorous touch.
What we like
Well-crafted graphics and design
Exciting special features
Top payout potential of up to 4412x
Contained betting range perfect for beginners
What we don't like
May not appeal to players who don't celebrate Christmas