Cave of Fortune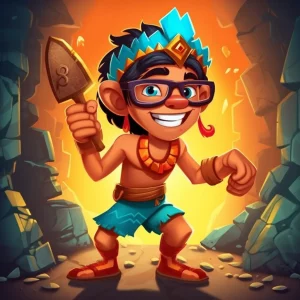 Cave of Fortune is a game that is not for the faint-hearted, but if you are willing to take the plunge, it can be an extremely rewarding experience. The game has 5 reels and 30 fixed paylines, offering a wide betting range that can appease both penny-pinching players and high rollers alike.
Don't be afraid of the high volatility; that just means you need to be patient to hit those big wins that are waiting for you. When the wins do occur, they are hefty and well worth the wait. So, hold your breath and spin away; this slot game will not disappoint when it comes to delivering big winnings.
With an impressive RTP standing at around 94.15%, Cave of Fortune ensures that you have ample chances to score some impressive wins. The game's symbols, including diamonds, cave drawings, and cave crystals, are colorful and inviting. The game also has some fun and exciting features like wilds, scatters, free spins, and multipliers, which make the gameplay more engaging.
Overall, Cave of Fortune provides a thrilling and entertaining gaming experience that will keep you on the edge of your seat with excitement. Be warned, though; it's not for the faint-hearted. So gather your courage and venture into the cave of fortune to get your hands on some big payouts.
Design and Graphics
The Cave of Fortune slot game is a visually stunning masterpiece that will transport you to an underground world filled with treasures and danger. The graphics of this game are so top-notch that you will feel as if you are really shuffling through a cave. The game's designers have put in a lot of effort to make sure that every detail is right, from the flickering torches that light up the walls to the gems that glimmer in the darkness.
The design of the game is in keeping with the mysterious and immersive theme of the game. You will encounter intricate animations and designs that will make you feel as if you are spelunking through a real cave. The expertly crafted graphics are not overwhelming, so you will not be distracted from playing the game itself.
Playing Cave of Fortune is like stepping into a new world, and the design and graphics are the window to this new world. If you are not impressed by the visuals of Cave of Fortune, then you might want to check if you have a pulse!
Overall, the design and graphics are exceptional, and a perfect example of how online slot games should be. The designers have done a commendable job of creating a game that is visually appealing without hampering the gameplay. The only downside is that the graphics are so good you might forget you are actually playing a game for real money – but hey, that's a small price to pay for a great gaming experience!
Audio and Sound Effects
Do you ever play a slot game and feel like you're being constantly bombarded with annoying sound effects? Well, fear not, my savvy gambler, because the audio and sound effects of Cave of Fortune are spot on. They effortlessly complement the gameplay without being intrusive or pesky. I mean, who wants to hear bells and whistles going off every time you make a move? Not me, that's for sure!
But what really sets Cave of Fortune apart is its attention to detail. The sound of dripping water in the background brings an eerie, captivating quality to the game. It's like you're exploring a real-life cave without the danger of stepping on a bat guano or tripping over a stalagmite.
Payout Rate
If you're looking to strike it big with online casino slots, then Cave of Fortune is the game you should be playing. With an impressive payout rate of around 94.15%, you're sure to hit those winning combinations in no time. This game is perfect for those who enjoy high volatility, ensuring that you're always on your toes, never knowing what's going to happen next.
But don't worry, if luck isn't on your side, this game still has plenty to offer. The mystical sound-effects and the beautifully designed graphics will keep you entertained for hours. Plus, the payouts when you do win are substantial enough to make all the spins worth it. I'm telling you, there's nothing quite like the rush of winning big in Cave of Fortune!
This slot game is a great choice for experienced players who know exactly what they're doing. Just be sure to brush up on your strategy skills, because with the high volatility of this game, every spin counts. So if you're ready to strike gold, then Cave of Fortune is the game for you!
Who Will Love Cave of Fortune?
BF Games seems to have created Cave of Fortune with one type of person in mind: experienced players. This game is not for someone dipping their toes into the world of online slot games. Oh no, this game is for the big boys and girls of the gaming world. The ones who are willing to bet big and potentially reap the rewards of their risk-taking.
But hey, who doesn't want to take a calculated risk now and then? If you're the type of person who enjoys the thrill of the game and the potential for substantial payouts, then Cave of Fortune is the slot game for you. Just make sure you have a sizable bankroll to support your ambitions.
And here's a little pro tip for you: because of its high volatility and relatively high RTP, Cave of Fortune is perfect for those who seek an adrenaline-fueled night of gaming with the possibility of some sweet rewards.
FAQ
What is the minimum bet for each spin in Cave of Fortune?
The minimum bet per line is just $0.01, meaning each spin only costs $0.30.
How many reels and paylines does Cave of Fortune have?
Cave of Fortune boasts 5 reels and 30 fixed paylines.
Which symbol is the most valuable in Cave of Fortune?
The most lucrative symbol is the white diamond.
What is the RTP for Cave of Fortune?
Cave of Fortune sits at a respectable 94.15% in terms of RTP.
What is the Wild symbol in Cave of Fortune?
The elf represents the Wild symbol and apart from being a winning symbol in itself, it also substitutes for all others, except for the special symbols.
What are the nitro vials in Cave of Fortune?
The nitro vials are special symbols that can appear singly, doubly or triply. Each time a nitro vial appears, the corresponding ampoule on the reel fills up with liquid.
What happens when the nitro vials spill over in Cave of Fortune?
When the nitro vials spill over, an extended Wild covers the entire reel, triggering three free spins. If all reels are covered with extended Wilds, the payout is 200 times the initial bet.
What is the Scatter symbol in Cave of Fortune?
The treasure chest symbol is the Scatter and triggers free spins.
What we like
Easy-to-follow gameplay
Expertly crafted graphics
Subtle and immersive sound effects
Above-average payout rate
What we don't like
High volatility may not appeal to all players
Limited bonus features