Candy Dreams: Bingo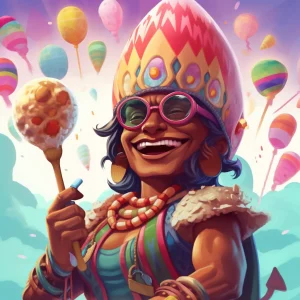 If you're looking for a sweet treat without the calories, then Candy Dreams: Bingo is the slot game for you! This game is more than just your typical slot – it's a number-based game, played on a container that can hold up to 25 numbers.
One thing that sets this game apart from traditional slots is that it doesn't have reels and rows. Instead, it relies on number combinations that develop horizontally, vertically, and diagonally. With a basic bet of only 0.10 virtual coins, you can increase your chances of winning big.
And the best part? The version of Candy Dreams: Bingo illustrated in this review is just for demonstration purposes – so have fun playing without risking real money! But if you're feeling lucky, you can always switch to the real money version.
For those who don't want to miss a thing, the Autoplay function is the way to go. With just one click, you can set up automatic spins from 10 to 100 – sit back, relax, and let the game do the work for you! And if you're concerned about going overboard, you can always set your own limits.
Now, let's talk about the return to the player (RTP) – set at 95.85%, you have a pretty good chance of winning something sweet. And speaking of sweet, beware of the sugar rush because Candy Dreams: Bingo is just that good!
Get a Sugar Rush with Winning Combinations
Calling all those with a sweet tooth – get ready for an online slot game that's sure to satisfy all your candy cravings! Introducing Candy Dreams: Bingo, a game that combines the thrill of bingo with sugary treats.
But let's not sugarcoat it – the real draw of this game is the potential to win big. And that's where the winning combinations come in. To hit the sweet jackpot, you need to get a combo of at least 5 symbols. Don't worry if you're not a natural at bingo – Candy Dreams replaces numbers with ice cream symbols, making it easier to keep track of your progress.
The highest multiplier is applied to the first combinations formed, which are visible in the right-hand square. And boy, do these multipliers pack a sugar rush! With options ranging from 25x to a whopping 10,000x, it's no wonder players keep coming back for more.
So what are you waiting for? Dig in and get those winning combinations, and who knows – you may just have enough to treat yourself to some real-life candy as well (we won't judge).
Game Features and Special Symbols
Candy Dreams: Bingo may not have Scatters or Wilds, but that doesn't mean that this game is any less exciting. Who needs a Wild symbol when you have ice cream that looks good enough to eat? I found myself drooling over the different flavors on the reels while playing.
For those of you who are looking for the traditional Scatter or Wild symbols, I hate to break it to you, but Candy Dreams: Bingo is not the game for you. However, if you're like me and enjoy something a little bit different, then you'll love the ice cream-themed symbols that help you create those winning combinations. This game is perfect for anyone with a sweet tooth. Just make sure you don't try to lick your screen in the hopes of tasting the ice cream!
RTP and Maximum Win
Alright, alright, sit down and listen up folks! It's time to talk about RTP and maximum win. For those of you who don't know what those fancy words mean: RTP stands for the theoretical return to the player, and the maximum win is kind of like the holy grail of slot games. And let me tell you, Candy Dreams: Bingo doesn't disappoint!
The RTP of this game is 95.85%, which means that out of a hundred dollars spent playing, you can expect to get back almost 96 bucks. Not bad, right? And let me tell you, the maximum win with the applied multipliers is a whopping 10,017 times the bet! That's right, you could be swimming in so much cash that Willy Wonka would be jealous!
But be warned, the volatility of this game is high. It's like that one friend who is always up for a wild night out – you never know what's going to happen, but you know it's going to be exciting. In this case, it means that while the game might not give out wins as often, when you do win, it's likely to be a big one. So buckle up, grab some candy, and get ready for the ride of your life with Candy Dreams: Bingo!
Compatibility With Devices
If you're anything like me, you have a favorite device that you use for everything. And when it comes to playing online slot games, compatibility can be a real drag! But fear not, my friends, because Candy Dreams: Bingo has got you covered. This sweet game is built using HTML5 architecture, making it compatible with any device under the sun. Whether you're spinning the reels on your trusty desktop computer or taking a few spins on your phone during a boring meeting, Candy Dreams: Bingo has the flexibility you need!
And let's be real, who wants to be stuck in place while playing their favorite online slot games? Being tethered to a single device is so last year. With Candy Dreams: Bingo, you can take the excitement with you wherever you go. So go ahead, take that long-overdue vacation and take your chances at hitting the jackpot while sipping fruity drinks by the pool. No need to worry about compatibility issues – Candy Dreams: Bingo has got your back.
Whether you're waiting in line at the grocery store or riding the bus to work, Candy Dreams: Bingo is there for you. It's like a sweet candy treat that you can enjoy wherever you are. So go ahead, indulge in some sugar-filled fun and take Candy Dreams: Bingo for a spin on your next adventure.
FAQ
What is the maximum win in Candy Dreams: Bingo?
The maximum win, with the applied multipliers, is 10,017 times the bet.
Is Candy Dreams: Bingo a slot game?
No, it's not a slot game. It's a Bingo game.
What is the minimum bet for Candy Dreams: Bingo?
The basic bet is 0.10 virtual coins.
What is the volatility in Candy Dreams: Bingo?
The volatility is high in this game.
Are there Wilds or Scatters in Candy Dreams: Bingo?
No, there are no special symbols in this game.
Can I use Autoplay in this game?
Yes, you can use Autoplay to select from 10 to 100 automatic spins.
Is Candy Dreams: Bingo available on mobile?
Yes, you can play it on any device, mobile, or fixed.
What is the main theme of Candy Dreams: Bingo?
The main theme is candy, presented in a colorful and cheerful way.
What we like
Unique gameplay with number-based mechanics
Multiple winning combinations
Autoplay function for convenience
High maximum win potential
What we don't like
Lack of special symbols like Scatters or Wilds
High volatility may not be suitable for all players