Burning Slots Cash Mesh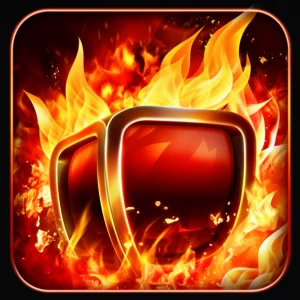 Looking for an online slot game that sparks joy and excitement like a festival bonfire? Look no further than "Burning Slots Cash Mesh"! This game is designed to keep you on your toes and ignite your gaming experience.
The playfield features five reels and three rows, with five paylines that offer a chance to score big wins. And the best part? It's available without registration. High volatility and varying RTP rates add extra spice to the game, with the highest rate being 96.07%. It's like a rollercoaster ride – you never know what to expect, but the thrills will keep you entertained for hours on end.
Are you ready to place your bets and start raking in the winnings? You can bet as little as $0.10 or as much as $50 per spin, giving everyone a chance to join the fun. And if you're lucky enough, you might just be able to hit the maximum payout of 50,000x your bet! That's enough to make even the most seasoned slots player jump for joy.
Not just your average fruit game, this colorful slot also includes a pot of gold, clovers, bells, horseshoes, lucky 7s, and bonus coins to keep the gameplay fresh and exciting. With so many ways to win, it's impossible to get bored playing this game.
So why wait? Give "Burning Slots Cash Mesh" a spin and see if you can light up the reels with your hot streak. The excitement never stops with this fiery game!
Visual Design
Get ready for a visually satisfying experience with Burning Slots Cash Mesh. The designers sure know how to tickle your senses with the bright and colorful fruit-themed design. The moment I opened the game, I felt like I was teleported to a tropical paradise where a tall, cool drink was waiting for me. The animations and graphics fit the theme perfectly, with each element adding to the overall ambiance.
The symbols in this game are particularly impressive. Each one is masterfully designed to look almost good enough to eat, with colors that pop off the screen. The background is also carefully crafted to blend seamlessly with the symbols, making it feel like you are in the heart of the game. The dark-blue gradient background is the cherry on the cake, adding depth and making the overall design even more outstanding.
The Burning Slots Cash Mesh designers could easily moonlight as artists, creating masterpieces that will leave you mesmerized. I'm just glad they decided to share their talents with us in the form of a slot game rather than some fancy museum.
Bonus Features
Let's talk about bonus features, shall we? Personally, I'm all about the extras. In Burning Slots Cash Mesh, there are a few to look out for. First up, we've got the Wild Symbol. It's a clover, which, let's be honest, is about as lucky as you can get. This bad boy can replace any other symbol on the reels except for the scatter, which is pretty nifty. Plus, it can grow to fill the entire screen. It's like Cloverzilla up in here.
Next, we've got the Cash Mesh Feature. This one's a winner. Get five coin symbols and you have a chance to hit one of four jackpots. And if that's not enough, you can take advantage of the Respins feature which can ramp up your winnings by activating the Cash Mesh. Keep an eye on the coins, because some of them are labeled with the magic word – Jackpot!
Finally, there's the Hold and Win bonus game. This is like the cherry on top of the sundae. It's activated quite often and consistently increases your winnings. Who doesn't love that? It's like getting a bonus on your bonus. Bonus-ception if you will. Basically, this game is full of bonuses that are sure to keep you spinning those reels again and again.
Payout Structure
If you're looking for a slot game with a generous payout structure, then Burning Slots Cash Mesh is the game for you! In fact, the maximum payout you can earn is a jaw-dropping 50,000 times your initial bet. That's like winning the lottery, only without all the hassle of buying a ticket or having to deal with your weird uncle asking for a cut of your winnings.
Of course, no slot game is perfect, and Burning Slots Cash Mesh does have some drawbacks. The game's volatility is on the higher side, which means that you might go through some dry spells before you hit it big. The game also has varying RTP rates, with the highest being 96.07%. So, while the odds of winning big are definitely in your favor, there's always a chance that you might come up short.
But hey, taking risks is what gambling is all about, right? If you're feeling lucky and want to try your hand at Burning Slots Cash Mesh, the minimum bet you can make is $0.10, so you don't have to break the bank to get started. And if you're feeling really adventurous (or just really rich), you can make a maximum bet of $50 and really go for broke.
Compatibility with Different Devices
Are you a player who loves to bring the fun with you wherever you go? Then you're in luck, my friend! Burning Slots Cash Mesh is as flexible as a yoga instructor and can be played on multiple devices.
I mean, sure, you could sit at your desktop like a civilized person. But why limit yourself to just one location? With Burning Slots Cash Mesh, you can fire up this game on your laptop while lounging on the couch or waiting at the dentist's office.
And for the ultimate freedom, you can even play this incredible game on your mobile device, whether it runs on iOS or Android. So, whether you're sitting at home on a lazy Sunday or sneaking in a few spins during your morning commute, Burning Slots Cash Mesh has got you covered.
FAQ
What is the game 'Burning Slots Cash Mesh'?
It is a highly anticipated fruit-themed slot game with expanding wilds and jackpots created by BF Gaming, set to be released in April 2023.
How many reels and paylines does 'Burning Slots Cash Mesh' have?
It has 5 reels and 5 paylines.
What is the RTP rate for 'Burning Slots Cash Mesh'?
The game has varying RTP rates, with the highest being 96.07%.
What is the minimum and maximum bet for 'Burning Slots Cash Mesh'?
The minimum bet is $0.10, and the maximum is $50.
What is the maximum payout for 'Burning Slots Cash Mesh'?
The maximum payout for this colorful game is 50,000x your bet.
What are some of the symbols in 'Burning Slots Cash Mesh'?
The game features fruit symbols, a pot of gold, clovers, bells, horseshoes, lucky 7s, and bonus coins.
What is the Cash Mesh feature in 'Burning Slots Cash Mesh'?
When 5 coin symbols appear, players have a chance to win one of the four jackpots. The Respins feature is also activated, increasing winnings by activating the Cash Mesh function.
How can players win the jackpots in 'Burning Slots Cash Mesh'?
Players can win the jackpots through the Cash Mesh feature. The word 'jackpot' is written on some of the symbols on the coins, and filling the entire grid with coins can even double the score.
What we like
High volatility and varying RTP rates
Generous payout structure with a maximum payout of 50,000x your bet
Bright and colorful fruit-themed design with smooth animations and graphics
Multiple bonus features including Wild Symbol, Cash Mesh Feature, and Hold and Win bonus game
What we don't like
Limited number of paylines (only five)
The game may be too flashy and overwhelming for some players