Book of Wealth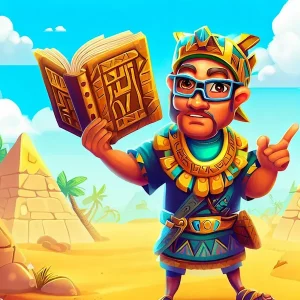 Step into the dusty, sandy world of Book of Wealth, a 5-reel, 3-row, 10 payline online slot game that will transport you to the heart of an ancient Egyptian desert. You'll find scarabs, pharaohs, and other authentic symbols from the era adorning the reels.
As with other video slot games, winning combinations can be formed by matching symbols across the reels. With ten paylines to choose from, it's easy to customize your gaming experience to suit your style and preference. And, unlike the real-life desert, players won't have to worry about any creepy crawlies getting up in their business.
Players can choose to spin the reels manually, soaking up every moment of the excitement, or if they're feeling a bit lazy, they can use the Autoplay feature for hands-free play. So, sit back, relax, and let the magic of Book of Wealth take over.
This game is perfect for anyone who loves adventure or is simply looking to take a break from the daily grind. Why dig for treasure in the hot sun when you can do it from the comfort of your own home?
Overall, Book of Wealth offers a fun and engaging gameplay experience that will keep players coming back for more. Who knows, you might just unearth a treasure or two along the way!
Bonuses
If you're looking for a slot game that's filled with bonuses, look no further than Book of Wealth. This game has it all, including Wild and Scatter symbols, expanding symbols, and free spins. The big book symbol is particularly useful, serving as both a Wild and a Scatter symbol. It's the key to triggering the bonus game, which is where fortunes can really be won.
During the bonus game, you'll receive 10 free games and a special expanding symbol. This expanding symbol can pay regular symbols twice over, which means you could see some serious winnings. I mean, who doesn't love free stuff?
It's important to note that Book of Wealth does not offer any progressive jackpots – sorry if you were hoping to hit that million-dollar payoff. But, hey, it still has enough bonus features to keep things exciting and increase your chances of walking away with some extra cash.
In summary, Book of Wealth is a solid choice for any slot player who's looking for a game with plenty of bonuses and free spins. It's well-designed and has a good potential for payout. So go ahead and give it a spin, and who knows? Maybe you'll be the lucky one who hits the jackpot and becomes the ultimate Book of Wealth champion!
Bet Range
If you're planning to play the Book of Wealth slot game, get ready to choose a bet between $10 and $900 per spin. That's right – you can either be a cautious player on a budget or a high roller betting big. Whatever your style might be, this game has got you covered, pal!
When it comes to payouts, the Book of Wealth slot machine truly shines. With a chance of earning up to 1,364 times your bet, you could potentially be rolling in riches! Who knows – with that kind of payout, you might just be able to afford a luxury cruise or two. Just don't forget to invite us along, alright?
Graphics
The design of Book of Wealth is visually appealing and authentic to the Egyptian theme. This game's graphics are so impressive that if Cleopatra were alive today, she'd be playing Book of Wealth all day long. The reels are set within a pyramid, flanked by two ancient statues, while the backdrop depicts the vast desert. You'll love the way the sand is drifting eerily behind the reels while you wait for those symbols to match up.
And those symbols! They feature the most iconic figures of Egyptian mythology such as the Explorer, Isis, Hathor, and Pharaoh. The detail on these symbols is so fine that you'll feel like the reels are coming to life. And if that's not enough, the game's soundtrack complements the Egyptian theme and adds depth to the gameplay. It'll make you feel as if you're exploring the pyramids of Giza in search of treasure.
Unleash the Free Spins
Are you tired of paying to spin the reels for just a few minutes? Well, look no further because Book of Wealth has got you covered with its free spins feature! All you need to do is get three or more Scatter symbols anywhere on the reels, and voila! You're in for a treat.
The best part about this free spins feature is that you get to play ten free games. Who doesn't love free stuff, am I right? Not only that, but before the start of the bonus round, a special expanding symbol is chosen just for you. It's like getting a surprise gift, and Christmas is all year round in Book of Wealth's world!
During the free spins, the expanding symbol can take up the entire reel, giving you massive chances of raking in some serious winnings. This baby pays out like a normal symbol on non-adjacent positions and all active paylines. If that wasn't enough, there's more! If you manage to get at least three books during the free spins mode, you'll get another ten free spins with the same expanding symbol. Who says you can't have your cake and eat it too?
FAQ
Is Book of Wealth a free slot game?
Yes! Book of Wealth can be played for free on Slotjava without registering.
What is the betting range of Book of Wealth?
The betting range of Book of Wealth is between $10 and $900 per spin.
What is the maximum win in Book of Wealth?
The maximum win in Book of Wealth is up to 1,364 times your bet.
What kind of bonuses does Book of Wealth offer?
Book of Wealth offers bonuses such as Wild and Scatter symbols, expanding symbols, and free spins.
What is the RTP of Book of Wealth?
The RTP of Book of Wealth is 95%.
Does Book of Wealth have high or low volatility?
Book of Wealth has medium volatility.
What is the special symbol in free spins mode?
Before the start of the free spins bonus round, a symbol is chosen to act as an expanding special symbol.
Can I play Book of Wealth on my mobile device?
Yes! Book of Wealth can be played on both PC and mobile devices.
What we like
Appealing Egyptian theme with high-quality graphics
Traditional selection of Wild and Scatter symbols, expanding symbols and free spins
Autoplay feature for hands-free play
High maximum payout of up to 1,364 times your bet
What we don't like
No progressive jackpots
Not suitable for players with smaller budgets due to the minimum bet of $10