Book of Tombs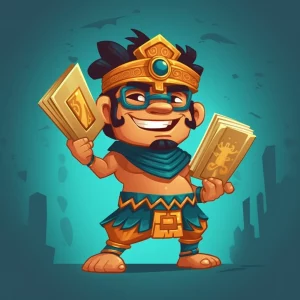 Calling all archaeologists and adventurers! Book of Tombs slot game is a 5×3 reel power-packed adventure. With 10 fixed paylines, you can bet anywhere between $0.10 to $75. So, whether you're on a shoestring budget or are feeling quite flush, this game has got you covered!
The game boasts high volatility with an RTP of 95.42%, and it tells you loud and clear that you can either go big or go home – there's really no in-between here! And with the possibility of winning combinations starting from at least 2 adjacent identical symbols from left to right, this game makes sure to keep you on your toes, even if you're not explicitly on a treasure hunt. The fascinating game mechanics of Book of Tombs keep you engaged and entertained right from the first spin.
Moreover, the game offers the option of setting up to 1,000 automatic spins. So, book lovers, this is excellent news for you. You can sit back, relax and sip on a hot caffeinated beverage while the game does all the spinning for you!
With Book of Tombs, you'll find yourself drawn into a world of adventure, exploring hidden tombs, and unlocking glorious treasures. But let's warn you before you dive too deep – this game is high stakes! So, it's not for the faint-hearted or those with weak knees. But hey, it's definitely worth the thrill!
Game Graphics and Sound Design
Are you ready to enter the mysterious world of ancient Egypt? If the answer is yes, then Book of Tombs is the right choice for you. The game features graphics that are so impressive, they could be mistaken for a Hollywood blockbuster. The imagery is crisp and the characters are beautifully designed. It's like someone took the time to carve each symbol into the wall of the pyramid.
The game's Egyptian theme is further heightened by the statues of Anubis that flank the spin button, as well as the use of the color gold, which conveys a sense of luxury that will have you feeling like Cleopatra. Oh, and did we mention the book? It's kind of a big deal. The book has a starring role in the game and is full of mysteries waiting to be uncovered.
The sound design is top-notch, with a mysterious background music that will have you feeling like you're exploring a secret tomb hidden deep within a pyramid. And when you hit a winning combination, the acoustic effects will make you feel like you just discovered a treasure worth millions.
Get Ready to Explore: Symbol and Payline Overview
Are you ready for an adventure unlike any other? Look no further than Book of Tombs, the online casino slot game that has everyone buzzing. This game offers both minor and major symbols, giving players a chance to win big while having fun.
You'll find that the minor symbols are the classic playing cards from 10 to Ace, but don't let their simplicity fool you. The major symbols are where the real excitement lies, and they include a vase, a sarcophagus, a statue of the god Anubis, and an explorer. Which one will bring you the greatest joy? Only time will tell!
Of course, in order to win, you'll need at least 2 adjacent identical symbols from left to right. Keep an eye on those reels and cross your fingers for a big payout, with the maximum being $1.20 if 5 identical playing cards appear. And don't forget about the Wild and Scatter symbol, represented by the magical book, which can replace all symbols except for the expanding ones. It's like having an ace up your sleeve!
The game has a total of 10 fixed paylines, so there's no need to worry about picking the right ones. They're all in play, all the time. So sit back, relax, and let the adventures come to you with Book of Tombs. Who knows what secrets you'll uncover?
Betting Range and Volatility
Do you want to hit a big win without having to rob a tomb yourself? Look no further than Book of Tombs! This slot game has a wide betting range of $0.10 to $75. So whether you're a penny pincher or a high-roller, this game can accommodate your style.
Don't believe us? Well, let's talk numbers. With a maximum payout of over 5,500x the initial bet, you could potentially walk away with some serious loot. Just make sure your heart can handle the excitement. With high volatility and an RTP of 95.42%, players can expect some dry spells between the big payouts. But hey, good things come to those who wait, right? Patience is a virtue, or so they say.
So if you're ready to take a trip to Ancient Egypt and potentially come back with a thick wallet, give Book of Tombs a spin. You never know, you might just become the next archaeologist-turned-millionaire.
Explore the Special Features and Bonuses of Book of Tombs Slot Game
Get ready to uncover the glittering treasures of ancient Egypt with the adventurous Book of Tombs slot game. The game features an exciting selection of special features and bonuses that can take your gaming experience to the next level.
The magical book symbol plays a dual role as the Wild and Scatter feature in the game. It can replace all other symbols on the reels, maximizing your chances of hitting a winning combination. And if you are lucky enough to land three or more Scatter symbols, it triggers the Free Spin Bonus round.
During the Free Spin Bonus feature, players are awarded 8 free spins and a unique expanding symbol is randomly selected from the reels. This symbol can occupy the entire reel and create multiple winning combinations, leading to more exciting prizes. The game offers players up to 9 different expanding symbols to make things even more interesting.
The game creators of Book of Tombs are more than generous. They let you re-trigger an additional 8 free spins if three or more Scatters land in view during the Free Spin Bonus. When this happens, players once again have the chance to increase their payouts with expanding symbols.
Overall, the special features and bonuses of Book of Tombs add a sense of adventure and excitement to the game. Who said exploring tombs can't be fun and rewarding at the same time? As the ancient Egyptians would say, 'May the odds of the pharaohs be ever in your favor'!
FAQ
What is Book of Tombs?
Book of Tombs is an online slot game with an Egyptian theme, featuring an adventurer on a mission to discover the book of the Pharaoh and get their hands on a treasure of immeasurable value.
What are the graphics like?
The graphics in Book of Tombs are truly extraordinary, with a resolution worthy of the best animated films and with the color gold serving as the background throughout the game.
What are the features of the slot?
The grid has 5 reels and 3 rows on which there are 10 fixed paylines. The total bet is $0.10, while the maximum bet is $75. You can win with at least 2 adjacent identical symbols from left to right. If desired, you can set up to 1,000 automatic spins. The volatility is high and the RTP is 95.42%.
What symbols are in Book of Tombs?
There are minor symbols represented by playing cards from 10 to Ace, and higher value symbols such as a vase, a sarcophagus, a statue of the god Anubis, and the explorer. The symbol of the magical book covers the function of both Wild and Scatter.
What does the book symbol do in the game?
The book symbol serves as both the Wild and Scatter symbol. It replaces all symbols except for the expanding ones, while also activating Free Spins.
How many free spins can be won in Book of Tombs?
8 free spins are initially awarded when the book symbol appears as the Scatter. If during those spins, another 3 Scatters appear, then we are entitled to 8 more free spins.
What is an Expanding symbol?
An Expanding symbol is randomly chosen before the Bonus game starts, and covers the entire reel, increasing the possibility of winnings. It is possible to have up to 9 different expanding symbols.
How much can be won in Book of Tombs?
The maximum win is not specified, but the highest paying symbol is the explorer. The volatility is high and the RTP is 95.42%.
What we like
Exceptional graphics and sound design
Rich Egyptian theme with a sense of grandeur
High volatility with rare but big payouts
Exciting Free Spin Bonus with expanding symbols
What we don't like
Limited acoustic effects
Requires at least 2 adjacent symbols for a winning combination