Bomber Squad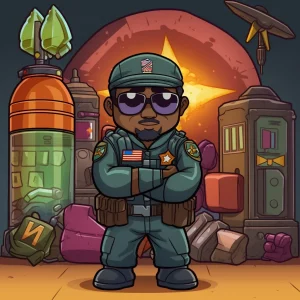 Bomber Squad, hosted by SimplePlay, is a slot game that plays out like a classic criminal story where the cops and robbers collide – but in a fun way. The slot game is made up of 5-reels and 3-rows, which may sound traditional but it is anything but. The attention to detail on the cartoonish symbols is evident, and each character is designed with guns, money bags and explosives.
The game is easy to navigate with quick loading time and easy-to-use buttons. It's well designed and playful enough to make you feel like a member of the squadron. The background score matches the theme, and you find yourself tapping your toes to the beat. The plot, coupled with features like scatters and free spins, makes Bomber Squad an easy favorite.
Betting Options and Payouts
Are you a high-risk high-reward enthusiast? If so, then Bomber Squad is the perfect online slot game for you! With a minimum bet of 0.20 coins and the ability to increase your bets up to 10 levels, you have the opportunity to win big payouts up to 800 times your initial bet.
That's right folks, Bomber Squad has a progressive jackpot that can grow to incredible heights, and players can also win big during the free spins rounds. The cherry on top is that despite the high rewards, the payback percentage or RTP value for this game is 94.35%, which is within the average range for online slot games. At least you won't feel like you're sacrificing your life savings for a chance to win big!
So, grab yourself a beverage, be it soda or something a little more potent, and settle in for the thrill of Bomber Squad. Just remember, you don't want to blow your chance to use those payouts for something good, like buying your own personal bomber!
Uncovering the Symbol Types and Values of Bomber Squad
Get ready to take on explosive action with Bomber Squad slot game! With a total of 11 regular symbols and 2 bonus symbols, Bomber Squad offers a variety of ways to win.
The lower-paying symbols in this game are the standard card symbols ranging from 9 to Ace. But don't let that put you off, there are plenty of opportunities for bigger payouts! You'll be keeping your eye on symbols such as the stack of cash, explosive bags, and guns which can lead to some explosive rewards.
If you're looking for an extra boost, keep an eye out for the Wild symbol, represented by the dynamite, which can substitute any other symbol except for the Scatter. This dynamite can blast your winnings to new heights! The Scatter symbol is the vault door, which needs to be adjacent to other symbols to trigger the bonus rounds. Worry not, even if the explosives don't land in your favour, the vault door will still provide you with some much-needed firepower!
Overall, the variety of symbols and their respective payouts make for a thrilling gaming experience. If you're lucky enough, you might just blast away with some great payouts!
Bonus Features and Free Spins
Looking for a slot game that will keep you entertained and may even result in a big payout? Look no further than Bomber Squad! Before the Free Spins even begin, players get to choose from a total of five different bonus options. Each bonus option comes with its own set of multipliers and free spins, keeping the excitement going throughout your gaming session.
But that's not all! Bomber Squad also offers the added excitement of a randomly awarded progressive jackpot. With just one spin, you could be on your way to winning big!
Keep your eyes peeled for the Wild symbol, represented by the dynamite. This symbol acts as a substitute for any other symbol in the game, except for the Scatter symbol. Speaking of the Scatter, keep your eyes out for the vault door. When the Scatter symbol appears adjacent to other symbols, it triggers the bonus rounds.
Land three or more Scatter symbols and you are on your way to earning some free spins. With the potential for big wins during these free spins, you'll be on the edge of your seat with every spin of the reels.
Overall, Bomber Squad offers a thrilling gaming experience with its bonus features, free spins, and progressive jackpot. So why not give it a try and see if you can come out the big winner?
Overall Gameplay Experience
Bomber Squad takes online slot gaming to another level. It's like the game developers raided Michael Bay's movie set and created a bank heist slot game. The explosive storyline is aimed at taking you on a ride. It has it all: bombs, cash, robbers, vaults, and a SWAT team.
The well-designed symbols include an FBI agent with shades, a tactical journal, a helicopter, and a money truck. The graphics and sound effects are impressive, making it seem like you're in a Hollywood action movie. The attention to detail in this game makes it stand out among other online slots.
If you love to customize your gaming experience, Bomber Squad provides plenty of options. You can set up free spins and even adjust the speed of the reels. It's like being the director of your own heist movie!
Overall, Bomber Squad offers a thrilling and entertaining gaming experience that will appeal to both novices and experienced gamers. With the ability to personalize your gameplay, it's a no-brainer to give Bomber Squad a shot. Who knows? You may end up blowing the vault wide open and walking away with a bag full of cash!
FAQ
What is Bomber Squad?
Bomber Squad is a slot game created by SimplePlay with a criminal adventure storyline.
How many reels and rows does Bomber Squad have?
Bomber Squad has 5 reels and 3 rows.
How many ways are there to win in Bomber Squad?
Bomber Squad has 1024 ways to win.
What is the minimum bet in Bomber Squad?
The minimum bet in Bomber Squad is 0.20 coins.
What is the maximum bet in Bomber Squad?
The maximum bet in Bomber Squad is 10 levels of betting.
What is the potential win in Bomber Squad?
The potential win in Bomber Squad is up to 800 times your initial bet.
What is the RTP value of Bomber Squad?
The RTP value of Bomber Squad is 94.35%.
Is the Jackpot in Bomber Squad progressive?
Yes, the Jackpot in Bomber Squad is progressive and randomly awarded.
What we like
Cartoonish symbols drawn in detail
Thrilling criminal storyline
1024 ways to win
Customizable gameplay options
What we don't like
RTP value is within the average range
Limited bonus symbols