Blazing Mammoth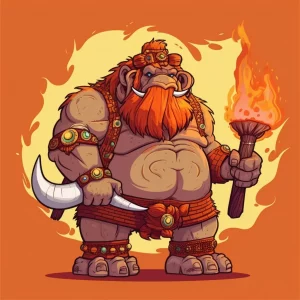 Get ready to embark on a prehistoric adventure with Blazing Mammoth, the slot game that will take you on a wild ride through the Ice Age! This exciting 5-reel, 3-row virtual slot machine features 20 pay lines that give you plenty of chances to win big.
But hold on to your fur hat, because Blazing Mammoth isn't just any ordinary slot game. With game multipliers and free spins, you'll feel like you've stumbled upon a hidden trove of mammoth tusks. And with a maximum bet of £120 and a minimum bet of 20 cents, you can customize your betting strategy to your liking.
But what really sets Blazing Mammoth apart from the pack is the maximum payout of 2000 times your bet. Yes, you read that right – 2000 times your bet! That's enough to make even the most stoic caveman jump for joy.
So if you want to get in on the action and win big like a true caveman, saddle up your trusty woolly mammoth and give Blazing Mammoth a spin! It's guaranteed to be an experience you won't forget.
Visual Design
Are you ready to take a step back in time to the prehistoric era? If so, Blazing Mammoth has got you covered! The visual design of this casino slot game is jaw-dropping, as it features some of the most impressive graphics and sound effects you'll ever come across.
As you spin the reels of this game, you'll encounter primitive men, woolly mammoths, prehistoric birds, and many other animals from that era. Even the classic symbols like the jackpot, wild symbol, and scatter symbol seamlessly blend into this theme.
But don't let the ancient theme fool you – the graphics are crisp and modern, making for an interactive and engaging gaming experience. In fact, you might even forget you're in the present day!
All in all, Blazing Mammoth takes you on a journey back in time without sacrificing the quality of the visuals. You'll feel like you're on a real adventure.
Just be careful not to get stomped by the mammoths or eaten by the sabertooth tigers, okay?
Payouts And Betting Range
Are you looking to walk away with some serious coinage? Then Blazing Mammoth is the game for you. With a maximum bet of £120, you'll be feeling like a high roller in no time. Don't worry if you're not quite ready to go all in, because there is also a minimum bet of just 20 cents. So even if you're keeping things on the safe side, there's plenty of room for you to get in on the action.
But let's get real, we all know why you're really here – you want the payout. And let us tell you, the maximum payout on this game is a mammoth-sized 2000 times your bet. So if you're feeling lucky, it's time to channel your inner caveman and start spinning those reels.
Symbols and Themes
Prepare to embark on a wild and wooly adventure into the prehistoric past with Blazing Mammoth, a slot game that features primitive men, mammoths, and a menagerie of other animals from an era long gone. And if that's not enough to entice you, then the classic symbols from the world of slots will definitely get your heart racing.
But let's talk about the real stars of the show – those prehistoric characters. They're realistic and detailed, and you'll feel like you're really walking around among them. Just don't try to pet the mammoths, they might be extinct, but they still have sharp tusks. And while the game takes its inspiration from ancient times, all of the excitement you love about slot machines is still present.
In fact, will you ever look at those classic slot symbols the same way again? You'll find everything from cherries to BARs, but this time, they're joined by those fierce and furry prehistoric pals.
So come on, player, it's time to go back in time with Blazing Mammoth. It's a wild ride, but one that's definitely worth it. And just between us, if you win big enough, you might just be able to create your own time machine and go back to the prehistoric era for real. Just don't forget to bring your sunscreen and maybe a big stick to fend off those saber-toothed tigers.
Easy Peasy, Mammoth Squeezy!
Looking for a slot game that won't make you pull your hair out? Look no further than Blazing Mammoth! This game is so easy to use, even a caveman could do it. (Sorry, couldn't resist the prehistoric pun.) The user interface is basic and straightforward, making it a great choice for newbies to the online casino world.
But don't let the simplicity fool you – this game still packs a punch. Blazing Mammoth combines unique and exciting themes with traditional ones to deliver a top-notch gaming experience. It's like having a woolly mammoth AND a sabertooth tiger in your game arsenal.
FAQ
How many pay lines does Blazing Mammoth have?
Blazing Mammoth has 20 pay lines.
What is the maximum bet on Blazing Mammoth?
The maximum bet on Blazing Mammoth is £120.
What is the minimum bet on Blazing Mammoth?
The minimum bet on Blazing Mammoth is 20 cents.
What is the maximum payout on Blazing Mammoth?
The maximum payout on Blazing Mammoth amounts to 2000 times your bet.
What symbols can you find on Blazing Mammoth?
On Blazing Mammoth, you can find symbols such as primitive men, mammoths, and other animals from prehistoric times, as well as classic symbols such as the jackpot, wild symbol, and scatter symbol.
Is Blazing Mammoth a good game for beginners?
Yes, Blazing Mammoth has a user-friendly interface that makes it easy for even beginners to enjoy the game.
What bonuses does Blazing Mammoth offer?
Blazing Mammoth offers game multipliers and many opportunities to win free spins.
Is Blazing Mammoth worth playing?
If you enjoy the prehistoric theme, Blazing Mammoth is definitely worth playing as it delivers a high-quality gaming experience that combines unique themes with traditional ones.
What we like
High-quality graphics and sound effects
Unique prehistoric theme
Game multipliers and free spins
Easy-to-use interface for beginners
What we don't like
Limited betting range
Lack of innovative features