Aztec Stargems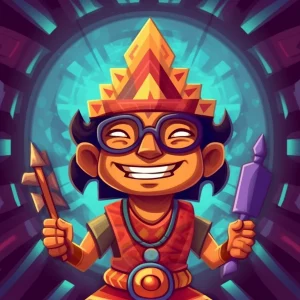 Leap Gaming has really outdone themselves with Aztec Stargems! If you're a fan of adventure, you're in for a treat. The game's 5×3 structure takes you deep into the Aztec jungle where you can feel the magic radiating from the juicy reels.
But what really sets Aztec Stargems apart is the Stargem bonus. This powerful feature allows you to win great prizes by randomly changing all symbols linked to the same payout. So you can get ready to stand up from your chair and strut like a boss, knowing that epic wins are just around the corner.
And that's not all, folks! The game also includes the Locked Reel feature that grants 3 respins when reels 1 and 2 match. Not to mention, the Wild symbol can win you up to 10 times your bet, making it a real gem in the Aztec jungle.
Seriously, once you start playing Aztec Stargems, you might never want to leave the jungle. So put on your safari hat and join the adventure today!
Experience the Magic of Aztec Stargems Graphics and Design!
Are you ready for an unforgettable adventure through the jungle? With Aztec Stargems, you get a beautiful combination of modern technology and ancient civilization theme. The details are fascinating, and you will love exploring the magic and wonder of this game.
The graphics are superb and charmingly designed. You will feel completely invested in the backdrop of the pyramids, and the symbols of the cards are a true feast for the eyes. The shiny gems in different colors are more profitable icons that add value to your gameplay. Green, purple, blue, and red are all worth different amount, ranging from 2x to 15x of your current bet.
The design team has outdone themselves with Aztec Stargems. Not only is the game immersive, but it also showcases an immaculate attention to detail when it comes to the graphics and design. As you spin the reels, enjoy the top-quality design and take in everything this game has to offer!
Even if you're not an expert in Aztec culture, you will still enjoy this game and feel like an expert once you are done playing. Just don't start wandering through the jungle looking for the lost city of gold. Keep it safe and simply enjoy the game! Aztec Stargems will keep you mesmerized for hours on end.
Uncovering Volatility and Payout Potential in Aztec Stargems
Are you ready to take a mystical journey through ancient Aztec civilization, all while winning big? Look no further than Aztec Stargems – a slot game with a unique and captivating twist!
This game may have medium-high volatility, but don't worry, you won't be sacrificing too much of your treasure for a chance to hit the jackpot. In fact, you can accumulate up to 2,760 times your initial bet – a payout that even Montezuma himself would be envious of!
With an impressive RTP of 96.02%, Aztec Stargems delivers a fair opportunity to win big. Although, let's be honest, you'll probably get more excited than a conquistador who just stumbled upon a hidden trove when you finally hit that big payout. It's like an ancient treasure hunt but instead of a map and compass, you've got a mouse and keyboard.
Get lost in the rich history of Aztec culture with a chance to score epic payouts along the way. Aztec Stargems is no ordinary slot game, but then again, you're no ordinary adventurer.
Lack of Free Spins: A Downside of Aztec Stargems
Oh no, it's the one thing we all dread in a slot game. The lack of free spins! Unfortunately, Aztec Stargems doesn't seem to offer any free spins to players. For those who are already used to the exciting thrill of free spins, the absence of this feature might bring a sense of disappointment. But don't worry; the game does have a respin feature, which might just do the trick.
It's pretty simple. When a reel doesn't pan out the way you had hoped, you have the option to respin it. Not quite the same as free spins, but it could be your saving grace. Besides, who needs free spins when you're hitting nothing but jackpots anyway, right?
Of course, for some players, the fact that there isn't a free spins feature may be a deal-breaker. But hey, at least Aztec Stargems makes up for it with its unique theme and stunning graphics. Also, let's not forget about the chance to win some big bucks!
Experience the Thrills of Aztec Stargems!
Are you ready for an adventurous slot experience? Look no further than Aztec Stargems by Leap Gaming!
This game offers high-quality gameplay features and top-notch graphics that transport you straight to the heart of a hidden Aztec temple. While the lack of free spins may leave some players wanting more, don't let that deter you. Aztec Stargems has medium-high volatility and an RTP of 96.02%, which means there are ample opportunities for exciting and rewarding gameplay, with big wins possible on every spin.
But don't just take our word for it – give Aztec Stargems a spin and see for yourself just how thrilling this slot game can be! With good value for money and exciting gameplay, this game is perfect for adventurous slot players who are looking for a wild ride!
FAQ
What is Aztec Stargems?
Aztec Stargems is an online slot game crafted by Leap Gaming. It immerses players into the world of ancient Aztec civilization through a 5×3 structure and magic theme.
What is the Stargem bonus?
The Stargem bonus is a feature in Aztec Stargems that randomly changes all symbols linked to the same payout, allowing for epic wins. It also assigns a multiplier of x2 to x10.
What is the Locked Reel feature?
The Locked Reel feature in Aztec Stargems grants players 3 respins when reels 1 and 2 match. This increases the chances of hitting a winning combination.
What is the RTP of Aztec Stargems?
Aztec Stargems has an RTP of 96.02%, meaning that on average, players can expect to win back $96.02 for every $100 they wager.
What is the maximum payout in Aztec Stargems?
Players can accumulate up to a maximum of 2,760 times their bet in Aztec Stargems.
Are there free spins in Aztec Stargems?
No, there are no free spins in Aztec Stargems. Instead, it offers the Stargem and Locked Reel features to make gameplay more exciting.
What is the volatility of Aztec Stargems?
Aztec Stargems has medium-high volatility, meaning that wins may not come frequently but will be of high value.
What are the betting options in Aztec Stargems?
Players can bet a minimum of $0.10 and a maximum of $100 in Aztec Stargems, making it suitable for both casual and serious players.
What we like
Immersive and adventurous atmosphere
Powerful Stargem bonus for epic wins
High-quality graphics and design
Thrilling and rewarding gameplay
What we don't like
Lack of free spins feature
Respins may not appeal to some players