Aurora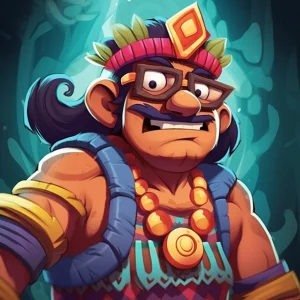 Get ready to hunt for winnings with Aurora, the online slot game that offers a simple yet engaging gameplay with 5 reels and 30 active paylines. With its user-friendly interface and smooth playability, this game will keep you hooked for hours!
But here's the best part – Aurora offers a great chance for consistent payouts. The winnings may not be jaw-dropping on a single spin, but the game ensures a good flow of payouts that make it worth your while. So, sit back, relax, and trust the game to keep you entertained and rewarded.
The 'W' logo replaces all icons in the game, while the troll symbol can give access to the free spins round if it fully lands on reel number 3. The bonus round can completely fill the game grid with wilds, increasing the value of the prize. Now, that's something to troll about!
Get Ready for a Thrilling Ride: Aurora's Maximum Win Potential
If you're looking for a game that can offer you a winning potential that's bigger than life, then look no further than Aurora. This bright and beautiful slot game is loaded with excitement and fun, that will keep you hooked for hours on end. Not to mention, the maximum win potential of 736 times your bet is enough to make any player's heart beat faster.
But let's face it, the odds of hitting that maximum potential are very small. However, that doesn't mean you can't enjoy the game and aim for some decent wins. The game's vibrant graphics and engaging soundtrack are enough to keep you entertained and uplifted, even if Lady Luck doesn't smile down on you.
Make no mistake, Aurora is worth your time, even if you're not a fan of the themed games. The game developers have ensured that the gameplay is smooth, and there are enough bonus features to enhance the excitement levels. But, be warned, it's easy to lose track of time while playing this game. You might even find yourself transported to a world of enchantment that will make you want to keep spinning those reels all night.
In summary, if you're looking for a game with real potential for some big wins, Aurora is for you. And whether you hit the maximum win potential or not, this game's exceptional sounds and visuals will make for an immersive playing experience that you won't forget anytime soon.
Graphics and Animations
Let's be honest, one of the most important features of any slot game is how it looks, right? Well, Aurora knocks it out of the park in this category. The graphics are stunning, featuring gorgeous and vibrant colors. The animations are seamless and make the gameplay even more fun to watch.
But let's talk about the real star of the show: the Northern Lights. The way they're showcased in this game is nothing short of magical. The unique narrative style adds an extra layer of intrigue and mystery to an already beautiful natural phenomenon.
The game symbols are also a treat for the eyes. The W logo is crisp and clean, the troll is charmingly quirky, and the Aurora slot logo perfectly captures the essence of the game. Even the letters and figures of the cards are aesthetically pleasing.
In short, Aurora is a feast for the eyes, and we can't help but stare in awe at its beauty. Who knew that a slot game could be this visually stunning?
Number of Reels and Active Paylines
Get ready to light up the night sky with Aurora! This casino slot game boasts 5 reels and 30 active paylines, which means that players can expect a consistent payout system that keeps them coming back for more, just like that one bar that never kicks you out. With all those paylines, you've got more chances than ever to hit the jackpot and bring home some serious cash.
Truth be told, 30 paylines might sound like a lot, but don't worry – it's not like you have to painstakingly pick each one like some kind of choose your own adventure book. No matter what combination of paylines you end up with, the game offers plenty of fun bonus features like wild symbols, scatters and free spins to keep things interesting and keep that money flowing.
In conclusion, Aurora's 5 reels and 30 active paylines create the perfect combination for players seeking a top-quality gaming experience as well as a steady stream of winnings. As the great philosopher Plato once said: "The first and greatest victory is to conquer yourself, and the first and greatest challenge is to figure out which paylines to activate." With Aurora, both of these challenges will be achieved in no time.
RTP and Overall Performance
Let's talk about the numbers first: Aurora may have an RTP rate of 96.08%, which is average in the online gambling market, but it's definitely above average in the fun and excitement department. We wouldn't call it a life-changing game, but hey, not every slot machine needs to be! Sometimes, all we need is a title that can keep us entertained during our gaming sessions, and Aurora certainly delivers that with its interesting features and beautiful visuals.
To be honest, we were pleasantly surprised by how well this game performed. The animations are smooth, the graphics are crisp, and the sound effects are engaging without being overwhelming. Experienced players will appreciate the seamless gameplay, while newbies will certainly enjoy the simplicity of it all. After all, there's nothing more frustrating than a overly-complicated slot game, am I right?
All in all, Aurora may not be the flashiest or most profitable option out there, but it's certainly worth a shot if you're looking for a fun and relaxing gaming experience.
FAQ
What is Aurora?
Aurora is an online slot game that has simple but rewarding gameplay, beautiful graphics with animated sequences, and showcases the beauty of the northern lights.
How many reels and paylines does Aurora have?
Aurora has 5 reels and 30 active paylines.
What makes the game interesting?
Aurora has a free spins feature and a bonus round that can increase the value of the prize by filling the game grid with wilds. It offers a maximum win of 736 times your bet.
What are the game symbols?
The game symbols include the W logo, the troll, the Aurora slot logo, and the letters/figures of the cards. The W is the wild symbol that replaces all icons in the game, and the troll is the other wild symbol that gives access to the free spins feature.
Is Aurora a high-paying slot game?
Aurora may not offer very high payouts on a single spin, but it ensures good consistency in payouts, making it ideal for medium-low winnings in the long run.
What is the RTP of Aurora?
Aurora has an RTP of 96.08%, which is average in the online gambling market.
Who would enjoy playing Aurora?
Aurora is a fun title that can keep both experienced and novice players entertained during their gaming sessions. It's also ideal for new gamers who can appreciate its interesting characteristics and don't mind lower payouts compared to other variants online.
Does Aurora have a jackpot?
No, Aurora does not have a jackpot, but it has features such as the free spins and the bonus round that can increase the value of the prize.
What we like
Simple but rewarding gameplay with 5 reels and 30 active paylines
Two wild symbols and a bonus round with the potential to fill the game grid with wilds
Maximum win potential of 736 times your bet
Attractive graphics and animations with a unique northern lights theme
What we don't like
Average RTP rate of 96.08%
Doesn't offer massive payouts