Asgardians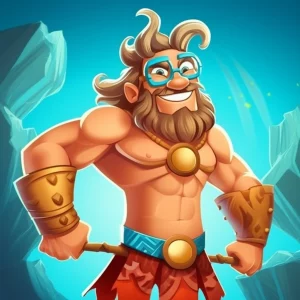 Asgardians, the latest offering by Endorphina, promises to take you on a mythical ride through the realms of Norse gods. With five reels and 25 paylines, the game embodies the grandeur and mystery of Norse mythology perfectly. And what makes it even better? The game features your favourite Norse characters – Thor, Odin, Loki and other Asgardian gods and goddesses.
The slot game is a visual treat, with graphics that are sure to make you feel like you're in Asgard yourself. The symbols are richly designed and detailed, and the background score adds to the overall immersive experience. Not only that, but the game also offers an array of bonus features, including Free Spins, multipliers and more.
But don't be fooled by the game's beauty, it's also packed with power. The game's RTP is 96%, which means that for every $100 you play, you're expected to win $96. That's right, folks! It's almost like the mighty gods are on your side while you're playing Asgardians.
And for those who enjoy a good pun or two (or three), the game has got you covered. So, you can rest assured that you'll not only be entertained, but also giggling along the way. Endorphina has certainly outdone themselves with this one!
Exploring the Features of Asgardians: The Godliest Slot Game Around!
Prepare to go on a journey with the almighty Asgardians slot game. Once you enter its realms, you'll be greeted by several mythical features that are guaranteed to keep you entertained and your pockets heavy.
First off, you'll encounter the mischievous Loki, who plays the role of the wild symbol. With his shape-shifting powers, he'll replace any other symbol on the board to help you create a winning combination. After all, who said that being a trickster couldn't come in handy?
But that's just scratching the surface. To unleash the big guns, you'll want to land three or more Asgardian Scatter symbols anywhere on the reels and trigger the Free Spins bonus game. With the chance to earn up to 15 free spins, you have the perfect opportunity to rake in even more coins and improve your overall gameplay.
If you're looking for even more excitement, then keep an eye out for Thor's Hammer Bonus. If landed in consecutive reels from left to right, you'll be able to enter the Forge Bonus game, where you'll receive an array of tools to forge your way to higher payouts.
Lastly, players can adjust paylines, coin values, and bets to their liking, ensuring that everyone can create their optimal gaming experience.
All in all, Asgardians has established itself as an impressively feature-rich game, with quirky symbols and exhilarating gameplay. Rise up to the top tiers of the gods with this game, and fill your coffers with treasure beyond measure!
Win Big with Asgardians Slot Game
If you're searching for a slot game that can promise big wins, look no further than Asgardians. With a potential payout of up to 7,500x your bet in a single spin, you'll definitely want to add this game to your list of favorites.
But the winning potential doesn't stop there. Asgardians also offers regular combinations that offer up to 300x your bet per line. And who could resist the charm of Loki Wilds? Landing five of them on a payline awards a massive 300x your bet. It's almost as if the game is begging you to take advantage of all of its potential riches.
Oh, and did we mention that you can re-trigger bonus rounds? And with Scatter symbols, you can win up to 100x your bet? It's all part of the Asgardians experience, and you won't want to miss out.
So, in short, Asgardians is the game you need to play if you want to win big. Who knows, you might even have the gods on your side. Just remember to keep your wits about you, and most importantly, have fun!
Get Ready to Play with the Big Boys in 'Asgardians' Slot Game
Are you looking for a slot game that boasts stunning graphics, intense gameplay, and a theme that will have you reaching for your Thor's hammer? Look no further than 'Asgardians'! This game is inspired by Norse mythology, so you'll see familiar faces from the Norse pantheon, including Thor, Loki, and Odin.
But let's not bury the lead – the graphics in this game are top notch. The developers have created a world that transports players to the heart of Asgard, complete with stunning architecture and landscapes. As you explore the realm of the gods, you'll also be treated to ambient sound effects and music that truly bring the theme to life.
But enough about the visuals, let's talk about the game mechanics. 'Asgardians' features some of the most exciting gameplay we've seen in a slot game. The bonus rounds are particularly impressive, taking inspiration from classic Norse mythos. Keep an eye out for the scattered Bonus symbols that will unlock a special feature where you can win one of four progressive jackpots. That's right – not one, not two, not three – but FOUR jackpots are up for grabs in this game.
Overall, 'Asgardians' is a knockout. It has everything you could want in a slot game – stunning graphics, epic music, and most importantly, the chance to win big. We'd recommend it to anyone who's looking for a little bit of excitement in their gaming life. Just remember to call on the power of Thor if you hit a losing streak – with a bit of luck, you could come out on top!
Why You Should Definitely Play Asgardians Slot Game
Are you ready to embark on an epic adventure with some mighty gods? Look no further than Asgardians, the online casino slot game inspired by the mythical realm of Norse gods. With an RTP of 96%, this game offers you an excellent chance to win big while having a great time.
As you spin your way through the game, you'll be captivated by its amazing graphics, which truly bring the world of Norse mythology to life. The game features a host of bonus features, including the fantastic Free Spins bonus, where you can earn more rewards without spending any more of your own money.
But that's not all! With Asgardians, you'll also enjoy impressive win multipliers, which can multiply your winnings by three or more. This adds another layer of excitement to the game and makes it even more enticing for players looking for a thrilling experience.
So, if you've been searching for an online slot game that will give you hours of entertainment, then Asgardians is the way to go. With its stunning graphics, immersive gameplay, and exceptional bonuses, it's a must-play for any lover of online slots.
But don't just take our word for it. Asgardians has been tested and certified as fair by reputable third-party companies, ensuring that you're getting a fair chance to win. So what are you waiting for? Give Asgardians a spin today and watch as the gods smile down on you with their blessings!
Oh, and one more thing- if you're a fan of Norse mythology and slot games, we highly recommend checking out Asgardian Stones by NetEnt for even more immersive gameplay and mythology-inspired entertainment. Trust us, you won't want to miss out on either game!
FAQ
How many paylines does Asgardians have?
Asgardians has 25 paylines.
What bonus features are available in Asgardians?
Asgardians offers Free Spins bonus, win multipliers, and the Hammer Bonus of Thor which activates the Forge Bonus game.
What is the maximum payout in Asgardians?
You can win up to 7,500x your bet in a single spin in Asgardians.
How can I adjust my bet in Asgardians?
You can adjust the number of active paylines, the value of your coins, and the Bet option in Asgardians.
What is the RTP of Asgardians?
Asgardians has an RTP of 96%.
What is the Wild symbol in Asgardians?
Loki is the Wild symbol in Asgardians.
What is the Scatter symbol in Asgardians?
The Asgardian Scatters is the Scatter symbol in Asgardians.
What is the maximum number of Free Spins I can win in Asgardians?
You can win up to 100 Free Spins in Asgardians.
What we like
Exciting bonus features
Delightful graphics
High winning potential
Inspired by Norse mythology
What we don't like