Aloha Fruit Bonanza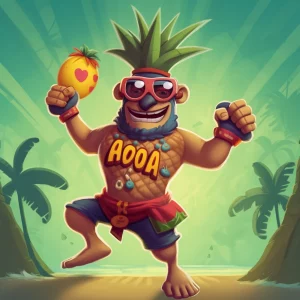 If you're looking for a juicy game with high payouts, Aloha Fruit Bonanza is a must-try. With an RTP of 97.01%, winning just got easier and more frequent. You'll definitely want to keep your eyes peeled for the the innovative Scatter Pays feature. This great feature awards players with random prizes whenever three or more Scatter symbols appear anywhere on the reels.
This game's twist on traditional paylines keeps things fresh and exciting. That's right! There are no conventional paylines here. Players can win up to 7,500x their stake by matching fruits in adjacent columns (regardless of their position on the reels). This gives you a much better chance of landing big wins, and who wouldn't want that?
What's more, Aloha Fruit Bonanza's cascading wins feature turns this game into a real fruit salad of fun. This is where symbols involved in a winning combination disappear and new symbols fall into their place, which could lead to even more wins. It's like being in a never-ending fruit garden that keeps bearing tasty fruit!
Come see for yourself and indulge in the fruit-themed paradise. Enjoy visually appealing graphics and the upbeat soundtrack that wouldn't be out of place at a summer resort. Aloha Fruit Bonanza is a refreshing take on the traditional slot game! Aloha from this delectable and vibrant slot paradise squeezed and shaken with delightful features just for you.
Design and Visuals
Aloha Fruit Bonanza is like a virtual vacation, but without the pesky sunburn. The graphics are so crisp and clean, you might be tempted to try and pick one of the fruit off the screen. Don't worry, we won't judge. But just be warned, they don't taste as good as they look.
If you're tired of the same old slot game design, Aloha Fruit Bonanza is a breath of fresh island air. The background captures the essence of a tropical paradise, making you feel relaxed and carefree. It's almost like you can feel the sand between your toes and smell the salty ocean breeze. We say 'almost' because let's face it, it's still just a game. But hey, we'll take what we can get.
And for those of you who are auditory learners, Aloha Fruit Bonanza delivers on the sound front too. The calming sounds of waves gently lapping against the shore will make you feel like you're on a secluded island, far away from all your worries. So sit back, relax, and let Aloha Fruit Bonanza take you on a mini mental escape.
Win Like a Boss with the Winning Symbols and Payouts
If you want to taste victory in a game you can play for hours, then Aloha Fruit Bonanza is just the slot for you. Let's check out the Winning Symbols and Payouts, shall we?
Get ready to drool over various fruit symbols – watermelon, coconut cocktail, and dragon fruit cocktail – that pay out bigger based on their elite status. Feeling lucky? Then match the most prestigious fruit symbol, the red number seven, to pocket the maximum payout of up to 50 times your stake.
Scatter symbols are also available in this game of chances, where your winnings can range from a decent 3 times your stake to a jaw-dropping 100 times your stake. See, we told you – this game is a pure jackpot.
Now that you know about the winning symbols and payouts, it's time to grab your favorite snack and start spinning the reels on Aloha Fruit Bonanza. Trust us, you won't be able to get enough of it!
Get More Chances to Win with Free Spins and Multipliers!
Aloha Fruit Bonanza gets even more exciting with some awesome features offered to lucky players. Free spins can be triggered by scatter symbols anywhere on the reels, allowing you to earn up to 10 free spins and more chances to bag bigger wins. It's like getting free fruit smoothies to keep those reels spinning!
Now, let's talk about multipliers. Juicy Multipliers can appear on the reels, whose values range from 2x to 100x your original bet. These multipliers can help you increase your winnings quickly. However, they are not available during the free spins mode, so make sure you take full advantage of them while playing in the regular mode to enjoy bigger payouts and prizes.
Overall, the combination of free spins and multipliers can make Aloha Fruit Bonanza a high-paying slot game to play. Just keep your eyes peeled for those scatter symbols and juicy multipliers, and you'll be sipping those fruit smoothies in no time!
Overall Gaming Experience
Get ready to escape to a tropical paradise with Aloha Fruit Bonanza! This online slot game offers a fun and lighthearted gameplay experience with an impressive RTP. You'll surely have a blast with the game's exciting features, such as cascading wins and scatter pays.
But what really sets this game apart is its stunning design and visuals. From the beautiful backdrop to the colorful symbols on the reels, Aloha Fruit Bonanza truly immerses you in a tropical environment that you won't want to leave.
With the chance to earn up to 7,500x your stake, you'll definitely want to give Aloha Fruit Bonanza a spin. Who knows? You could be sipping piña coladas on the beach in no time!
FAQ
What is Aloha Fruit Bonanza?
Aloha Fruit Bonanza is an online slot game with a tropical theme by TrueLab, featuring six reels and no traditional paylines.
What is the RTP of the game?
The RTP of Aloha Fruit Bonanza is 97.01%, making it a higher than average payout game.
What are the symbol payouts in Aloha Fruit Bonanza?
Various fruit symbols pay differently based on their respective prestige. The payouts can range from 12 times your stake with watermelon to 50 times your stake with the red number seven.
Are there any extra features in Aloha Fruit Bonanza?
Yes, Aloha Fruit Bonanza features cascading wins, free spins, and Scatter symbols that payout from 3 to 100 times the stake.
Can I win Juicy Multipliers during free spins?
No, unfortunately, Juicy Multipliers ranging from 2x to 100x cannot be used during free spins in Aloha Fruit Bonanza.
Is the design of Aloha Fruit Bonanza visually appealing?
Yes, Aloha Fruit Bonanza features stunning glossy icons and a beautiful sandy beach background with swaying palms and the calming sounds of the Pacific Ocean.
What is the main objective of Aloha Fruit Bonanza?
The objective of Aloha Fruit Bonanza is to provide nonstop excitement without relying too much on extra features, and to offer players the chance to win up to 7,500x their stake.
How many free spins can players get in Aloha Fruit Bonanza?
Players can activate a maximum of 10 free spins in Aloha Fruit Bonanza with Scatter symbols.
What we like
Impressive RTP of 97.01%
Innovative Scatter Pays feature
Cascading wins create new winning combinations
Stunning design and visuals
What we don't like
Juicy Multipliers not available during free spins
Limited number of free spins