Almighty Sparta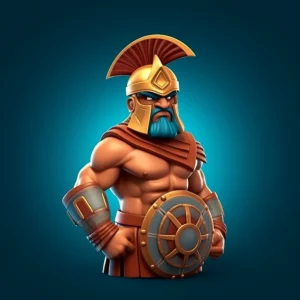 Get ready to travel back in time with Almighty Sparta, the epic slot game produced by Endorphina. With its Spartans battles theme, players will be immersed in the world of classical Greece, where bold warriors and beautiful goddesses roamed the land.
The graphics of the game are impressively detailed, delivering a window with a stunning view of the sea. Look closely and you'll spot the swords and shields scattered around the game, and the classic poker symbols that are the bread and butter of slots. Not only that, but the game symbols also feature recognizable characters such as the fierce Leonidas, the wise Oracle, and the traitor who sparked the downfall of Sparta.
As you spin the reels, you'll be treated to an intense and suspenseful soundtrack that only adds to the atmosphere of the game. With its impressive visuals and tense music, you'll feel like you're right in the middle of the battle.
All in all, if you're a fan of classic Greek mythology, you're going to adore Almighty Sparta. Even if you're not, the game offers plenty of opportunities for excitement, entertainment, and even a few wins on the way!
Special Symbols and Functions
Are you ready to conquer Almighty Sparta? Let's talk about the special symbols and functions that can help you claim victory.
First up, we have the Shield. This scatter symbol can award additional prizes when 2 to 5 of them are displayed. Just like a trusty piece of armor, this symbol can protect your winnings and help you march towards glory.
Next, we have Leonidas, the mighty king who serves as the game's wild symbol. Leonidas can cover up to 3 boxes on the same reel, and he's not afraid to go into battle for you. With his help, you'll have a better chance of creating winning combinations on the reels.
Almighty Sparta also offers 20 free spins, which can be obtained by displaying 3 or more scatter symbols in the same spin. And to sweeten the deal, these free spins come with a x4 multiplier. That's enough to make any warrior feel like they're on top of Mount Olympus.
And if you're feeling extra bold, you can activate the betting game after each winning simple spin. It's like playing a high-stakes game of cards with the dealer – except your prize can be doubled up to 10 times if you beat them. Just be careful not to get too cocky, or you might end up back in the barracks.
Overall, the special symbols and functions in Almighty Sparta add extra excitement and opportunity to the game. With a little luck and a lot of courage, you might just be able to conquer this slot game and come out victorious.
RTP and Betting Limits
If you're anything like me, you're a bit of a worrywart when it comes to betting too much. But fear not, dear readers, because Almighty Sparta has got your back with its reasonable betting limits. With a minimum bet of just 0.01$, you can ease into the game without risking too much of your hard-earned cash. And if you're feeling lucky, why not go for the maximum bet of 100$ per spin?
More importantly, the game's RTP percentage is about 96%. Now, I'm no math wizard, but that sounds like pretty good odds to me! Enough to please even the most experienced gamblers out there.
So gear up, grab your shield and spear, and get ready to fight alongside the Spartans for some epic wins!
Gameplay and Experience
You know what they say: if you can't handle the heat, stay out of the kitchen. The same goes for Almighty Sparta – if you can't handle the intensity, you might want to skip this one. But for those of us who like a little thrill with our slots, this game delivers. The seamless gameplay is a real standout. The controls are easy to navigate and the reels spin flawlessly, providing a truly immersive experience.
But let's not overlook the real star of the show here: the special symbols. These bad boys can seriously increase your winnings and keep the game exciting. It's like the game is rewarding you just for playing. Who doesn't love that kind of attention?
And don't get me started on the visuals and audio. The designers clearly put some major effort into making this game feel as gritty and intense as possible. It's like you're transported right into the middle of a Spartan battle, with the sound of swords clashing and shields banging ringing in your ears. But if that's all a little too much for you, don't worry – the game's got your back. You can choose to turn the audio on or off from the options menu. Or, you know, you could just buckle up and get ready for some serious gaming. Your call.
Producer and Reputation
Endorphina, the producer of Almighty Sparta, has a reputation for creating slot games that are as fresh as an Olympic bouquet. Their games are as engaging as a long, passionate kiss and Almighty Sparta is no exception. Endorphina's attention to detail is on full display, with seamless gameplay that immerses players into the roar of the Spartan battle.
Almighty Sparta's balance of risk and reward hits the sweet spot- not too easy for veterans nor too challenging for beginners, making it an ideal game for those who love fun and fabulous returns. Whether you're a soldier or a gambler, the game's graphics, sounds, and overall presentation will make you want to shout, "This is Sparta!"
FAQ
What is Almighty Sparta?
Almighty Sparta is a slot game produced by Endorphina featuring 10 paylines on a 3×5 display, with symbols and graphics based on the era and places of the battle of the three hundred Spartans against the Persian army.
What are the special symbols of Almighty Sparta?
The special symbols of Almighty Sparta are Shield, which represents the game scatter, and Leonidas, which is the wild symbol.
What does the Shield symbol do?
If 2 to 5 scatter Shield symbols are displayed on the screen in a same spin, additional prizes are obtained.
What does the Leonidas symbol do?
The Leonidas symbol is the wild symbol and can appear covering up to 3 boxes on the same reel.
What are the special functions of Almighty Sparta?
The special functions of Almighty Sparta are free spins and gamble. Free spins are obtained by displaying 3 or more scatters in the same spin, while gamble can be activated after each winning spin to double your prize up to 10 times.
How many free spins can you get in Almighty Sparta?
20 free spins with a x4 multiplier can be obtained by displaying 3 or more scatters in the same spin, and more free spins can be won during the free games.
What is the RTP of Almighty Sparta?
The RTP percentage of Almighty Sparta is about 96%.
What is the minimum and maximum bet in Almighty Sparta?
The minimum bet in Almighty Sparta is 0.01$, while the maximum is 100$ per spin.
What we like
Immersive gameplay and seamless experience
High-quality graphics and attention to detail
Special symbols and functions add excitement
Appreciated balance of risk and reward
What we don't like
Limited special symbols and functions
Lack of variety in betting limits