All Lucky Clover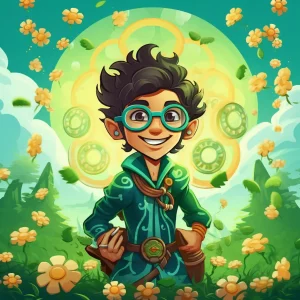 Get ready to enjoy a classic layout with a bit of a modern twist in All Lucky Clover! The game features a traditional 5-reel, 3-row grid, but if you're feeling extra lucky, you can activate 100 paylines and enjoy an expanded 5×4 grid option. That's right, you heard us correctly, 100 paylines! Now, that's enough to make even the unluckiest of individuals feel like they can win.
With a wide range of payline options available in this game, players can choose to activate 5, 20, 40, or 100 paylines. Betting amounts start as low as $0.10 and increase to $0.50, depending on the selected paylines. The console may only have a few buttons, but all settings necessary for gameplay can be easily accessed from the menu. It's so simple that even those who are new to the world of online slots won't miss a beat.
We love how this game maintains its traditional elements, but also includes some fun extras. All Lucky Clover's game layout is everything you would expect from a modern slot game, with an added touch of Irish charm. So, grab a pint of beer and get ready to have some craic while winning some money!
Symbols and Their Payouts
Are you ready to brush up on your Fruit Machine skills? Look no further than All Lucky Clover! This casino slot game features classic fruit symbols, from juicy cherries to tangy lemons. Keep your eyes peeled for the watermelon as it boasts a higher payout than the other fruits.
However, if you're in it for the big bucks, keep your eyes peeled for the golden-crowned heart symbol. It offers the highest payout value available in the game, so cross your fingers and hope for the best! Speaking of luck, the Wild symbol is the beloved clover jewel. Not only does it bring you riches as a Wild, but the expanding feature fills the entire reel, so you won't be disappointed when it appears on the grid.
Scatters in All Lucky Clover include the horseshoe and diamond symbols. What's great about these is that the scatters pay regardless of where they are on the grid. That's right, you don't have to get caught up in the hassle of paylines with these lucky charms. Try your luck with All Lucky Clover and see if you can make off with a pot of gold!
Get Lucky With These Wild and Scatter Symbols
Get ready to increase your chances of winning big with the exciting features of All Lucky Clover's Wild and Scatter symbols. The clover jewel serves as the Wild symbol, and it's not just any ordinary Wild – it's an expanding one! So, if you're lucky enough to land it, it will expand and take over the entire reel, leading to some fantastic payouts.
The horseshoe and diamond symbols act as Scatters, and they pay out regardless of where they land on the reels. Talk about getting lucky! These symbols can help you score some big wins even if they don't appear in the usual paylines. You might even find yourself shouting, 'show me the money, horsie-diamond duo!'
With these Wild and Scatter symbols on your side, the possibilities for winning are endless. Not only do they add to the excitement of the game, but they also give you a better chance of hitting those impressive jackpots. So don't wait, get spinning those reels and let the luck of the Irish flow your way!
RTP Value
If you want to increase your chances of hitting the jackpot in a slot game, then you should always check out the Return to Player (RTP) value. Fortunately, All Lucky Clover won't let you down in this department. With an impressive RTP value of 97%, this game delivers a great return to players.
Not only can you enjoy a fun-filled experience with this slot game, but you can also boost your chances of winning big. Just remember, luck is still the most important factor in any casino game. No amount of RTP can save you from a bad day, so make sure to keep those lucky charms close!
Gamble Function: Double or Nothing?
Are you the type of player who likes to take risks? If so, you'll be pleased to know that All Lucky Clover offers a Gamble function that allows you to double your winnings by correctly guessing the color of the card that the banker will turn over.
Feeling lucky, are we? This is your chance to prove it! Will you opt for red or black? It's anyone's guess, but what's the harm in trying? After all, it's not like the outcome will haunt you forever. On the other hand, who knows? Maybe this is your chance to hit it big and laugh all the way to the bank!
FAQ
What is 'All Lucky Clover' slot game?
It is a slot game that pays homage to the traditional Fruit Machines that focuses on fruits and luck with a long stretch of clovers in the background.
What is the size of the game grid?
It follows a classic 5 reels and 3 rows, but it can become 5×4 if all lines are activated.
How many selectable paylines are available?
We can activate 5, 20, 40, or 100 paylines.
What is the RTP value?
The RTP value is 97%.
What are the lowest value symbols in the game?
The lowest value symbols are cherries, lemon, orange, grapes, and prunes.
What is the Wild symbol in the game?
The clover jewel is the Wild symbol, which replaces all symbols except for other bonuses, and is an expanding one that fills the reel when it appears.
What are the Scatters in the game?
The horseshoe and diamond are our Scatters that pay regardless of their position on the grid.
Does the game offer a Gamble function?
Yes, it offers a Gamble function that allows us to double the amount won by guessing the color of the card that the banker will turn over.
What we like
Expanding Wild symbol fills entire reel
Scatters pay out regardless of position on grid
High RTP value of 97%
Gamble function allows for doubling of winnings
What we don't like