Ali Baba's Gold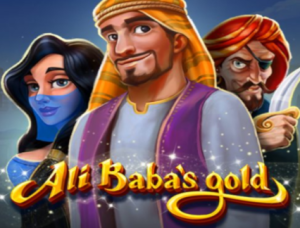 Ali Baba's Gold not only has the potential to fill your pockets with riches, but it's also a feast for the eyes. The graphics are vibrant and immersive, drawing you into the world of Arabian Nights and making you feel like you're exploring the bustling marketplaces of old.
The attention to detail is incredible – the reels themselves are gorgeously designed, and every symbol is crisp and clear. The animations are fluid and seamless, making the reels spin with a satisfying hum, and every winning combination is greeted with a burst of sparkling gold and gems.
Honestly, you could play this game with the sound off and still enjoy it, that's how good the graphics are. But then you'd be missing out on the game's whimsical soundtrack, which adds to the sense of adventure and fun.
All in all, Ali Baba's Gold is one of the best looking online slot games out there. It's a visual treat that will keep you entertained, and hopefully, bring you some riches!
Exploring the Exciting Gameplay and Impressive Special Functions
Step into the vibrant world of Ali Baba's Gold, a 5×3 slot machine that has everything from 20 paylines to amazing special features to offer. Buckle up because you are about to take a ride of a lifetime with this amazing game!
Let's start with its Wilds, which are not only capable of substituting all symbols except for the Scatter but also come with massive multipliers that can increase your winnings up to 5x. It's almost like finding a genie in a lamp! And speaking of genies, if you manage to activate the 'Open Sesame' feature by landing three Wilds on the third reel, you'll be granted respins that will keep going as long as Wilds keep appearing on the reels (like a gift that keeps on giving).
The 'Open Sesame' feature also covers the second, third, and fourth reels during the respins, increasing your chances of creating winning combos that can make you richer than a Sultan. What's more, the game offers a multiplier that increases automatically with every spin, effectively boosting your payouts with every turn. It's almost like getting a raise at your day job without even asking for it!
As for the symbols, you will love the high-paying symbols in Ali Baba's Gold. The brave and adventurous Ali Baba tops the list, offering a whopping 400 times your wager when you get five symbols on the reels. Then there's the cute monkey, who pays out 250 times your bet, followed by the villainous Jafar, who can give you up to 175 times your wager. And last but certainly not least, there's the beautiful princess, who will generously offer you 125 times your wager with her dazzling beauty.
So there you have it, folks. Ali Baba's Gold is a slot game that will not disappoint. Not only does it offer stunning graphics and exciting gameplay, but it also comes with lucrative special features that can potentially make you wealthier than a sultan. Try it out today and see for yourself why this game has stood the test of time.
Flexibility of Interface
If you're like me, you love to play slot games at any time and place. That's why Ali Baba's Gold is the perfect game for you! The flexibility of the interface is beyond compare, allowing you to play flawlessly on any device that you choose.
Whether you prefer spinning the reels on your laptop at home or on your phone during your morning commute, Ali Baba's Gold is always there for you. Have you ever tried playing on your fridge's screen? Well, with this game, you probably could. Now that's what I call flexibility!
Winning Symbols
Are you ready to go on a journey to discover hidden treasures with Ali Baba and his faithful monkey? If yes, then you must play Ali Baba's Gold – the online casino game that offers great entertainment and the chance to win big.
But let's talk about the most important factor – the winning symbols. Ali Baba, the monkey, Jafar, and the princess are the ones to watch out for as they offer higher payouts than the other symbols. However, don't underestimate the power of the lower-paying symbols as they can still lead you to some great wins.
Now, let's talk about the Wild symbol – it's like a genie in a bottle as it can substitute for any other symbol (except the scatter). This means that you have an increased chance of winning if you have a Wild symbol on your reels. But that's not all – if you trigger the 'Open Sesame' feature, you can enter a cave of wonders where even more rewards await you. The 'Open Sesame' feature offers respins and increased winning potential – so make sure you keep your eyes peeled for it!
Overall, Ali Baba's Gold is a fun, adventurous casino game that offers high payouts and great features. So hop on your magic carpet, play this game, and see if you can uncover the riches of the Arabian nights.
My Adventures with Ali Baba's Gold Game
Are you tired of playing the same old slot games and want to try something different? Then Ali Baba's Gold is perfect for you! This online slot game is packed with adventure and takes you on a journey to ancient Arabia where you're tasked with finding the hidden treasures of Ali Baba and his Forty Thieves.
I have to admit, I was a bit skeptical when I first heard about this game. I mean, how interesting could it really be? But as soon as I started playing, I was hooked! The graphics are stunning and the special features kept me on the edge of my seat.
One thing to note is that this game offers high winnings but with low frequency. So, you need to be patient if you want to win big. But trust me, when you do hit the jackpot, it's totally worth it!
The best part about Ali Baba's Gold is its flexible interface. You can play it on your desktop, laptop, or even your mobile device, making it perfect for gaming on the go. And with special features like Free Spins, Multipliers, and Wilds, you're bound to have a blast.
In conclusion, Ali Baba's Gold is a must-play game for anyone who loves online slot gaming. It's a complete package of adventure, excitement, and big wins. So, what are you waiting for? Join me on this epic journey to find the hidden treasures of Ali Baba and the Forty Thieves!
FAQ
What is Ali Baba's Gold?
Ali Baba's Gold is a slot game that is themed around the tale of Ali Baba and the Forty Thieves.
What is the RTP of this game?
The RTP of Ali Baba's Gold is fixed at 95.5%.
How many paylines does this game have?
This game has 20 paylines that you can use to win big.
What special features does the game have?
The game has multiple special features, including respins, wild multipliers, stacked wilds, and free spins.
What symbols offer the highest payouts?
In Ali Baba's Gold, Ali Baba himself offers the highest payout of 400 times your wager with five symbols.
Can I play Ali Baba's Gold on my mobile device?
Yes, Ali Baba's Gold has a flexible interface that allows for perfect gameplay on your computer or any other mobile device.
What is the 'Open Sesame' feature?
The 'Open Sesame' feature is a bonus round that offers respins and is activated when you fill the third reel with 3 Wilds.
Is Ali Baba's Gold a high variance or low variance slot?
Ali Baba's Gold is a low variance slot, which means that you will need to arm yourself with a little patience to win big.
What we like
Breathtaking graphics and animation
Special features like respins and free spins
Flexible interface for seamless gameplay on desktop and mobile
Beautiful recreation of the Ali Baba story
What we don't like
High winnings but with low frequency
Requires patience from players