8 Leprechauns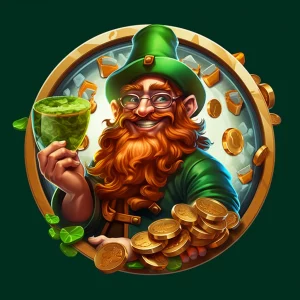 The game structure of 8 Leprechauns is so unique that it'll make you feel like you have a pot of gold too. Mischievous leprechauns are playing hide and seek with you, peeking from behind green hedges and wooden fences. But, don't let them fool you! You've got to be one step ahead of them to win this game.
The game grid is located right in the heart of an old oak tree. It's a great setting to bring the luck of the Irish to life! We love how the graphics in 8 Leprechauns aren't the sharpest tool in the shed, but they're aesthetically pleasing. The game's animated effects also add a touch of charm and fun to the overall gaming experience.
This game is the perfect combination of great graphics and exciting gameplay. It's witty, charismatic, and full of surprises. You'll be entertained for hours while celebrating St. Paddy's day with the 8 Leprechauns.
Base Game and Wild Symbol
Get ready to explore the world of 8 Leprechauns, a casino slot game that's drenched in Irish culture! One of the most exciting features of this game is its eight reels that create a unique and thrilling experience for online slot fans.
The reels showcase different icons that represent the Irish theme, but what you will be looking for in this game is the Wild Symbol. Trust us, it's going to be your lucky charm! When you spot the wild symbol, it can replace all the base symbols in the game to create some amazing winning combinations.
In simple terms, the wild symbol acts as the wildcard and opens the gateway to bigger rewards. So, keep your eyes peeled for that lucky Leprechaun that pops up on the reels and changes your fate.
But don't get too distracted by all the dazzling graphics and exciting gameplay. Remember to keep an eye on your pockets too! Because, let's face it, even leprechauns have to pay the rent.
Hit the Jackpot with Free Spins!
If you're a big fan of free spins and slot machines, then you're going to love playing 8 Leprechauns! This slot game is jam-packed with exciting features that are sure to keep you engaged and entertained for hours on end.
One of the key features of this game is the free spins that you can earn by collecting scatter symbols. Now, who doesn't love freebies, right? Get three scatter symbols and you'll receive 10 free spins – that's already enough to keep you excited for a while! If you're lucky enough to hit four scatter symbols on the reels, you'll get 15 free spins. And the best part? Five scatter symbols will award you the maximum of 20 free spins!
Who said that leprechauns are just after your gold? They're also giving away free spins here! So get started now, and you might just strike it lucky with those free spins and hit that big jackpot!
Get Lucky with Bonus Symbols and Mini-Game!
Are you tired of playing the same old boring slot games? Look no further than 8 Leprechauns, a game that stands out from the crowd with its unique bonus features! One of these features is the mini-game that gets triggered when you collect five bonus symbols during the base game. Don't worry about losing track, these lucky symbols are always displayed under the Bonus section and are easy to keep track of while you spin and win!
And let's talk about how fun this mini-game is! Few things are as satisfying as triggering a bonus round and knowing that extra cash is headed your way. With its charming Irish theme, the mini-game in 8 Leprechauns will bring a smile to your face and keep you entertained for hours. Plus, with each spin comes the chance to collect more bonus symbols and keep the fun going.
Overall, the bonus symbols and mini-game are the shining stars of 8 Leprechauns. So go ahead and give it a spin and see if you can collect those lucky bonus symbols and activate one of the most enjoyable mini-games in the online casino world!
Overall Gameplay Experience
'8 Leprechauns' is a bit like getting into a pot of gold. And here's why: not only is this game loaded with charming characters and an immersive gameplay, but the wins and extra features make it an unforgettable gaming adventure. But hold on, Sir Leprechaun. The RTP of 95.13% may not be the jazziest, but don't let that turn you off like a sour pint of beer.
Here's the good news: with plenty of ways to hit the jackpots, including the Wild Symbol and the clever Scatters, you'll be spending an enjoyable time spinning those reels. So let's agree that RTP isn't everything, just like a little bit of luck can go a long way, and let's go for a spin.
If you're a fan of the Fae Folk, then you'll appreciate the luck of the Irish brought to you by these 8 Leprechauns. The enchanting characters and potential for hefty payouts make this game worth a try. Overall, Sir Leprechaun, you won't regret trying your luck with '8 Leprechauns'.
FAQ
What is the RTP of 8 Leprechauns?
The RTP of 8 Leprechauns is 95.13%, which is slightly lower than average.
What are the unique features of 8 Leprechauns?
8 Leprechauns offers a unique structure with eight reels and a mini-game that is activated when players collect five bonus symbols during the base game.
How many paylines does 8 Leprechauns have?
8 Leprechauns has 25 fixed paylines.
What is the maximum number of free spins that can be earned in 8 Leprechauns?
Players can earn a maximum of 20 free spins in 8 Leprechauns by finding five scatter symbols.
Does 8 Leprechauns have a wild symbol?
Yes, 8 Leprechauns has a wild symbol that can replace base icons to create winning combinations.
What is the mini-game in 8 Leprechauns?
The mini-game in 8 Leprechauns is activated when players collect five bonus symbols during the base game.
Are there any unique characters in 8 Leprechauns?
Yes, each leprechaun in 8 Leprechauns has its own unique personality to discover as the game progresses.
Who developed 8 Leprechauns?
8 Leprechauns was developed by PlayPearls.
What we like
Unique game structure and charming graphics
Wild symbol for base game and free spins round
Free spins quantity increases with more scatter symbols
Bonus symbol mini-game sets game apart from others
What we don't like
RTP may be slightly low compared to expectations