8 Dragons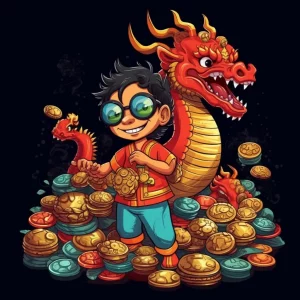 Are you ready for some fast-paced, action-packed fun? Look no further than 8 Dragons! The game grid may have a traditional configuration, with 5 reels and 3 rows, but don't be fooled – the excitement level is off the charts.
With a whopping 243 possible combinations to win, you'll be on the edge of your seat with every spin. And if you're in a hurry to hit the jackpot, you can activate the accelerator to make those reels spin even faster. Talk about a rush!
With automatic spins available, you can sit back, relax, and let the game do the work for you. Just make sure you don't nod off – you won't want to miss a single winning combination.
Impeccable Design Leaves Nothing to Be Desired
Prepare to be transported to ancient China as 8 Dragons brings a modern twist to traditional symbols to create an immersive gaming experience. Set against a vibrant red background, the game's graphics are striking. Even the smallest details are executed with precision, making it easy to lose yourself in the game.
The symbols and buttons are placed perfectly on the screen to enhance gameplay and ensure easy navigation. This eliminates frustration that comes from fumbling around with the controls while you're in the middle of a hot streak. The game's oriental-style music adds to the immersive quality, but don't worry if it's not to your taste — there's a handy button to turn it off.
Overall, the quality of the design is top-notch, making the game a joy to play for both new and seasoned players.
Symbols
Get ready to embark on an adventure with 8 Dragons! This exciting online slot game gives players the chance to win big. With 11 regular symbols and three special symbols, there's never a dull moment.
But let's talk about the regular symbols first. The symbols with the lowest value are abstract forms of Chinese tradition, backgrounds, and mandalas. Sure, they're not the most exciting symbols, but they can still lead to some great payouts. Following these, we find flowers, a pot full of gold coins, a turtle, a tiger, and a phoenix. These symbols offer higher payouts and can lead to some amazing wins.
But the real star of the show is the Wild symbol, represented by the majestic dragon. And there are six different colored dragons, each with its own multiplier. You can't help but root for the green dragon – with five symbols on an active payline, a 10x multiplier is applied to the winnings. Talk about a dragon with some real green!
Of course, we can't forget about the Scatter symbols. Three golden circles and a golden coin make up this special group. They may be few in number, but they're definitely worth keeping an eye out for. So go ahead and give 8 Dragons a spin – with symbols like these, you're sure to have a roaring good time!
Betting Range
Are you a high roller or a cautious player? Either way, 8 Dragons has got you covered! Its betting range is so broad that you can either bet with only 2 coins, or go all-in and bet the maximum amount of 800 coins!
This game is perfect for those who are afraid of blowing their entire budget in just one spin. You can start small, enjoy the game, and if the luck is on your side, escalate your bets gradually. Or, if you are feeling lucky, you can straight up go for the big bucks!
However, if you decide to bet the maximum amount, brace yourself for a paw-some experience (pun intended). Seeing eight dragons on your screen is exciting enough, but imaging their colors, animations and sounds while betting 800 coins is an egg-citing experience (I'll stop with the puns now).
FAQ
What is 8 Dragons slot game about?
8 Dragons slot game is a Chinese themed online slot game with 5 reels, 3 rows, and 243 possible combinations to win.
What is the minimum and maximum betting range in 8 Dragons slot game?
The minimum betting range in 8 Dragons slot game is 2 coins, while the maximum betting range is 800 coins.
Are there any bonus features in 8 Dragons slot game?
Yes, 8 Dragons slot game offers a myriad of bonuses, including Wilds and Scatters with multipliers and the ability to choose the number of free spins and multipliers.
Are there any options to customize the game settings in 8 Dragons slot game?
Yes, 8 Dragons slot game allows players to activate automatic spins and an accelerator that makes the reels spin faster. Oriental music can also be easily deactivated at any time.
What is the highest multiplier possible in 8 Dragons slot game?
Green dragon offers us 6 Free Spins and multipliers of 15x, 30x, or 40x, making it the highest multiplier possible in 8 Dragons slot game.
How many possible combinations to win are there in 8 Dragons slot game?
8 Dragons slot game has 243 possible combinations to win.
What kind of symbols does 8 Dragons slot game have?
8 Dragons slot game has 11 regular symbols with abstract forms of Chinese tradition, backgrounds, and mandalas. The game also features special symbols including multiple colored variants of the dragon, which is the Wild.
Who would enjoy playing 8 Dragons slot game?
8 Dragons slot game is recommended for experienced gamblers who are looking for something new and exciting, particularly those who enjoy a Chinese themed slot game with a range of betting options, great graphics, and a variety of bonuses.
What we like
High number of ways to win with 243 possible combinations
Well-designed symbols with impeccable graphics
Chance to choose the number of free spins and multipliers
Broad betting range from a minimum of 2 coins to a maximum of 800
What we don't like