7s Wild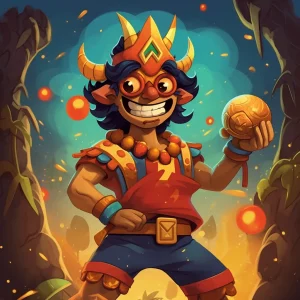 7s Wild is one of those slot games that's easy to learn and hard to master. It's like trying to teach your grandma how to use a smartphone. Yeah, you can explain it to her as many times as you want, but she'll still call you at 2 a.m. because she can't find the on button.
But don't worry, 7s Wild is much simpler than that. With its bright fruit symbols and pay-both-ways feature, this game is perfect for anyone looking for an uncomplicated slot experience. Now, the pay-both-ways feature may sound like a bad pickup line, but it actually means that you can win from right to left and left to right. It's like being able to high-five someone with both hands at the same time. That's just plain awesome.
Of course, no slot game is complete without wild symbols and free spins, so 7s Wild has got you covered in that department. The wild symbol, represented by the game's logo, substitutes for all other symbols except the scatter. And speaking of the scatter, the purple and gold 7s represent the free spin symbols. Get 5 or more of these on the reels and you'll trigger the free spins bonus. The best part? You can retrigger this bonus up to a maximum of 255 free spins. That's a lot of spins and a lot of chances to win big.
Lastly, with 5 reels, 3 rows, and 5 adjustable paylines, 7s Wild offers players a wide range of betting values to choose from. You can bet as little as 1p per line or go all out with 100 coins per spin. It's your call, but just remember, as your virtual financial advisor (not really), always gamble responsibly.
Experience Retro Vibes with 7s Wild
7s Wild casino slot game offers a unique gaming experience with a retro-inspired arcade theme. The visuals and sound effects blend smoothly to take players back in time while simultaneously making them feel like they're on the casino floor. The colorful fruits, lucky sevens, and golden bells add a touch of nostalgia that gamblers will love.
The computerized sound effects are a joy to listen to and complement the visual design perfectly. The combination of sparkling stars in the backdrop and the accompanying soundtrack sets the right mood for an enjoyable gaming experience. But don't worry – you won't be hearing repetitive background music that drives you crazy. The audio design is surprisingly diverse, making it as engaging as the visuals of the game.
The graphics of 7s Wild are basic, but that's mostly due to the retro theme that it follows. Despite being limited, the visuals stay charming and attractive, sticking true to the theme of the game. However, that doesn't mean that it's not appealing. The simplicity of the design is what makes the game stand out from other casino slot games that are overloaded with graphics.
Overall, the visual and audio design of 7s Wild is topnotch. It doesn't aim to be flashy but instead, offers a unique, retro experience that provides a welcome break from all the bells and whistles of modern online slot games. So, why not hit the 'spin' button and give it a shot?
Get Wild with Bonus Symbols in 7s Wild
Looking for a slot game that's hot, hot, hot? Look no further than 7s Wild. This classic-style slot game has all the elements you love, from the flaming red sevens to the iconic BAR symbols. But what makes this game truly special are the wild and bonus symbols.
When it comes to the wild symbol, 7s Wild doesn't disappoint. The flaming red seven symbol serves as the wild, substituting for all other symbols on the reels (except the scatter, of course). Anytime you see that fiery seven, you know your chances of hitting a winning combination just got a whole lot better!
The burning symbol also triggers the free spins feature. Just collect 5 of those red hot symbols, and you'll be awarded 5 free spins. And while you won't find any other bonus symbols or multipliers in this game, those free spins can really add up. So keep your eyes peeled for those red sevens and get ready to heat things up!
Payout Opportunities in 7s Wild
If you love online slot games, you will surely enjoy playing 7s Wild. This game offers players plenty of opportunities to win big, especially if you are lucky enough to land the red sevens. With a payout of 1,000 coins for hitting 5 symbols on an active payline, you'll be jumping for joy! (Or doing something else that conveys excitement, depending on how energetic you're feeling that day.)
For those who are not as lucky, there are still plenty of other symbols that offer decent payouts. The golden ball pays up to 500 coins, while the plums pay 250 coins. Oranges and cherries are the lowest paying symbols, but hey, they still give you a chance to win. In fact, if you get 5 cherries, you might be able to buy yourself a cup of coffee! (Assuming you only want a small size and do not live in an extremely expensive location.)
One of the best things about 7s Wild is the theoretical RTP of 96.2%. This means that, over time, you can expect to receive back 96.2% of the money you put into the game. Of course, this is just a theoretical value, but it is still nice to know that the odds are in your favor. Plus, you can choose from a wide range of betting values, making the game accessible to all players.
Suitability for High Rollers vs Low Rollers
When it comes to playing online slot games, everyone has their own preferences. Some players prefer to bet big and take the risk, while others prefer to play it safe with smaller bets. So, how does 7s Wild stack up in terms of catering to both high rollers and low rollers?
Well, for starters, high rollers will definitely appreciate the wide range of betting values available. With the ability to bet up to $500 per spin, the potential payouts can be massive. It's no wonder why this game is a favourite among high rollers at online casinos. However, low rollers may be disappointed to discover that the minimum bet is $5.00. While this may not seem like a lot, it's quite high compared to other slot games.
Of course, experienced players will find that winning comes easy in 7s Wild, thanks to the game's high RTP (return to player) rate. But for players who are looking for more excitement and action, they may want to seek out a game with more features and bonuses. After all, while simple games like 7s Wild can be great for a quick fix, they may not provide the level of entertainment that some players are looking for.
Similar Games to 7s Wild
If you're a fan of 7s Wild, you're in luck because there are a lot of similar games out there! One game we recommend trying is Mighty Hot Wilds by Inspired. Not only does this slot machine have a high RTP, but it also offers players the chance to win big without complicated bonus features. It's perfect for those who enjoy the traditional charm of slots.
Another option for those who love classic fruit symbols is Mega Joker by NetEnt. This game has all the traditional symbols you'd expect to see in a slot machine, with the added bonus of a progressive jackpot. Who knows — you could be the next lucky player to hit the big one!
Of course, with so many slot games to choose from, there's something out there for everyone. Whether you prefer games with complex bonus features or simple games like 7s Wild, don't be afraid to try new things and see what you like best. Who knows, your next favorite game might be just a spin away!
FAQ
What is 7s Wild?
7s Wild is an online slot game developed by Spielo with a fruit machine theme featuring retro-inspired graphics and sound effects.
What are the symbols used in 7s Wild?
The symbols used in 7s Wild include red sevens, colorful fruits, golden bells, a golden ball, plums, and oranges.
What are the special symbols in 7s Wild?
The special symbols in 7s Wild are the flaming 7 which acts as the wild, and the burning symbol which triggers free spins.
What are the features of 7s Wild?
The features of 7s Wild include free spins, wilds, and paylines that work both ways.
What is the minimum bet in 7s Wild?
The minimum bet in 7s Wild is $5.00, which may be high for some low rollers.
What is the maximum bet in 7s Wild?
The maximum bet in 7s Wild varies depending on the number of paylines selected and the coin cuts, with a maximum of 500 coins per line.
What is the RTP of 7s Wild?
The theoretical RTP of 7s Wild is 96.2%.
What tips can you give to players in 7s Wild?
Players can bet with a small bet and increase it slowly to increase their chances of winning. They can also play 7s Wild for free before betting with real money.
What we like
Pays out both ways, increasing chances of winning
Simple gameplay with wild symbols and free spins
Wide range of betting values to choose from
Nostalgic design and sound effects
What we don't like
Minimum bet may be too high for some players
No other bonus symbols or multipliers