100 Fortunes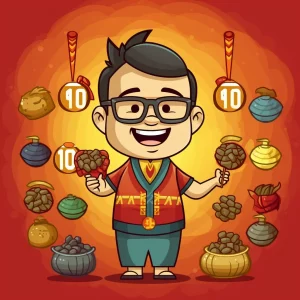 Get ready to take a trip across the Pacific when you play 100 Fortunes! If you've ever wanted to explore Chinese culture, you're in for a treat with this online slot game. You'll step into an old Chinese village and be surrounded by symbols and aesthetics that pay homage to the country's unique culture. You won't be disappointed when you see what this game has in store for you!
This title is a cut above the rest when it comes to Chinese-themed online slots. While many other slots out there focus solely on the Lunar New Year, 100 Fortunes delves into other aspects of Chinese culture that you might not normally see in online slots. From dragons to lanterns to iconic Chinese buildings, you'll get a sense of the country's vast depth of culture thanks to this game.
You'll quickly understand why so many players love 100 Fortunes. It offers a fresh take on a well-represented culture, with plenty of winning opportunities to keep things exciting. With its stunning graphics, immersive soundtrack, and engaging gameplay, you'll soon find yourself wanting to stick around in this virtual Chinese village for hours on end. So sign up now and start exploring everything that 100 Fortunes has to offer!
Game Grid
Oh boy, does 100 Fortunes game grid look fancy! With five reels and six symbols per reel, you're in for a total of thirty chances to hit the jackpot. And let me tell you, the traditional Chinese aesthetics framing the reels are stunning. I feel like I'm spinning the reels of a Ming dynasty palace.
It's like the game designers took everything everyone loved about Chinese culture and threw it into this one game. With symbols like Chinese coins, plates, and Ming vases, I feel like I'm going to have a stroke of good luck any second now! There's even a lucky cat symbol, which seems like a good omen, except for the fact that it just stares at me whenever I spin.
Of course, there's also the standard card symbols (Ace, King, Queen, and Jack), but they're dressed up in vibrant Chinese style, so they don't even feel out of place.
RTP: Is 100 Fortunes Really Worth Your Time?
If you're looking for a game that won't leave you feeling like you've given your entire paycheck to the casino, the RTP for 100 Fortunes is definitely worth considering. At 96.12%, it's at the market average for online slot games.
But let's get down to the real reason we're all here: the bonus features. And boy, does 100 Fortunes deliver. The Wild symbol, represented by an oriental yo-yo (yes, you read that right), is the key to unlocking the coveted free spins mode. And trust us, once you hit that mode, you'll be feeling like a kid in a candy store.
Not only does the game grid expand during free spins, making the potential for big wins even greater, but the graphics and animations are top-notch. You'll feel like you're right in the middle of a Chinese New Year celebration (minus the fireworks, of course).
All in all, 100 Fortunes may not make you an actual fortune, but it's definitely worth a few spins if you're wanting a fun and entertaining gaming experience.
Graphics
Prepare to be wowed by the stunning graphics of 100 Fortunes. Northern Lights Gaming have surpassed themselves by creating an online slot game that is not only entertaining but visually impressive. As soon as the game loads, you can't help but be impressed by the exquisite design, from the beautifully crafted white stone buildings to the pagoda-style roofing adorned with red paper lanterns that glow against the night sky.
The brightly colored symbols are equally impressive, and the Chinese cultural references are well-researched and executed with tasteful flair. Even the background music perfectly captures the essence of the game's location and theme. With such attention to detail, it's not hard to imagine yourself wandering the streets of a bustling Chinese village, exploring all of the fascinating landmarks and legends.
All in all, 100 Fortunes is a feast for the eyes, and a visual treat that players will enjoy time and time again. And if the stunning graphics isn't enough to hook you, the chance to win big will surely do the job. So pour yourself a cup of tea and get ready to immerse yourself in the culture and colors of 100 Fortunes.
Who Will Enjoy Playing 100 Fortunes?
If you are a fan of Megaways-style expanding slots, then 100 Fortunes will certainly catch your interest. The game's unique grid and expanding Wild symbol feature ensure plenty of exciting gameplay and big win potential. But let's be honest, who doesn't love a good expanding Wild symbol? It's like watching your dreams expand before your very eyes. Just like my waistline during holiday season.
But even if you're not specifically a fan of expanding slots, 100 Fortunes still offers a solid online slot experience with an RTP in line with the market average. Plus, who can resist the game's vibrant Chinese theme and aesthetic? It's like taking a trip to the Orient without the jet lag, or the unfortunate chance of getting lost in translation. Because honestly, ordering authentic Chinese food can be a whole other adventure.
So whether you're a seasoned slot player or just starting out in the world of online casino games, 100 Fortunes offers a little something for everyone. Just like a good Las Vegas buffet, it has a variety of options to choose from, all with the potential to leave you feeling satisfied and pleasantly surprised.
FAQ
What is the theme of 100 Fortunes?
100 Fortunes is a slot game with a Chinese theme.
What are the symbols in the game?
The symbols in the game include Chinese coins, plates and Ming vases, lucky cat, and cards Ace, King, Queen, and Jack.
What is the RTP of the game?
The RTP of the game is 96.12%, which is in line with the market average.
Is there a Wild symbol in the game?
Yes, there is a Wild symbol in the game represented by an Oriental yo-yo.
What is the game grid like?
The game grid has five reels showing six symbols each for a total of 30 symbols per spin.
Are there free spins in the game?
Yes, there are free spins in the game that can be triggered by the Wild symbol and offer a large amount of Wild symbols.
What other slots have an oriental theme?
Other slots with an oriental theme include Feng Fu, 88 Fortunes Megaways, and Geisha's Fan.
Who would enjoy playing 100 Fortunes?
Those who enjoy expanding slots such as Megaways and games with a Chinese theme would enjoy playing 100 Fortunes.
What we like
Unique game grid with 5 reels and 6 symbols
High-quality, aesthetically pleasing graphics and attention to detail
Expanding Wild symbol feature triggers free spins mode
Chinese culture-inspired theme and aesthetics
What we don't like
RTP is in line with market average, not particularly high
May not appeal to players who are not interested in Chinese culture