100 Flaring Fruits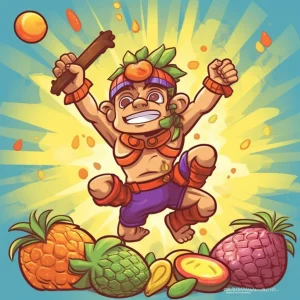 Get ready to light your fire with 100 Flaring Fruits! This slot game uses a 5×4 grid and an impressive 100 paylines. It's like a firework show in your pocket, but instead of colors, you're matching fruit symbols.
With a cost ranging from $1 to $100, the stakes can be as high as the flames. But don't worry, if you're feeling a little burnt out, there's always the Autoplay feature. Just be careful not to burn through your balance too quickly while using it.
Matching at least three identical symbols from left to right is the key to winning big. It's like a fruity matchmaker, bringing together the perfect combination of symbols to light your fire and your wallet.
So why not give 100 Flaring Fruits a spin? With its juicy graphics and hot gameplay, it's sure to put a smile on your face and some extra cash in your pocket.
Graphics and design
100 Flaring Fruits stands out for its simple and nostalgic graphics that prioritize substance over style. And let's be honest, who needs flashy graphics when you're just here to win big? The symbols are larger than life and brightly colored, making it easy for players to quickly identify winning combinations. It's like a fruit salad with all the colors of the rainbow – but with the added bonus of cash prizes.
The black game board sets the stage for the fruity action to unfold. It's the perfect backdrop to highlight the vibrant symbols and create a striking contrast with the orange borders. It almost feels like you're playing the game on a piece of fine art. And the cherry on top – the buttons are spaced out just right, allowing players to fully immerse themselves in the game without any pesky obstructions.
Winning Potential
Looking at the statistics, the slot game 100 Flaring Fruits certainly brings some heat to the playing field with a tantalizing maximum win of 5,000x the bet. That's enough money to put the sun to shame!
The game is backed up by features that are sizzling hot, such as a Wild symbol that can replace all other symbols – even in a pinch, a Scatter symbol that is the most lucrative icon in the game, and a paytable that can be accessed at any time to view all symbol payouts.
As a low volatility game, players can expect frequent wins, even if they are smaller than some of the most lucrative games. But hey, small wins are better than no wins, right? It's like having a sandwich with too much mayo – it's better than no sandwich at all.
Volatility and RTP
Are you tired of playing those online slot games with high volatility where you wait for ages to hit the jackpot? Look no further! 100 Flaring Fruits has a low volatility gameplay that will keep you entertained for hours on end with frequent, smaller wins. It's like getting a surprise hug from your grandma on a lonely day – heartwarming and comforting!
But let's get real, we all want to know the numbers. The theoretical return to player (RTP) of this game is 96.13%, which is pretty decent. It's like going to a dollar store and finding a hidden gem – you don't expect much but end up pleasantly surprised.
Special Features
Get ready for a double dose of excitement with 100 Flaring Fruits! This game offers classic gameplay features that slot enthusiasts know and love. But that's not all – brace yourself for two Gamble games that could help you double your winnings!
The first Gamble game is as simple as guessing the color of a card drawn from a deck. Will it be red or black? It's like playing the lottery, only with a little bit of skill involved. Plus, it's way more entertaining than watching paint dry.
The second Gamble game is like a choose-your-own-adventure book, but with actual money at stake. You have to reach the final level of a ladder, and then click at just the right moment. It's a nail-biting experience that could result in a huge payout!
These features add an element of excitement and risk to the gameplay, which may appeal to more experienced gamblers. But be warned – once you start playing 100 Flaring Fruits, you may not be able to stop!
FAQ
How many paylines does 100 Flaring Fruits have?
This slot game has 100 paylines.
What is the RTP of 100 Flaring Fruits?
The theoretical return to player is 96.13%.
What is the maximum bet in 100 Flaring Fruits?
The highest bet you can place per spin is $100.
Are there any special symbols in this game?
Yes, there is the Wild and the Scatter.
Can I double my winnings in 100 Flaring Fruits?
Yes, there are two Gamble games where players can double their winnings.
What devices can I play 100 Flaring Fruits on?
This slot works on PCs with MacOS, Windows, and Linux, as well as on mobile devices with iOS and Android.
Is 100 Flaring Fruits a high or low volatility game?
This game has low volatility.
What is the maximum payout for 100 Flaring Fruits?
The maximum win can be up to 5,000 times the bet.
What we like
Simple and nostalgic graphics
Low volatility gameplay with frequent, smaller wins
Two Gamble games to double winnings
Maximum win of 5,000x the bet
What we don't like
Autoplay feature lacks ability to set specific number of spins
Limited special features