Ultra Hot Deluxe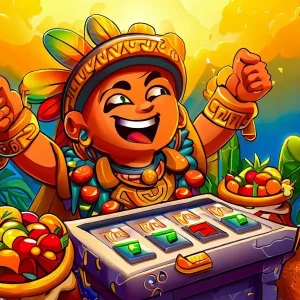 Get ready to spin the reels and taste the fruits of your labor with Ultra Hot Deluxe. This online slot game is perfect for players who appreciate a straightforward and simple gaming experience.
No need to worry about confusing bonus rounds or free spins – just place your bets, spin those reels, and let Lady Luck do the rest. The game features 5 pay lines, so you'll have plenty of chances to stack up those fruit symbols to cash in on some sweet rewards.
But don't let the simplicity fool you – Ultra Hot Deluxe still brings plenty of excitement to the table. With the ability to multiply your winnings by x2 when only fruit symbols appear, you'll be watching those reels spin with bated breath.
The premium icons are single symbols, meaning you'll want to keep your eyes peeled for those higher payout fruits. Don't let the lower payout stacked symbols get you down, though – they still offer plenty of chances to walk away with a win. And, if you're feeling extra lucky, the maximum win is a whopping 150 times your bet.
In summary, Ultra Hot Deluxe is the perfect choice for players who want to keep things simple while still enjoying some serious fun. Who needs complicated gimmicks when you can enjoy the classic slot experience with a fruit-filled twist?
Stacking Symbols: More Than Just Fruit Salad
Are you a fan of fruit machines? Then you're in for a treat with Ultra Hot Deluxe! This slot game offers a classic theme with a modern twist, as you'll be stacking fruit symbols to win big. And we're not talking about just any fruit salad – these symbols are full of juicy surprises!
One of the unique features of Ultra Hot Deluxe is the ability to stack chosen symbols. And no, we're not talking about stacking slices of pineapple on top of each other (although that would be pretty cool). Instead, you get to stack symbols like watermelons, grapes, and lemons in order to trigger big payouts.
But don't worry – you won't have to deal with mushy or rotten fruit symbols. The premium icons are single symbols while those with lower payouts are stacked symbols. This means you can still reap rewards even if your stack doesn't quite reach the top of the game grid.
And what's even better? If only fruit symbols appear on the game grid, your winnings are multiplied by x2! So not only do you get to enjoy the colorful and mouth-watering symbols, but you also get to experience the excitement of multiplied winnings.
In conclusion, Ultra Hot Deluxe is a feast for the eyes and wallet. With its fun fruit theme and unique stacking feature, this slot game is sure to entertain and reward you. So what are you waiting for? It's time to stack those fruit symbols and watch those payouts roll in!
Gambling Features
Are you feeling lucky? Ultra Hot Deluxe offers a gambling feature that gives you the chance to risk it all. It's like Russian roulette, but without the gun. Instead, you bet on the color of the next card to come out – red or black. It's a fast and easy way to add some excitement to the game. Just don't blame us if you end up losing your shirt.
It's important to note, however, that the maximum win is still pretty low. The game's RTP (Return to Player) is set at 95.17%, which means the odds of walking away with a big win are pretty slim. But hey, that's the name of the game when it comes to gambling, right?
Unfortunately, there are no Jokers, Scatters, or Dream Bonuses to boost your winnings. So, if you're looking for a game that offers extra bonus features, you might want to look elsewhere. But if you're looking for a simple and straightforward slot game, with a little bit of a gambling edge, Ultra Hot Deluxe might just be the game for you.
Can You Handle the Heat of Ultra Hot Deluxe? Let's Talk Maximum Win and RTP
Ultra Hot Deluxe is a classic-style online casino slot game that is sure to get your blood pumping. This game may be simple, but don't let its lack of flashy graphics fool you – it has the potential to deliver some hot cash prizes.
Speaking of prizes, let's talk about the maximum win. Are you ready for this? It's 150 times the bet! That's right, you could potentially triple your cash with one lucky spin. Of course, you also have to take into account the game's RTP, which is set at 95.17%. This is a decent figure, especially for those who like to play for longer periods of time.
Personally, I'd like to see a bonus feature or two thrown into the mix, but hey, you can't have everything in life, can you? Besides, sometimes simpler is better, and Ultra Hot Deluxe definitely brings back a sense of nostalgia for those who remember the good old days of old-school slot machines.
So, if you're feeling brave and up for a challenge, give Ultra Hot Deluxe a spin. Just make sure you have a warm drink nearby – you might need it to cool down after all that heat!
Mobile Compatibility
Are you tired of slot games that leave you stuck in one spot? Fear not! Ultra Hot Deluxe is the answer to all your problems. This game is mobile-friendly and can be played on any device, including iOS or Android tablets. So, you can take it with you and play it wherever you go. The best part? The features do not change, offering players a five-star On the Go experience.
Whether you're taking a quick break at work, on a long road trip, or even stuck in line at the DMV, Ultra Hot Deluxe has got you covered. Who said that you have to be sitting in your living room to strike it rich? With this game in your pocket, you can be a millionaire anywhere!
So, don't wait any longer; get your smartphone, tablet, or any other mobile device, and start spinning those reels right now. The only downside is that your boss might think you're working while you're actually getting rich – hope he doesn't read this review!
FAQ
Can I play Ultra Hot Deluxe on mobile devices?
Yes, this game is mobile-friendly and can be played on any device, both mobile and iOS or Android tablets.
How do I win real money with the Ultra Hot Deluxe slot?
You need a registered account with an online casino, then you can access and play the game, testing the extra Bonus Gamble functionality to get real winnings.
Is there a free version of Ultra Hot Deluxe?
Yes, you can play the Ultra Hot Deluxe demo for free on our website or any online casino that collaborates with Novomatic.
What is the maximum payout of Ultra Hot Deluxe?
The game offers a maximum win of 150 times your bet.
Does Ultra Hot Deluxe have any special features?
No, this is a simple slot game with no free spins, jokers or bonuses. There is only a small multiplier that can make your winnings more enjoyable.
Is Ultra Hot Deluxe a good option for casual players?
This game is more suitable for gambling enthusiasts who prefer a simple and straightforward gameplay without distractions. Casual players who enjoy features like free spins and Wilds may find it boring.
What is the RTP of Ultra Hot Deluxe?
The game's RTP is set at 95.17%.
What are the symbols in Ultra Hot Deluxe?
The symbols are inspired by the world of fruit and include premium and stacked symbols. If you manage to get only fruit symbols on the game grid, you'll multiply your winnings by x2.
What we like
Simple and straightforward gameplay
Stacking fruit symbols for easy combinations
Mobile-friendly experience
Additional gambling feature
What we don't like
No big animations or bonus games
Low maximum win and RTP