Mayan Magic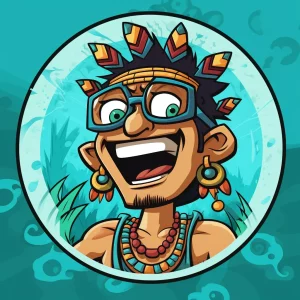 Get ready to embark on a mystical journey as Mayan Magic boasts of intricate designs featuring ancient ruins, exotic flora, and mystical symbols that'll leave players spellbound. The graphics are so spectacular that they'll teleport players to this ancient civilization, where they can experience the magic and wonder of this lost world.
Perhaps the game's magic lies in its impressive visuals. Spielo deserves kudos for delivering a game that captures the fascinating complexity of the Mayan culture.
Quetzalcoatl Symbol Takes over the Reels as a Wild
Get ready to witness the amazing power of the Quetzalcoatl symbol in Mayan Magic – it's the ultimate creature that can expand and take over an entire reel. It's like a mythical dragon that brings massive wins along its fifty paylines, setting it apart from other slot games in the casino.
And guess what? The Quetzalcoatl symbol isn't shy – it can appear on any reel, at any time, ready to help you reach new heights of riches. With the ability to trigger incredible payouts, this wild symbol is every adventurer's dream come true.
Get Ready for Wild Reels in Free Spins!
Hold onto your hats, folks! Mayan Magic brings some exciting Free Spins action. When three or more golden coins appear on the reels, you're in for a thrill. Choose from three different options for your Free Spins round and get spinning!
For those who like to take it slow and steady, the first option offers a whopping fifteen spins with the third reel entirely wild. Feeling a little more adventurous? Go for the second option and get ten spins with reels two and four going wild. And finally, for the true risk-takers, the third option offers five spins with reels one, three, and five all wild!
No matter which option you choose, Mayan Magic's Free Spins round will have you on the edge of your seat. Get ready for some serious heart-pumping action and big wins!
Get Your Mayan Mask On: A Review of Mayan Magic Slot Game
Mayan Magic is not your ordinary slot game. It has ten standard symbols, including fruits and plants, but it's the Maya-themed symbols that make it unique. You'll find yourself mesmerized by the beautiful butterfly, the vibrant green and purple emblems, and the radiant golden Maya mask.
But don't let the beauty of these symbols distract you from their true power. The Maya green and purple emblems and the golden Maya mask are the highlight symbols of the game. They award payouts with just two matching symbols and can pay anywhere from 2x to 500x your bet, depending on how many symbols you have lined up.
Word of caution: Don't get too caught up in the magic of the Mayan culture. With so much at stake, you might find yourself dancing like a Mayan to bring good fortune to your bets. But hey, whatever works, right?
Maya Gold: A Glittery New Slot for Your Gaming Pleasure
Are you ready for a slot game that'll keep you glued to your screen? Look no further than Maya Gold, Spielo's shiny and action-packed answer to all your gaming needs. With even more bonus features than Mayan Magic, you'll be raking in the gold in no time.
Don't get us wrong – we love Mayan Magic. But sometimes you need a little something extra to keep the spark alive, and Maya Gold is here to deliver. With sparkling graphics and an exciting theme, you'll feel like you're deep in the heart of the jungle in no time.
So what are you waiting for? Whether you've been a long-time fan of Spielo's games or you're just starting out, Maya Gold is the perfect choice for your next gaming adventure. So strap on your exploring boots, keep your eyes peeled for those elusive bonus symbols, and get ready for some serious slots action!
FAQ
What is Mayan Magic?
Mayan Magic is an online slot game that features an intricate design and theme based on Mayan culture.
How many paylines does Mayan Magic have?
Mayan Magic has fifty available paylines.
What is the Quetzalcoatl symbol?
The Quetzalcoatl symbol is a dragon-like creature and a wild symbol in Mayan Magic. It can expand to cover an entire reel and can appear on any reel.
What is the Free Spins round in Mayan Magic?
The Free Spins round in Mayan Magic is triggered with three or more golden coins scattered on the reels. Players can choose between three options: fifteen spins with the third reel completely wild, ten spins with reels two and four wild, or five spins with reels one, three, and five wild.
What is the highest-value symbol in Mayan Magic?
The highest-value symbol in Mayan Magic is the Mayan Magic logo, which shares the same payouts as the Quetzalcoatl wild symbol. Players can expect a payout of up to 1000x their bet by aligning the logo on an active payline.
What other slot game by Spielo would you suggest to play?
We suggest checking out Spielo's other slot game, Maya Gold. The game features even more bonus features and sleek graphics for an immersive experience.
Does Mayan Magic have an online version?
Mayan Magic doesn't have an online version yet, but there are recommended online alternatives where you can still enjoy this captivating theme and free spins.
What should I do before spinning the reels in Mayan Magic?
Before spinning the reels in Mayan Magic, make sure to check out the paytable to discover the possible payouts. Mayan Magic features a total of ten symbols that combine to create winning combinations on the reels.
What we like
Superior image quality and intricate design
Quetzalcoatl symbol as a wild for massive wins
Free spins with various wild reel options
Maya-themed symbols with high payout potential
What we don't like
Limited options for free spins
Mayan Magic may not appeal to players who prefer different themes