Lucky Tanks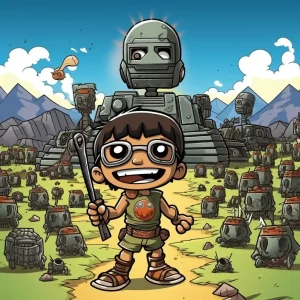 Released in November 2020, Lucky Tanks is a slot game that is taking the online casino world by storm! Developed by Onlyplay, this game offers players a unique combination of slot machines and lotteries.
Unlike other slot games where you simply press the spin button and hope for the best, Lucky Tanks gives players total control over their gameplay. It's a game that's easy to learn, but hard to master! Take control of your tank and lead it to victory!
With its broad appeal, Lucky Tanks has something for everyone, from seasoned slot game veterans to newcomers looking for a fun and exciting way to pass the time. So what are you waiting for? Try your luck with Lucky Tanks today!
Get Ready to Channel Your Inner Patton with Lucky Tanks
If you're a fan of slot machines and lotteries, Lucky Tanks will take you on a wild ride. Not only will you be trying your luck with spins of the reels, but you'll be piloting a tank on the battlefield, ready to take out enemy combatants. The military theme features explosions, rugged terrain, and military equipment that will keep adrenaline pumping through your veins.
Each successful hit will increase your winnings and get you closer to the grand prize. With Lucky Tanks, you can't just rely on your luck – you'll need to strategize your attacks and be prepared to navigate challenging terrain. It's not just your wallet that's at stake; it's also the fate of the battlefield.
Take Control of the Battlefield with Lucky Tanks
Are you tired of games that leave everything up to chance? With Lucky Tanks, you're in the driver's seat! You'll manage a tank from the inside, taking aim and trying to defeat your enemy without firing any blank shots. Of course, if you miss your foe, they'll hit back with a bomb, and you'll lose your bet.
But don't let that discourage you! The simple background of the game creates an immersive experience, transporting you to a green battlefield where rocks and bushes form a fake grid hiding your enemies. Plus, you're in control! Need to take a break? You can interrupt the game at any time and collect your winnings.
With a fixed RTP of 93.65%, Lucky Tanks offers great chances of winning – all it takes is a little strategy and a whole lot of luck. So what are you waiting for? Jump in your tank, aim, and fire!
Gameplay and Rules
Are you ready to take on a tank battle? Lucky Tanks may seem simple, but it requires a level of patience that even a Zen master would envy. The choices made during gameplay are only partially strategic, so you'll need to keep trying until you hit the jackpot by taking out your opponents!
For every successful shot, your winnings multiply and you advance closer to the ultimate prize. But be warned – if you miss, you'll be hit by your enemy's bombs and lose your bet. With an RTP of 93.65%, it's game on for Lucky Tanks!
Just remember, it's okay to run away from your problems – unless they're in a tank.
Getting into the Battle: Design and Graphics
If you're a fan of military themes, explosions, and tanks – then you're in for a treat!
Lucky Tanks from Onlyplay is a slot game that features all these and more. The game's developers have kept the graphics simple with a backdrop of a green field, rocks, and bushes presenting a fake game grid. But, don't be fooled by the apparent simplicity because the game is filled with surprises – like enemy tanks hidden behind obstacles, challenging players to seek and find them.
The graphics are developed impressively, capturing the essence of the battlefield while providing players with a level of amusement.
The gameplay is smooth and intuitive, and you won't find any unnecessary frills here that are commonly present in traditional online slots.
If you're ready to put on your army boots and get spinning, then Lucky Tanks is waiting!
FAQ
What is Lucky Tanks?
Lucky Tanks is a slot game with a military theme, where you control a tank and target the enemies to win prizes.
Who created Lucky Tanks?
Lucky Tanks was created by Onlyplay and launched in November 2020.
What is the RTP of Lucky Tanks?
The RTP (Return to Player) of Lucky Tanks is fixed at 93.65%.
How can I win in Lucky Tanks?
To win in Lucky Tanks, you have to successfully hit the enemy tanks without missing too many shots. Each hit can multiply your winnings and aim for the final prize.
What happens if I miss shots in Lucky Tanks?
If you miss shots in Lucky Tanks and do not find the enemy, you will be hit by their bombs and lose your bet.
What happens if I interrupt the game in Lucky Tanks?
You can interrupt the game at any time and collect your winnings in Lucky Tanks.
What are the graphics like in Lucky Tanks?
The graphics in Lucky Tanks are simple and well-developed, with a green field background and military-themed elements.
Is there a strategy for winning in Lucky Tanks?
Winning in Lucky Tanks requires patience and a bit of luck, as manual choices are only partially related to a gaming strategy.
What we like
Unique combination of slot machines and lotteries
Total player control over gameplay
Military theme with explosions and military equipment
Simple and intuitive design and graphics
What we don't like
Requires patience for gameplay
No extra functions often expected in traditional slots