Lancelot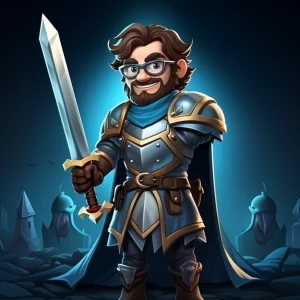 If you've always wanted to be part of the Knights of the Round Table, now's your chance! Lancelot is a 5-reel, 40 payline online slot game that brings the legends of King Arthur to life. Choose your lines and bet from as little as 0.01$ up to a whopping 5$! If you're feeling lazy, the autoplay mode will play the game for you – just sit back and hope for those wins! And if you're a math whiz, the quick bet formula lets you easily set your amount from 0.40$ up to a max of 200$. Unfortunately, there's no bonus game, but don't despair – you can earn some free spins with just two stacked Wild symbols! Keep spinning and you could earn up to 50 free spins if you hit five Wild symbols. That'll be enough to make even King Arthur jealous!
Graphics
Prepare to be transported to an enchanted forest, as Lancelot boasts some of the most high-quality graphics we've seen in an online slot game. The attention to detail is so impressive, you might even forget you're not actually in medieval times! You'll encounter a cast of characters straight out of Arthurian legend, including the dashing Lancelot, the lovely Guinevere, and the wise Merlin.
However, we have to admit the sound could use a little more oomph. We were expecting a stirring soundtrack fit for a knight on a noble quest, but instead, we got something more akin to elevator music. We recommend putting on your own royalty-inspired playlist to enhance the experience.
Symbols
Get ready to dive into the world of sword-wielding knights and medieval romance with the "Lancelot" slot game! The game's symbols are straight out of a storybook, featuring swords, shields, and even the legendary Merlin. But let's be real— we're here to win big, and that means keeping an eye out for the coveted Wild symbols. Luckily, we've got not one, but two Wilds! Guinevere and Lancelot themselves will lead you to victory and higher payouts. So saddle up, knights, and get ready to conquer the reels!
Bonuses: Where's the Party?
Okay, so we have some good news and some bad news. The bad news is that Lancelot won't take you to party central with a thrilling bonus game. But don't be too bummed out just yet! The good news is that when you score 2 stacked Wild symbols, you can trigger some free spins. And yeah, we know you wanna know how many free spins we're talking about here: up to a maximum of 50 free spins, baby! And if you're lucky enough to land 5 Wild symbols, well, let's just say you might wanna start packing your bags for that trip to party central after all!
Overall Experience
Looking for a jolly good time? Lancelot is definitely worth a shot. The game is fun, reminiscent of classic casino slots, and well-designed. Just keep in mind that there are no bonus features to speak of, so it may not be the game for you if you're all about the extras.
On the bright side, the graphics are amazing – it's like you're playing in the rounds of Camelot yourself! Unfortunately, the sounds are less enchanting than the visuals, more caterwaul than crystal-clear. You may want to hit the mute button and play some medieval tunes instead.
Overall, Lancelot is a good option if you're looking for a clean, easy-to-use slot game with appealing aesthetics. Just don't expect to find your Holy Grail with bonus games or standout sound effects.
FAQ
How many reels and paylines does Lancelot have?
Lancelot has 5 reels and 40 paylines.
What is the theme of Lancelot?
Lancelot is inspired by the legendary tales of King Arthur and the Knights of the Round Table.
Which characters are prominent in the game?
Guinevere and Lancelot are the most prominent characters in the game.
What are Wild symbols?
Wild symbols are symbols that can substitute for other symbols to create winning combinations.
What is the bet range for Lancelot?
Players can bet starting from a minimum of 0.01 up to a maximum of 5$.
Is there an autoplay mode in Lancelot?
Yes, there is an autoplay mode in Lancelot that allows players to observe the various automatic plays.
Does Lancelot have Scatter symbols?
No, Lancelot does not have Scatter symbols.
What are the free spins in Lancelot?
With 2 stacked Wild symbols, players get 5 free spins, up to a maximum of 50 spins with 5 Wild symbols.
What we like
Inspired by the legends of King Arthur and the Knights of the Round Table
Players can select the lines and bet amount
Autoplay mode and quick bet formula for convenience
Can activate up to 50 free spins with stacked Wild symbols
What we don't like
No bonus game
Lackluster sound