King Kong Shake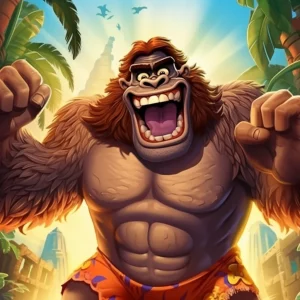 Looking for a thrilling and fun slot game? King Kong Shake by CQ9 Gaming ticks all the right boxes. Observe as the giant monkey towers over you while you spin the reels on a tropical and exotic beach setting. The symbols include various tropical fruits that players try to line up for big payouts.
With its visually stunning graphics, smooth gameplay, and exciting music, King Kong Shake provides an immersive and entertaining experience for both novice and seasoned online casino gamers. Who needs a trip to the beach when you can have this much fun from the comfort of your own home?
Game Features: Things That Will Make You Go Ape!
Get ready for some monkey business with King Kong Shake! This game is full of exciting features that will keep you on the edge of your seat, but don't worry, there's no need to go bananas…
With game multipliers on every spin, your chances of winning big are as high as King Kong himself! Plus, this feature is always active, so you can enjoy the thrill of the game without having to worry about pressing any buttons.
The menu at the bottom of the screen is as easy to navigate as swinging from vine to vine in the jungle. You can manage the soundtrack to your liking, whether you prefer a relaxing rainforest melody or something more upbeat to get you energized!
Gameplay and Winning
Get ready to shake and win with King Kong Shake! It's a fruity frenzy as you match exotic fruits for a chance to win coins. And if you're feeling lucky, the multipliers on the right side of the screen will increase your earnings faster than a monkey climbs a tree!
With every spin, you have a greater chance of earning – talk about a game that puts the 'appeal' in appealing! Whether you're an experienced gambler or a banana-loving newbie, King Kong Shake is a slot game you won't want to miss.
Design and Graphics: Eye-Candy Galore
Prepare to have your senses tickled by the sheer beauty of King Kong Shake. The game's graphics and design are so attractive that they'll make you forget about the real world altogether. The tropical beach location serves as the perfect backdrop for the game, and the vibrant symbols will make you feel like you're on a candy-colored adventure.
But it's not just about looks – the game's soundtrack is a tropical jam that'll get your hips shaking along with the King. It's no wonder the players get so immersed in the game – it's a feast for the eyes and ears!
Soundtrack and Overall Experience
Are you tired of the same mundane workday routine? King Kong Shake offers the perfect escape with its tropical theme and higher chances of winning – it's like a vacation, but without needing to use your PTO!
With the ability to manage the music, you can create a personalized playlist to jam out to while you spin those reels. Feeling funky? Add some disco. Need to relax after a long day? Put on some smooth jazz. The choice is yours.
FAQ
What is King Kong Shake?
King Kong Shake is a virtual slot game created by CQ9 Gaming that immerses you in a tropical and exotic beach environment where you can win coins.
What makes King Kong Shake different from other virtual slot games?
King Kong Shake offers game multipliers on every spin, increasing your chances of winning big in the short term.
What symbols are in King Kong Shake?
Most of the symbols in King Kong Shake consist of exotic and tropical fruits that must be combined for winning purposes.
Is King Kong Shake beginner-friendly?
Yes, King Kong Shake's game multipliers make it enticing for those who are new to the world of virtual entertainment.
Are there many buttons to navigate in King Kong Shake?
No, the menu at the bottom is slightly less extensive than other slot machines offered by CQ9 Gaming, but it has everything you need.
Is the soundtrack customizable in King Kong Shake?
Yes, there are buttons to manage the soundtrack to truly relax you after a long day of work.
What kind of environment does King Kong Shake offer?
King Kong Shake immerses you in a wonderful and refreshing tropical and exotic beach environment.
What is the biggest advantage of playing King Kong Shake?
The game multipliers on every spin offer the potential to significantly increase your earnings and help you win big.
What we like
Game multipliers on every spin
Appealing to both experienced and new gamers
Attractive graphics and design
Relaxing and immersive experience
What we don't like
Limited gameplay options
Limited bonus features