Juicy Reels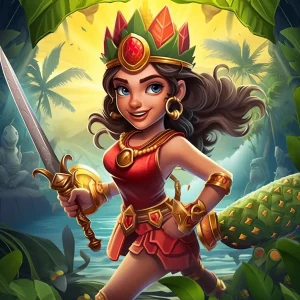 Are you ready for some juicy wins? Juicy Reels is a slot game that has it all: classic fruit symbols, a simple gameplay, and surprising bonus features that will make your bank account burst with excitement!
With 6 reels and 20 paylines, Juicy Reels is a game that caters to both high rollers and beginners. And if you think playing slots is boring, think again! You'll benefit from Wilds and Scatter Symbols that can activate up to 30 (yes, THIRTY) free spins during each tripled win! Now that's what we call juicy!
And that's not all! With unique features from Wazdan, this slot game has everything you need to have a one-of-a-kind gaming experience. With Volatility Levels, you can take control of your potential winnings, and with Big Screen Mode, you can change the look of the game to your liking. Worried about loading time? Ultra Lite mode has got you covered! And if you're feeling adventurous, Ultra Fast mode will take the game speed to a whole new level.
User Interface and Controls
The control panel underneath the reels could be operated even by a monkey! No offense to any of our simian friends reading this review. The game's options are as clear as the day and navigating through the game is seamless.
Ever been so lazy that you didn't want to lift a finger to spin the reels? Well, you're in luck because 'Juicy Reels' has got an Autoplay function to do the hard work for you. All you need to do is sit back, relax, and enjoy the thrill of the game. And if you change your mind halfway through, pressing the Autoplay button again would interrupt the feature and give you full control of the reels, just in time for the next spin. Talk about being in the driver's seat of the game, huh?
Suitability for Different Player Levels
Looking for a slot game that suits all player levels? Look no further than Juicy Reels! Whether you're a seasoned high roller or a newbie to the scene, this game has got you covered. It's so easy to pick up that even your great-grandma could start spinning in no time.
And don't worry, just because it's easy to play doesn't mean there aren't some juicy wins waiting to be had. With special features to help you rack up those coins, even the pros will be entertained for hours. Plus, think about all the bragging rights you'll have when you tell your friends about your big win!
Symbols and Paylines
Gather around, slot lovers! Juicy Reels is ready to quench your thirst for fun with its mouth-watering selection of fruits – plums, cherries, oranges, lemons. Now, don't go reaching for your vitamin C pills just yet – we know they look tempting! But that's not all, folks! This slot also rocks retro icons like the Liberty Bell, the Bar icon, and a Lucky Number 7. With twenty fixed paylines, you don't have to play detective to figure out what combination will get you the sweetest payout. Just pick how much to bet and spin to win, baby!
Comparing Juicy Reels to its fruity competitors
Move over, Fruitopia, Juicy Reels is here to steal the fruit slot game throne! While both games offer a mouthwatering selection of juicy fruits, Juicy Reels takes it up a notch by not only having a Wild symbol, but also a Spicy Scatter that can lead to some sizzling hot wins.
Juicy Reels doesn't just rely on luck alone – it has a unique feature where players can choose to hold a reel for their next spin, increasing their chances of hitting that sweet, sweet jackpot.
Sorry, Fruitopia, maybe it's time to retire and let Juicy Reels be the new king of the fruit slot game world.
FAQ
How many reels does Juicy Reels have?
Juicy Reels has 6 reels.
How many paylines does Juicy Reels have?
Juicy Reels has 20 paylines.
What special features does Juicy Reels have?
Juicy Reels has Wilds and Scatter Symbols that can activate up to 30 Free Spins during each tripled win. It also has Volatility Levels, Big Screen Mode, Ultra Lite mode, and Ultra Fast mode.
What symbols are in Juicy Reels?
Juicy Reels has fruits such as plums, cherries, oranges and lemons, and retro icons such as the Liberty Bell, the Bar icon, and a Lucky Number 7.
Is the Autoplay function available in Juicy Reels?
Yes, the Autoplay function is available in Juicy Reels.
What is a Wild symbol?
A Wild symbol can replace any other symbol on the reels, potentially creating a winning line.
What is Fruitopia?
Fruitopia is another online fruit-based slot game developed by Merkur with a Jester Wild, a random multiplier, and a Gamble feature.
Is Juicy Reels suitable for beginners?
Yes, Juicy Reels is suitable for both high rollers and beginners, as the rules are fairly simple and the game options are intuitive.
What we like
Fantastic bonus features
Simple rules and user interface
Wide appeal to different player levels
Variety of fruit symbols and fixed paylines
What we don't like