Joker's Jewels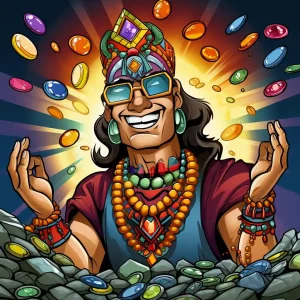 Joker's Jewels surely knows its way around the casino block with its easy-to-learn gameplay mechanics. With five reels and paylines, this slot game makes it easy to win big or go home trying. The least amount you can bet is only one cent – that's right! You can buy yourself a chance at riches for less than a stick of gum. Fancy yourself a high-roller? Bet the maximum amount of 10 coins per line with a value up to $0.50 to bet on all five lines.
With an impressive RTP of 96.5%, this game certainly earns its keep as one of the most lucrative games out there. Keep in mind that it has high volatility, so while you may not always win, when you do, you'll be laughing all the way to the bank – just like the Joker himself!
Shiny Symbols That Can Bring Home the Bacon
If you're a sucker for gemstones, you'll be in heaven when you spin those reels. And guess what, the Joker is the star of the show here, so you'll get plenty of him too, whether you like it or not.
Take a peek at the paytable before you start spinning and get familiar with the winning combinations. The highest paying symbol is the Joker's mask – we bet you didn't see that one coming! Five of them will bring you a cool $50. On the other hand, the dark blue gem will only give you a measly $1, so make sure to keep an eye out for better treasures to line up on your screen!
Bonus Bonanza!
Hold on to your hats folks, because Joker's Jewels offers a bonus game that's sure to make you feel like royalty! Triggered by the Scatter symbol, represented by a red crown with the word Bonus, this feature offers multipliers that will boost your highest win and send you on a winning streak fit for a king (or queen!). It may not be the most complex bonus game out there, but it's a great addition to the overall gameplay experience. So sit back, relax, and let the jewels roll in!
Similar Games
Looks like the Joker is having a moment in the online slot game world. And why not? He's wild, unpredictable, and the ultimate prankster. Speaking of which, if you're looking for similar games to Joker's Jewels, there are a few options. Joker Gems is probably the closest match, so you won't feel like you're cheating on your favorite clown. Plus, the graphics and gameplay are top-notch, making it a total gem of a game.
But if you're ready to level up your game and take on the ultimate jester challenge, check out Mega Joker from Novomatic. This game is like the Joker on steroids – high-octane, high-rewards, and perfect for the adrenaline-junkies out there. Give it a spin and see if you can survive the wild ride.
Return to Player Rate
Joker's Jewels may not be one of the biggest moneymakers in the biz, but with an RTP of 96.5%, it's as good as any of those overrated games. If you're someone who enjoys the thrill of taking risks and betting on luck, this game will definitely give you your money's worth! You can expect an average of $96.5 upon every $100 wagered – a competitive rate that will keep you coming back for more. So take your chances, cross your fingers, and let the jester entertain you while lining your pockets.
FAQ
What is the minimum bet amount for Joker's Jewels?
The minimum bet amount for Joker's Jewels is $0.01.
What is the maximum bet amount for Joker's Jewels?
The maximum bet amount for Joker's Jewels is $25.
What is the RTP for Joker's Jewels?
The RTP for Joker's Jewels is 96.5%.
What is the volatility level of Joker's Jewels?
The volatility of Joker's Jewels is high.
What are the main features of Joker's Jewels?
Joker's Jewels is a simple slot game with linear graphics and intuitive gameplay. It features gemstone symbols and bonuses that offer multipliers on the highest win.
Are there any bonus games in Joker's Jewels?
Yes, Joker's Jewels features a bonus game that can be activated with the Scatter symbol. The bonus game provides multipliers that can result in substantial winnings.
What are some slots similar to Joker's Jewels?
Some slots similar to Joker's Jewels are Joker Gems and Mega Joker.
What is the highest-paying symbol in Joker's Jewels?
The highest-paying symbol in Joker's Jewels is the mask of the Joker, which pays $50 for an alignment of five symbols.
What we like
Simple and intuitive gameplay mechanics
High volatility for potentially substantial winnings
Bonus game with multipliers for increased winnings
Similar games available for players who enjoy the Joker theme
What we don't like
Not the highest RTP rate in the market
Limited bonus features