Ivory Citadel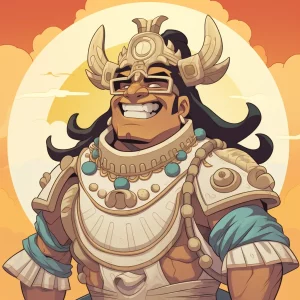 Get ready to step into an exotic jungle with Ivory Citadel, a 5-reel slot game boasting 20 pay lines that keep the pace thrilling and adventurous. And, who doesn't love a good adventure, right?
Let's talk about the Mystery Bonus, which is like a chameleon of sorts, blending in with the other symbols and transforming into the one you need to create those winning pay lines. That's like having a joker up your sleeve or a sidekick like Batman's Robin! How cool is that?
The animals in this jungle come with a surprise of their own! Line up a sequence of three or more snakes or red tigers, and brace yourself for x6 to x20 multipliers. It's like hitting a jackpot, without the need for a leprechaun or a horseshoe!
And, have we mentioned the pink gem? This rare beauty is THE symbol you must land for the ultimate payout. Line up all five in a row, and you've got yourself x20 multiplier that could make you richer than Bruce Wayne!
Lastly, the free spins symbols are like a saving grace, a reward for being the fearless adventurer that you are. These symbols can give you eight, ten, or even twelve free spins, allowing you to activate the reels without using any game credits. Who doesn't love free stuff, especially when it leads to big winnings?
Graphics and Theme
Hold on to your saris because Ivory Citadel is taking you on a wild ride to India! The game is filled with elephants, snakes, and tigers that could knock the bindi off your forehead. And if that isn't enough excitement for you, you'll even have to escape a fortress while winning boatloads of moolah.
The graphics are gorgeous and will transport you straight to the heart of India. The vibrant colors used in the game are a feast for the eyes, and the Indian-inspired soundtrack will make it hard to stop playing.
Who's This Game For?
If you're an experienced gambler who loves slots with unique graphics and functions, Ivory Citadel will be right up your alley. But don't worry, even if you're a novice gambler looking for an interactive and enjoyable gaming experience, you're more than welcome to join in on the fun.
Let's be honest, we're all playing these games to win big. And with its high payout potential and jaw-dropping graphics, Ivory Citadel definitely delivers in that department. So whether you're a seasoned pro or just starting out, come on in and give it a spin!
Similar Slot Games to Try
If you're loving the Indian flair of Ivory Citadel, you're going to dig Pearls of India. This slot game features awesome symbols of Indian gods, plus multipliers of up to 1000 times your bet! And for more pre-colonial India vibes, check out Riches of India by Novomatic. This game features stunning palaces and mesmerizing dark-skinned beauties. These games will give you all the thematic similarities you're craving while offering unique perks like free spins and multipliers.
Get Rich Quick with Ivory Citadel's Payout Potential
If you're looking for a slot game that gives you the chance to win big, Ivory Citadel might just be your lucky charm. With payouts of up to 2000 times the stake up for grabs, this game keeps the adrenaline pumping from start to finish.
The pink gem is the most valuable symbol, offering a whopping 20x multiplier if you land five in a row. And if you're really lucky, you could trigger exciting multipliers of up to six to twenty times your bet plus free spins with the right symbols.
Ivory Citadel is for risk-takers who love the thrill of unpredictability. Just be careful not to throw caution to the wind, or you may end up regretting it more than that third bowl of spicy chili.
FAQ
What is the theme of Ivory Citadel?
The theme of Ivory Citadel is India, specifically featuring elephants, snakes, tigers, and a fortress.
What are the special functions in Ivory Citadel?
Ivory Citadel has a Mystery Bonus and various animal symbols that can lead to multipliers of 6 to 20 times the bet. The pink gem is a 20x multiplier if you land five in a row, and Free Spins symbols allow you to activate the reels without using your game credits.
How many reels and pay lines does Ivory Citadel have?
Ivory Citadel has five reels and 20 pay lines.
What is the most important bonus in Ivory Citadel?
The most important bonus in Ivory Citadel is the Mystery Bonus, which transforms into the symbol needed to make various combinations on the pay lines, giving better odds of winning.
Are there other Slot Machines with Indian-themed graphics?
Yes, you can try Pearls of India and Riches of India for similar Indian-themed graphics and multipliers up to 1000 times your bet.
What is the best way to win at Ivory Citadel?
There is no guaranteed way to win, but playing with smaller bets and maximizing the number of spins can increase your chances of winning.
Is Ivory Citadel suitable for experienced gamblers?
Yes, Ivory Citadel is ideal for experienced gamblers looking for unique symbols and functions combined with enjoyable graphics.
What makes Ivory Citadel stand out from other Slot Machines?
Ivory Citadel's portrayal of Indian animals and a fortress, combined with the Mystery Bonus and various multipliers, make it stand out from other Slot Machines.
What we like
Unique symbols and functions
Exciting multipliers and free spins
Visually appealing graphics
High payout potential
What we don't like
Limited number of pay lines
Theme may not appeal to everyone