Indian Ruby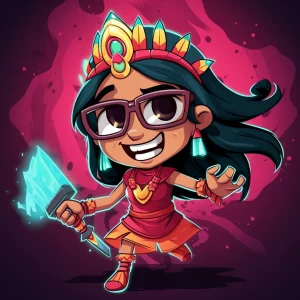 Are you ready to explore the Indian Ruby slot game? This game follows the classic structure with three reels, five rows, and ten paylines – it's like the trusty old tuk-tuk that always gets you to your destination. You can bet as low as one cent, or go all out with $1 per line, giving you plenty of ways to win big! With a low volatility rating and a return-to-player (RTP) percentage of 96.19%, you can expect a decent return on your investment – no need to mortgage your house just yet.
Special Symbols
Alright, hold on to your horses! Indian Ruby has a couple of tricks up its sleeve, or rather on its reels, in form of special symbols. First up, we got the Wild. It's like a magical red ruby that can substitute for any other symbol on a payline. Basically, it's the ultimate wingman of the game! On top of that, it adds a sweet 2x multiplier to any wins it helps complete. I know, I know, it's almost too good to be true!
The Scatter symbol is a majestic elephant. I mean, talk about exotic. This big guy can activate some awesome free spins. Who doesn't love free stuff? Plus, it can also trigger the Respins function, which gives you another shot at winning big. Elephants never forget, and you won't forget the excitement of hitting those Scatter symbols!
Symbol Payoffs
Indian Ruby isn't just about the rubies – there are plenty of other symbols that can lead to big payoffs! The low-value symbols might not seem like much, but they can still earn you up to 100 times the value of your bet – not bad for a little letter or number! As for the higher-value symbols, they're related to some of India's most beloved traditions. You could win big with a pot, a bag of spices, or even a beautiful necklace, with payouts of up to 500 times your bet.
Just be careful not to get too caught up in the excitement – you don't want to end up playing slots with your family's jewels instead of rubies! Stick to responsible gambling and enjoy the thrill of Indian Ruby.
Respins Function – Because Who Doesn't Want a Second Chance?
Want to increase your chances of winning big in Indian Ruby? Look no further than the Respins function! With a 1000x multiplier up for grabs, triggered by the elusive Scatter symbol, this game feature is a game-changer. You'll be feeling like a true gem when you activate this function.
Think of it as a re-do button — perfect for those who believe in second chances. It's like hitting the jackpot twice in one spin! So why settle for just one chance at winning when you can have another go?
Maximum Win
So, you want to know about the maximum win in Indian Ruby, huh? Well, the secret is in the Respins function. If the stars align and you get lucky, you can earn up to a 1000x multiplier! That's right, you could be walking away with a whopping $10,000! Just remember, Indian Ruby is a low volatility game, so don't expect to win big every time.
But hey, maybe you're not in it just for the money. Maybe you're on a spiritual journey to connect with your inner zen and the game is just a bonus. In that case, even a small win can feel like reaching enlightenment. Namaste, my friend.
FAQ
What is the structure of the Indian Ruby game?
The game has three reels and five rows, while the paylines are ten.
How much can I bet in Indian Ruby?
On each line, you can bet starting from only one cent up to a maximum of $1.
What is the theoretical RTP of Indian Ruby?
The theoretical return to player (RTP) of Indian Ruby stands at a canonical 96.19%.
What is the volatility of Indian Ruby?
Indian Ruby is a game characterized by low volatility.
What are the symbols used in Indian Ruby?
The symbols with the lowest value are represented by numbers and letters that refer to playing cards from 10 to Ace, while the symbols with the higher value are those related to India.
What are the special symbols in Indian Ruby?
There are two special symbols (the traditional Wild and Scatter) and no Bonus.
What is the maximum payout in Indian Ruby?
The maximum payout you can get while playing Indian Ruby is a 1000x multiplier.
What is the design of Indian Ruby like?
Indian Ruby has well-made graphics, with very sharp and catchy images, although it lacks special effects or 3D animations.
What we like
Traditional structure with three reels and ten paylines
Special symbols and features add excitement to the gameplay
Respins function with a 1000x multiplier for big wins
Maximum win of up to $10,000
What we don't like
Average RTP percentage
Highly lucrative wins are difficult to achieve