Hunter's Spirit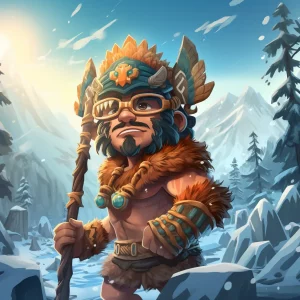 Looking for a wild spinning adventure? Check out Hunter's Spirit, a 5-reel slot game with 20 fixed paylines that will have you feeling like a true hunter. To trigger the Free Spin feature, players must match at least three identical symbols, but keep an eye out for the elusive bonus icon on the grid – if it shows up on reels 2, 3, and 4, you'll earn 10 free spins to really up your game. And if that's not enough, the Wild symbol is here to multiply your payouts by up to x16!
With a mode that can double an already won prize, Hunter's Spirit has all the features you need to really set your gameplay ablaze. So put on your hunting boots and get spinning – the hunt is on!
Graphic Design
Hunter's Spirit has made slot games great again with its amazing graphics. You'll feel like you're in a winter wonderland with the 3D effects on all the symbols and snowy valley background. It's almost like you can feel the chill in the air, but don't worry – the hot payouts will keep you warm.
While the playing cards might give you flashbacks of your last trip to Vegas, the other thematic icons such as eagles, bison, and wolves will have you howling with excitement as they offer bigger payouts.
Sound Effects: Turn Up the Volume!
Are you tired of those boring and repetitive slot game soundtracks? Fear not, as Hunter's Spirit unleashes dramatic sound effects that add an extra thrill to each spin! The background music creates an intense atmosphere that enhances the overall gaming experience and gets you even more excited to spin those reels. So turn up the volume, sit back, and let the sound effects of Hunter's Spirit take you on a wild hunt for big wins!
Symbolism and Theme
Get ready for an adventure with Hunter's Spirit! This slot game will take you on a journey back in time, straight into the shoes of an old Indian. Don't worry, moccasins are not required.
The game's symbols transport you to the heart of the wilderness where wolves, bison, and eagles roam wild and free. You'll even come across the Indian himself, ready to guide you through the game's jungle of features and bonuses.
Get Your Hunting Boots On: The Winning Potential in Hunter's Spirit
Gamblers, you're gonna love this one. Hunter's Spirit offers some major opportunities for winning big. With exciting Wilds and a Free Spin feature, your odds are looking pretty good, folks!
Picture this: your heart's racing as you land on the Indian symbol, with a payout that could reach a whopping 200x your bet! And that's not all, folks. Winning combos can also be multiplied up to x16, giving you even more to celebrate.
In fact, we're pretty sure your ears will be ringing with the sound of ka-ching every time you hit the jackpot. So go ahead, give it a spin. You might just become the Big Kahuna in no time!
FAQ
How many paylines does Hunter's Spirit have?
Hunter's Spirit has 20 fixed paylines.
What do you need to do to win?
To win, you must land at least three identical symbols.
How many free spins do you get if you place the bonus icons on the grid?
If you place the bonus icons on the grid on reels 2, 3, and 4, you'll receive a gift of 10 free spins.
What is the Wild in Hunter's Spirit?
The Wilds in Hunter's Spirit multiply your winnings, allowing each combo to double, quadruple, and even reach up to 8 times your bet.
What is the most lucrative symbol in Hunter's Spirit?
The most lucrative symbol is the wolf, which is worth a maximum of 80x. The Indian is worth a maximum of 200 times your bet.
Can you reactivate the Free Spin feature in Hunter's Spirit?
Yes, you can reactivate the feature several times, with winning combos remaining fixed, and the other reels continuing to spin.
What is the graphic design like in Hunter's Spirit?
The graphic design is well-crafted and the background depicts an illuminated snowy valley where the gaming grid is located.
Are there any special accomplishments in Hunter's Spirit?
Yes, there are rare and special accomplishments that can win you up to 16x.
What we like
Impressive graphics and 3D effects
Free Spin feature with Wild symbols to help create winning combos
Good winning potential with payouts up to 200x the bet
Dramatic background music that enhances gaming experience
What we don't like