Hot Nudge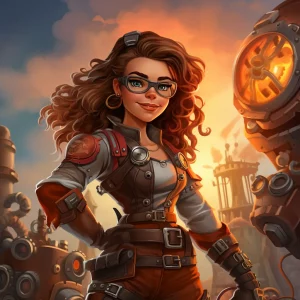 Hot Nudge is like Mad Max meets Willy Wonka's Chocolate Factory, but instead of candies and sweets, you can win big bucks! The slot game features five reels, four rows, and 40 paylines, making it a thrilling experience for players who love action and rewards.
The steampunk-inspired design with cartoon-style graphics adds a touch of humor to the game's post-apocalyptic theme. As soon as you start playing, you'll find yourself staring at a massive engine with gears and machinery that make you wonder how anyone can stay sane in a world like this!
Hot Nudge Game Features
Get ready for some hot action with Hot Nudge and its exciting features that will keep you entertained for hours. You'll be on fire with Hot Wild and Hot Scatter symbols that are sure to boost your winnings.
The Hot Wild symbol is like a spicy jalapeño, replacing any symbol except for the scatter, and appearing stacked so you can heat up your wins even more. And when you find three Hot Scatters, get ready for some sizzling free spins that will make you feel like you're in a Mexican hot sauce factory.
But that's not all – with the nudges, you can nudge your way to victory when you get Hot Wilds or character symbols that fill up an entire reel. It's like giving your reels a little push in the right direction, like a helpful friend giving you a nudge when you need it most.
Symbol Payouts
Roll the reels and watch steampunk-themed symbols align for wins that feel like they're straight out of a Victorian-era adventure. These symbols deliver several payouts, with the lower-paying ones like hearts, clubs, spades, and diamonds, giving you multipliers for each position they move. But don't let their modest nature deceive you! The Diesel King, Steam Queen, and Punk Jack symbols are stacked and can hand over fantastic payouts up to 2,000x your bet – we'll take that over a handful of diamonds any day.
Hot Nudge Feature
What do you get when you blend fire and spinning reels? The Hot Nudge Feature! This feature is triggered by the Hot Wilds or character symbols like Diesel King, Steam Queen, and Punk Jack. When Hot Wilds appear partially on a reel, they get a sudden urge to push up or down to fill the entire reel, offering a fiery multiplier every time they jive.
As for the characters, if their symbols fill the first two reels, they make an entrance to the following reels, bringing their fiery personas along and providing players with a sizzling chance at winning.
Hotter than Your Favorite Pepper: Hot Wild Symbol
Buckle up, folks! The Hot Wild symbol in the game is like adding extra spice to your favorite dishes; it's intense and leaves you wanting more. The Hot Wild is the game's most profitable symbol and can be seen stacked on the reels. But what's incredible is that it can fill up any reel it lands on and extend matching rows. Is it just us, or does that sound like a dream come true?
Wait, there's more! The Hot Wilds grant multipliers as they move in the nudges. Do you feel the heat yet? If parts of a Hot Wild appear on all three rows, players can earn a sizzling x10 multiplier. That's like finding the hottest hot sauce in town, but instead of the burning sensation, you feel the rush of massive rewards.
Hot Nudge: The Flaming Hot Slot Game
Looking for a slot game that's as hot as your ex's mixtape? Look no further than Hot Nudge – the fiery, sizzling game that's sure to get your temperature rising. And with the Hot Scatter symbol, things are sure to heat up even more.
Featuring a bright yellow warning sign that screams 'Hot Scatter,' this symbol is your key to unlocking free spins and the chance to win big. So, gather your courage and keep your eyes peeled for three Hot Scatters on the central reels – it's time to bring the heat.
Related Games
If the heat of Hot Nudge turns up the thrill, players may want to check out Cazino Zeppelin by Yggdrasil Gaming. This steampunk-inspired game boasts the perfect industrial vibe, complete with a variety of symbols and bonus features like transferring and sticky wilds for that extra thrill. Not to mention, a lucrative bonus game that will have players feeling like they hit the jackpot – or rather, the steam-powered engine!
FAQ
What is the theme of Hot Nudge?
Hot Nudge has a steampunk, industrial theme with graphics depicting gears, machinery, and industrial symbols.
How many paylines does Hot Nudge have?
Hot Nudge has 40 fixed paylines.
What are the main symbols in Hot Nudge?
The main symbols in Hot Nudge are playing card suits with a steampunk twist, the Diesel King, Steam Queen, and Punk Jack.
What is the Hot Wild symbol in Hot Nudge?
The Hot Wild symbol in Hot Nudge is a female mechanic symbol that replaces any symbol except for the scatter to create winning combinations.
What is the Hot Scatter symbol in Hot Nudge?
The Hot Scatter symbol in Hot Nudge is a yellow warning sign with the words 'Hot Scatter'. It appears randomly on one of the three central reels and finding three of them unlocks free spins.
What is the primary bonus feature of Hot Nudge?
The primary bonus feature of Hot Nudge is the nudges offered to Hot Wilds and the Diesel, Queen, and Jack symbols, causing these symbols to take over entire reels when the situation is right.
What is the maximum win in Hot Nudge?
The maximum win in Hot Nudge is 200x your stake when the Diesel King graces all five reels with his presence. With Hot Wild multipliers, this could increase to 400x or even 2,000x your bet.
What are some similar slot machines to Hot Nudge?
If you like Hot Nudge, you'll love Cazino Zeppelin by Yggdrasil Gaming, which has a similar steampunk theme with inventors, transferring and sticky wilds, and a generous bonus feature.
What we like
Exciting features like Hot Wild and Hot Scatter symbols and nudges
Steampunk-inspired game design with cartoon-style graphics
Hot Wild symbols that offer multipliers and can extend matching rows
Hot Nudge feature that extends matching reels when certain symbols appear
What we don't like
Limited free spins feature