Heidi and Hanna's Bier Haus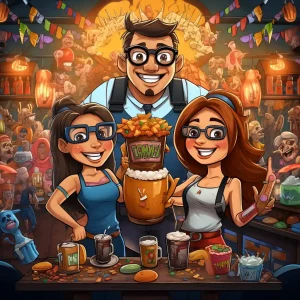 Get ready to raise your stein and cheers to Heidi and Hanna's Bier Haus! This exciting slot game has 6 reels and up to 50 paylines – that's more chances to win than there are types of beer in Bavaria!
The Wild symbol is a good old-fashioned Beer Stein, which can help you form even more winning combinations (just be careful not to spill any on your keyboard!) And don't forget about the Scatter symbol – represented by none other than Heidi and Hanna themselves. Land these beauties in multiple positions on the screen and you could trigger up to 10 free spins! Now that's something worth celebrating!
Theme and Graphics
Get ready to grab a beer and celebrate Oktoberfest with Heidi and Hanna's Bier Haus! The cartoonish graphics give the game a playful and fun touch, making it not only visually appealing but also hilarious. You'll find yourself laughing at the quirky animation while spinning the reels. The background noises of clinks and cheers will make you feel like you're right in the middle of the action and ready to chug down a cold one. Overall, the design of this game will get you into the festive mood, even if you're sitting on your couch at home.
Bet Limits and Payouts
Looking to drown your sorrows in some beer and cash? Look no further than Heidi and Hanna's Bier Haus! With a minimum bet of just 0.15 cents and a maximum bet of a whopping 180 Dollars, there's something for every type of player.
But the real cherry on top? The return to player percentage is a mouth-watering 96.15%, giving you a better chance at winning big than trying to catch a greased pig at the county fair.
Who wouldn't love a Bier Haus with Heidi and Hanna?
If you're looking for a slot game that's as light as a feather and as entertaining as two German ladies at a pub, then Heidi and Hanna's Bier Haus is perfect for you. It doesn't matter if you're a seasoned pro or a newbie at online slots, this game is tailor-made to keep you entertained.
The game offers something different from the usual slot games out there. It's a fresh and unique experience that'll keep you coming back for more. And if you're someone who thinks traditional slots are just as boring as watching paint dry, then Heidi and Hanna's Bier Haus will definitely change your mind.
It's most suited for players who want to have a good time and enjoy a few laughs. So if you're in the mood to sip some beer and hear an accordion play in the background, then Heidi and Hanna's Bier Haus is the game for you!
My Beer-tastic Recommendation of Heidi and Hanna's Bier Haus
If you're a fan of beer, fun, and Frau-power, then Heidi and Hanna's Bier Haus is the slot game for you! It's like Oktoberfest all year round with this game that brings the charm of two lovely German waitresses straight to your screen.
But it's not just about the ladies, the game mechanics are top-notch as well. With a wide range of bonus rounds and special features, you'll be cheering 'prost!' with every spin. It's a light and entertaining experience that will have you shouting 'Zicke, Zacke, Zicke, Zacke, Hoi, Hoi, Hoi!' in no time!
FAQ
What is Heidi and Hanna's Bier Haus?
Heidi and Hanna's Bier Haus is an online slot machine by WMS with a German Bier Haus theme and 6 reels with 6 symbols on each, up to a maximum of 50 paylines.
What are the game symbols?
The game symbols range from the Beer Stein, which is chosen as the Wild to facilitate the formation of winning combinations, to the Scatter icon, which depicts the characters Heidi and Hannah.
What are the special features of the game?
The game features include multiple free spins, several jackpots, and an RTP of 96.15% which is important to refer to the return to the player.
What is the minimum bet for the game?
The gambler can bet from a minimum of 0.15 cents up to 180 Dollars.
What is the RTP of the game?
The RTP of the game is 96.15%, which is a very important percentage, especially because it refers to the return to the player who challenges the reels.
Are there any jackpots in the game?
Yes, there are several jackpots featured in the game.
What is the atmosphere of the game?
The game's atmosphere is humorous and charming, with a focus on the German Bier Haus theme, cartoon effect graphics, and audio accompaniment that reproduces the chatter and typical sound of toasts.
What type of players would enjoy this game?
Overall, this game would attract players who are looking for a fun and not too challenging solution that can enrich the curiosity in many aspects.
What we like
Humorous and entertaining graphics
Impressive return to player (RTP) rate of 96.15%
Wide range of bonus rounds and special features
Suitable for players of all skill levels
What we don't like