Halloween Jack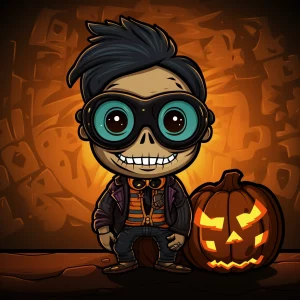 Get ready to scream with Halloween Jack, a spooky 5×3 slot machine that pays out big! With twenty paylines and an RTP of around 96%, you'll have a frightfully good time playing this thrilling game.
Watch out for symbols straight out of a horror movie, including the chilling Scatter and Wild symbols. Spin the reels and see what horrors await you!
Visuals
Prepare to be visually haunted by Halloween Jack's NetEnt game graphics! The designers have gone full spooky, with a gloomy and atmospheric environment that'll give the goosebumps to any horror lover. The symbols are inspired by the most classic horror ghosts and monsters, making you feel like you're a part of the game! But it's not only the game characters that have been revised, even the playing cards have gotten a haunting makeover. Ghostly hands will grab them and pull them away into the void. Halloween Jack's visuals are so good, they'll make you scream… for more!
Let's talk Mechanics
Are you tired of online slot games that feel like they were made in the Stone Age? Fear not, dear gambler! Halloween Jack is here to show you what modern mechanics look like. It's got the classic 5×3 mechanism, but with a twist: a Wild symbol that's a pumpkin! That's right, this game is so hip, it's even got Instagram-worthy symbols. And the best part? The pumpkin gives you free spins and moves to the left until it's gone. It's like the game is waving at you while you win.
Speaking of winning, let me tell you a secret: getting free spins in Halloween Jack is easier than getting candy on Halloween. Just look out for the chest symbol, because that's the Scatter symbol that unleashes the free spin mode. You'll be so happy, you'll feel like a kid who just scored a whole bag of full-sized candy bars.
Bonuses: More Spins, More Wins
If you're a fan of free stuff (who isn't?), you'll love Halloween Jack's primary bonus feature: the free spins mode. Who knew skeletons and witches could be so generous? Land the chest Scatter symbol and boom, you win free spins on the house. And that's not all! The Wild symbol also creates respins with progressive multipliers, giving you even more chances to win big.
During these Wild respins, players can collect additional Wild symbols, lock them in place, and increase their number of free spins. It's like trick or treating, but with cash prizes instead of candy. So, grab your broomstick, head to the graveyard, and get ready to collect some sweet, sweet loot!
Spooky Theme
Halloween Jack isn't your typical candy-filled holiday game–this one is perfect for all horror buffs. With symbols like vampires, demonic horses, and Jack o'Lanterns, this slot is perfectly designed for Halloween. Try not to get too scared while playing, or at least make sure you have someone nearby to hold your hand.
Sure, you could have gone trick-or-treating instead of trying out Halloween Jack, but why risk cavities and cold weather when you could be playing this slot game? This game sets the mood with its haunting music and visuals, making you feel like you're walking through a spooky graveyard. Just make sure to play with the lights on.
FAQ
What is Halloween Jack?
Halloween Jack is an online slot game developed by NetEnt with a horror theme.
What is the inspiration for Halloween Jack?
Halloween Jack is inspired by the character of Jack o'Lantern from Scandinavian folklore.
What is the RTP of Halloween Jack?
The RTP of Halloween Jack is around 96%.
What are the paylines for Halloween Jack?
Halloween Jack has 20 paylines.
What are the special symbols in Halloween Jack?
The special symbols in Halloween Jack are the chest Scatter symbol and the Wild pumpkin symbol.
What is the behavior of the Wild pumpkin symbol?
When the Wild pumpkin symbol appears, it awards a free spin and moves to the left until it disappears from the screen, awarding more free spins if it appears again during the respins.
Are there any other slots similar to Halloween Jack?
Yes, some other slots inspired by horror themes are IGT's Day of the Dead and NetEnt's Blood Suckers.
What is the importance of graphics in a slot machine?
Graphics are important in a slot machine because it is important to enjoy the game while playing, not just winning.
What we like
Detailed graphics and atmospheric visuals
Unique Wild symbol with free spins
Easy to trigger free spins compared to other slots
Engaging theme inspired by horror and Halloween
What we don't like
Limited bonus features beyond free spins
May not appeal to players who are not fans of horror genre