Gong Xi Fa Cai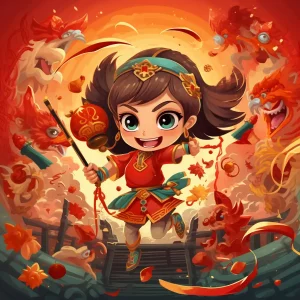 Gong Xi Fa Cai is the perfect way to celebrate Chinese New Year, without all the firecrackers! This stunning slot game by IGT brings to life all the sights and sounds of the traditional festivities, with lovely graphics and lively animations.
Speaking of graphics, Gong Xi Fa Cai is a visual feast for the eyes. The designers have used a bold color scheme of blue, pink, red, purple, and green, creating a kaleidoscope of colors that is both mesmerizing and delightful. The game's sleek and modern graphics make it visually appealing, and the traditional symbols like the Phoenix, Dragon, and Koi add an extra layer of excitement.
The symbols on the reels are detailed and well-drawn, with each character bringing their own unique personality to the screen. Even the lower-paying symbols, represented by playing cards, are beautifully designed. It's almost like they're daring us to ignore them and aim for the big wins!
Get Rich Quick with Gong Xi Fa Cai's Jackpot
If you're in the mood for some serious cash, Gong Xi Fa Cai has four jackpots that will make your eyes pop. With the Maxi jackpot offering a whopping 8 million Dollars, you'll be screaming 'Gong Xi Fa Cai!' from the rooftops once you've won it. The other jackpots – Major, Minor, or Mini – may not be as impressive, but they'll still put a smile on your face when you hit them.
While the jackpots are certainly the main attraction, the game also offers various other ways to win. With multipliers, free spins, and bonus features, you'll have plenty of chances to rack up your winnings. But let's be real, we're all here for that big prize money.
If you're feeling lucky, Gong Xi Fa Cai is the perfect game for you. Just make sure you don't get too greedy – you don't want to end up broke after winning the Maxi jackpot and spending all your winnings on a private island in the Bahamas.
Bet Range and Paylines
Looking to win big? Gong Xi Fa Cai has got you covered with its 50 paylines, which make it easier than ever to form multiple wins on the same spin! And if you're feeling daring, you can bet big – with Gong Xi Fa Cai's betting range going all the way from 0.50$ to 750$ per spin, you could hit the jackpot at any moment. Feeling lucky?
Of course, we wouldn't recommend betting too wildly – unless you're really feeling like a high roller. Luckily, the control panel at the bottom of the screen makes it easy to adjust your betting amounts and keep an eye on your funds. Plus, if you're feeling lazy or just want to enjoy the view, there's always the Autoplay feature. Just sit back, relax, and let the good fortune roll in.
Bonus Features
Gong Xi Fa Cai slot game isn't just a game of chance, it is also a game of bonus features that will give players a chance to strike gold. And let's be honest, who doesn't want to strike gold?
First up is the Dragon Pinatas feature, where players can smash Pinatas for a chance to win up to 100x their bet line. Talk about taking out your frustrations! Just make sure it doesn't become a habit, okay?
Next up is the green and golden Koi, which make the Yin and Yang symbols an impressive bet increase of 125x. If you ask me, that's a pretty impressive amount of green for a couple of fish symbols. Maybe I should start keeping fish and see if they bring me some good fortune too?
The blue, red, and gold Phoenix brings players a whopping 200x their original bet, making it an excellent symbol to come across. In comparison, the yellow and green Dragons trigger a spark with a substantial increase of 500x their bet. Maybe this means I should consider getting a dragon tattoo?
Let's not forget the traditional wild icon, which pays out a generous 600x your bet line if you manage to line up five at a time. This symbol can also substitute any other symbol in the game for added bonus fun. The multiplier can reach as high as 5x to make your winnings even more impressive.
Lastly, the free spins bonus feature can award up to 20 free spins. Who doesn't love free spins? You can't beat a chance to play without consequences and possibly earn yourself some extra coins while doing it. The gameplay with Gong Xi Fa Cai is enjoyable and profitable with all these bonus features.
Gameplay
Gong Xi Fa Cai has straightforward gameplay, which is both a blessing and a curse. On the one hand, it's easy to jump right in and start spinning the reels, but on the other hand, you won't find a lot of extra features to break up the action.
That being said, the Autoplay feature is a welcome addition, allowing players to sit back, relax, and watch the reels spin on their own. With 50 paylines, there are plenty of opportunities to land winning combinations, and the wide betting range ensures that both high rollers and casual gamers can enjoy the game.
Unfortunately, not every gaming experience can be as thrilling as a Las Vegas casino. But when I played Gong Xi Fa Cai, I didn't want to bang my head against the wall or scream at my screen because I was losing. So that's a plus!
Mobile Compatibility
Are you tired of being tethered to your desktop while gaming? Fear not! Gong Xi Fa Cai has you covered. This delightful slot game is fully optimized for mobile gameplay, so you can take it on the road with you.
Let's face it, there's nothing quite like the thrill of hitting that jackpot while lounging on the couch or riding the bus. With Gong Xi Fa Cai's mobile compatibility, you don't have to let a little thing like leaving the house stop you from winning big.
The graphics and features of Gong Xi Fa Cai translate seamlessly to mobile, so you won't have to sacrifice any of that high-quality gameplay when you switch devices. It's almost like the slot game was made to be played on-the-go.
So go ahead, take Gong Xi Fa Cai on your next adventure. Just be sure to keep one hand on the phone and one on the champagne, because with this slot game, you never know when Lady Luck will strike.
Overall Impression
Gong Xi Fa Cai is more than just an online slot game; it's a party! This Chinese New Year-themed game is full of vibrant fireworks, dragons, and lanterns. It's like stepping into a Chinese New Year parade, but with better odds of getting rich. The traditional symbols add an authentic touch that will make you feel like you're celebrating the new year with millions of people in China.
The game has four jackpots that can be won, which, if you're lucky, could bring in riches that even an emperor would envy. With these odds, winning is as likely as seeing a red envelope stuffed full of cash under your pillow (we can dream, can't we?).
The betting range is wide enough for all levels of players. Whether you're a high roller or a penny pincher, you can play this game and have fun. Additionally, the Autoplay feature lets you sit back and relax while the game takes care of everything. It's like having your own little slot machine butler.
Finally, the game is mobile-optimized, so you can play it wherever you go. You can experience the thrill of spinning and winning even while waiting in line at the DMV. Gong Xi Fa Cai is an excellent choice for fans of Asian-themed online slots and anyone who enjoys a good time with the potential of winning big.
FAQ
What is Gong Xi Fa Cai?
Gong Xi Fa Cai is an Asian-themed slot game by IGT with a Chinese New Year theme and symbols of a phoenix, dragon, and a fish.
What are the bonus features of Gong Xi Fa Cai?
The game has multipliers, free spins, and a jackpot of around 8 million Dollars.
What is the theme of Gong Xi Fa Cai?
The game celebrates aspects of Chinese New Year like the Phoenix and other symbols representing the birth of a new year.
What is the maximum jackpot in Gong Xi Fa Cai?
The Maxi Jackpot is around 8 million Dollars, making it one of the biggest jackpots available.
How are the graphics in Gong Xi Fa Cai?
The graphics are beautiful and colorful with well-drawn symbols that represent the theme's Chinese New Year symbols.
How many paylines does Gong Xi Fa Cai have?
There are 50 paylines on the screen making it easier to form multiple wins.
What is the Autoplay feature?
Autoplay is a feature that automatically spins the reels while you do other things. Just set a specific number of spins and let the game handle the rest.
What are some similar IGT slot games to Gong Xi Fa Cai?
Caishens Gold Hologram Wilds is a similar game with a similar reel layout, similar bonus features, and a jackpot bonus game and free spins feature.
What we like
Vibrant graphics and traditional symbols.
Four jackpots with high prize amounts.
Wide betting range and Autoplay feature.
Mobile compatibility for on-the-go play.
What we don't like