Golden City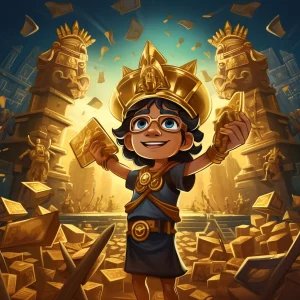 Get ready to gold rush into Golden City, a slot game with a plethora of gameplay features. This game will leave you feeling like a modern-day Indiana Jones going on a search for riches. Brace yourself for stacked wilds, a bonus path game, a prize pyramid, and a free spin bonus round.
The stacked wilds will take you on a wild ride, quite literally. They stack up to your advantage by significantly increasing your chances of hitting a winning combination, allowing you to stack up some serious cash.
But that's not all. The bonus path game adds even more excitement. Who knew rolling dice and moving through a game board could be so thrilling? This game is the perfect combination of skill and luck, so make sure to bring your competitive spirit with you.
And how could we forget the prize pyramid? This feature guarantees that every player will have the chance to hit it big. If you're lucky enough to trigger the cash wheel, you could potentially win the Golden City jackpot of 1000x your winning bet. Talk about hitting the motherload!
So, what are you waiting for? Put on your explorer hat, grab your pickaxe, and head on over to Golden City for the ride of a lifetime. Who knows, you might just strike gold.
Golden City Takes You on a Mesmerizing Mesoamerican Journey
Hold on tight as we delve into the treasure trove of Golden City, a slot game that takes you on a thrilling adventure through the heart of Mesoamerica. The game features stunning graphics that are hard to miss and create an immersive experience that will keep you glued to your screen like a moth to a flame.
The game developers must have dug deep into history books to bring us a game that so accurately captures the cultural artifacts of this golden era. With masks, ceremonial tools, and other treasure troves of gold littered across the reels, you'll feel like an archaeologist on the hunt for hidden treasures every time you spin the reels.
But it's not just the graphics that are impressive. Golden City is packed full of exciting features that keep the excitement going. The cascading reels mechanism is a crowd favorite, with low and high-paying symbols appearing on the reels. With the twenty always-active paylines, there's no telling what treasures you'll uncover!
Golden City is perfect for thrill-seekers and history buffs looking for a fun way to explore ancient cultures. Whether you're in it for the fun or the riches, this game is sure to keep you entertained and coming back for more.
Potential Payout: Hit the Jackpot with Golden City!
Are you ready to win big? Look no further than Golden City! This online slot game offers a potential payout of 1000x your bet. Yes, you read that right. One thousand times your bet! That's enough to make anyone jump with joy. Who needs a day job when you can make a fortune playing Golden City?
The cash wheel feature within the prize pyramid is your ticket to hitting the jackpot. Spin the wheel and watch the coins fly. You could be the lucky player who walks away with the Grand Prize and turns their play money into real cash. It's like hitting the lottery, without having to leave your couch!
When it comes to symbols, the blue and red ceremonial masks are your best friends. Five of these on a payline offer a payout of 500x, which is no small feat either. You might not hit the big jackpot, but these symbols will keep you afloat and extend your playing time. And with a theoretical return for players of 95.98%, there's no reason not to give Golden City a shot.
So what are you waiting for? Take a spin and see where Lady Luck takes you. Just don't forget to thank us when you're counting all those shiny coins!
Get Back More with Golden City's Return to Player Rate
Are you familiar with the term Return to Player (RTP) Rate? If not, you'll want to pay attention because Golden City's RTP rate is an impressive 95.98%! That means for every dollar you put into the game, you'll get back 95.98 cents on average. Compare that to some in-person casinos where they say the odds are 'in your favor' but RTP rate is closer to 75% and you'll never want to leave your comfy couch again.
You might think, 'But, 95.98%? That's just some random number, right?' Wrong, my friend. These days, casinos have to post their RTP rate publicly, so you can trust that Golden City stands by their high percentage.
So, what does a high RTP rate mean for you and your wallet? Basically, you'll have more chances to win and more chances to keep playing. And maybe someday you'll be one of those lucky people who are featured on the 'Recent Wins' list, and your name will live in infamy forever. Or at least until someone else wins more.
Overall, Golden City's RTP rate could be the best thing to happen to your bank account. Just don't forget to play responsibly and maybe set a little bit of that money aside for a rainy day. Or a sunny day, because who wants to save money for a rainy day anyway?
Experience the Excitement of Winning the Jackpot in Golden City
Are you looking for a thrilling and rewarding online slot game? Look no further than Golden City! With the chance to win the massive jackpot of 1000x your winning bet, players will be on the edge of their seats from start to finish.
The key to winning the jackpot in this game is to progress through the prize pyramid feature. It may sound like a daunting task, but once you get the hang of it, you'll have the opportunity to activate the cash wheel where players can get significant multipliers and the top prize of 1000x their bet.
Collecting three gold keys will set the cash wheel in motion, and the anticipation of the outcome is enough to make even the most seasoned slot players sweat. The excitement of feeling like a pharaoh in ancient Egypt while collecting keys and progressing through the prize pyramid is a unique experience that you won't find in any other game.
So, stake your bet, spin the reels and hold onto your seats as you go on a wild adventure through Golden City. Maybe you'll come out with the coveted jackpot, or at the very least, some unforgettable memories and a few laughs. Just don't forget to wear your lucky charm while playing this game, you might just need it!
FAQ
What is Golden City?
Golden City is an online slot game with 20 always-active paylines and multiple bonus features based on the theme of gold, ceremonial masks, and relief carving from Mesoamerica.
What is the theoretical return for players?
The theoretical return for players is 95.98%.
What are the bonus features in Golden City?
Golden City has three bonus features, including a free spin game, a multiplier collecting field, and a game board where players roll the dice and move through the path to win free spins, golden keys, or increase the value of scatter symbols.
What is the most valuable symbol in Golden City?
The most valuable symbols in Golden City are the four ceremonial masks: blue, red, green, and purple.
What is the maximum payout in Golden City?
The maximum payout in Golden City is 1000x your bet.
Where can I find information on bonus features and payline layout?
You can view the game symbols and pay table by pressing the 'i' button, which includes information on bonus features, how to trigger them, payline layout, and game rules.
Are wins paid automatically in Golden City?
Yes, the game is automated, so all wins are tracked and paid automatically.
What is the theme of Golden City?
The theme of Golden City is based on gold, ceremonial masks, and relief carving from Mesoamerica, creating an immersive gaming experience akin to Gonzo's Quest.
What we like
Impressive potential payout of 1000x your bet
Engaging bonus path game and prize pyramid feature
Immersive Mesoamerican theme with impressive graphics
High theoretical return rate of 95.98%
What we don't like