Gates of Olympus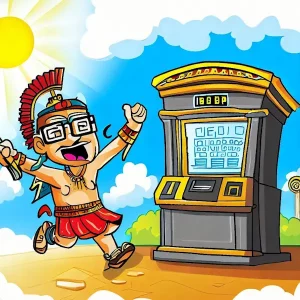 Gates of Olympus, where Zeus rules the game board, is a breath of fresh air in the world of online slot machines. This 6-reel, 5-row slot machine design and gameplay are inspired by Greek mythology, lending it a sense of grandeur and excitement. With every spin, it unleashes a world of possibilities that could see you take home as much as 5,000x your bet.
What sets Gates of Olympus apart is its unique feature, the Cascade system. With Cascade, you can watch the action unfold as every winning combination of symbols disappears, leaving empty slots. Suddenly, the upper symbols slide into the vacant positions, and new symbols drop in from above to keep the game going, potentially giving you many more ways to win.
And if the game's payout isn't enough to get you excited, you can always turn up the heat with the game's gamble feature. If you're feeling lucky and want to take a chance, press the gamble button, and try to guess the color or suit of the next card. But don't get carried away, or you might find yourself in Olympus's bad books!
All in all, Gates of Olympus is a slot game that will keep you hooked long into the night. And if Lady Luck is smiling down on you, who knows? You might just end up as rich as Zeus himself!
The Symbols and Features of Gates of Olympus
Hold up, is that Zeus himself gracing the reels? Yes, in Gates of Olympus, Zeus is the Scatter symbol with the highest payout. But there's more to explore in this entertaining game. Let's delve into the symbols and features that make Gates of Olympus a top choice for slot enthusiasts.
Gates of Olympus boasts ten symbols, and they're a mix of geometric shapes, thematic symbols, and the coveted Scatter symbol. Before you start spinning, know that the geometric shapes are the symbols that are worth the least and that the thematic symbols pay out a bit more. Then there's the Scatter bonus symbol, which pays out in every position and can trigger free spins if you get four of them anywhere on the screen.
One of the game's standout features is the multipliers, which range from 2x to a mind-blowing 500x. If that doesn't make your heart race a bit, we don't know what will. And when the cascade sequence ends, all your winnings will be multiplied by the sum of the multipliers. Talk about a fantastic way to supercharge your wins, eh?
We must say, with Zeus and the other exciting features in Gates of Olympus, this game offers a thrilling adventure. So why not give it a spin and see if you can ascend to the top of Mount Olympus?
Exploring the Greek Mythology with Gates of Olympus Slot Game
The Gates of Olympus Slot Game takes you on a journey through the fascinating world of Greek mythology. As soon as you enter the game, you'll be welcomed by the king of gods himself – Zeus, who will guide you throughout your quest in finding treasures and riches.
The game board is filled with symbols that will remind you of the Greek gods such as Hades, Apollo, Athena, Poseidon, and more. However, it's the vibrant colors and stunning graphics that truly breathe life into this game, ensuring you have an immersive experience that is sure to leave you wanting more.
One of the best things about Gates of Olympus is its epic background music that gives mere mortals like us a feeling of godliness (well, at least for the duration of gameplay). And if you're not feeling the tunes, you can always turn it off through the appropriate button. But why would you want to do that when you can feel like you're soaring through the skies on an epic adventure?
Winning Potential
If you're a high-stakes player looking for a game that offers tremendous winning potential, look no further than Gates of Olympus. With a maximum payout of 5,000x the bet, this game provides ample opportunities to strike it big.
But be warned – the high volatility level means that winning combinations may not come frequently. However, when they do come, they can pay out incredibly high winnings after just a few spins. It's like trying to find a needle in a haystack, except the needle is worth thousands of dollars.
Think of it like a game of roulette – you can place a bet on a single number and win big, or you can play it safe with an even-money bet. With Gates of Olympus, you have the chance to go big or go home. So why not take a chance and see what kind of crazy combinations you can land?
RTP and Volatility Level
Are you wondering about the RTP and volatility level of Gates of Olympus? Worry not, my fellow gambler, for this game offers a solid return to the player ratio of 96.5%. That's enough to put a smile on anyone's face!
And if you're looking for a big payout, the high volatility level of the game provides an excellent chance to land a winning combination that pays out very high winnings after a few extra spins. It's like trying to win the lottery, but with much better odds!
But here's a heads up, my friends: while the game itself may deliver big wins, it may also take a little bit of time to do so. So, it's probably best to be patient when playing the Gates of Olympus. After all, good things come to those who wait!
The best part? The slot is optimized to work perfectly on both PCs and mobile phones without any loss of graphics or gameplay quality. So you can be reckless and spin those reels wherever and whenever you want. You're welcome!
FAQ
What is the RTP of Gates of Olympus slot?
The RTP of this slot game is 96.5%. It is an excellent value for players.
Can I play Gates of Olympus on my phone?
Yes, this game is optimized to work perfectly on both PCs and phones, without any loss of graphics or gameplay quality.
What is the maximum payout of the Gates of Olympus slot?
The maximum payout is 5,000x the bet. The combination of adjacent symbols anywhere on the game board is the key to winning this amount.
What is the volatility level of this game?
Gates of Olympus has a high volatility level. So, you won't win frequently but have more chances to win a big amount.
What is the minimum and maximum bet of this game?
You can bet from a minimum of $0.20 to a maximum of $125 per spin.
What is the feature of the cascade system in Gates of Olympus?
Every time you have a winning combination, the paying symbols disappear, and new symbols land from above to increase the chance of occupying additional paylines. The cascade system helps you to win big rewards.
Can I get free spins in Gates of Olympus?
Yes, you can get 15 free spins by landing 4 Zeus symbols anywhere on the screen. Every time three or more Scatters appear, another 5 or more Free Spins are added.
What is the value of the symbols in the Gates of Olympus slot game?
The symbols that are worth the least are the geometric shapes, and thematic symbols are more lucrative than them. At the top, we have the thematic symbols: the cup, the ring, the hourglass, and the diadem.
What we like
Interesting theme of Greek mythology
Cascade system creates chances for additional paylines
High potential for big winnings
Optimized for PC and mobile gameplay
What we don't like
Winning combinations are not frequent
Music may become repetitive