Fortunes of Sparta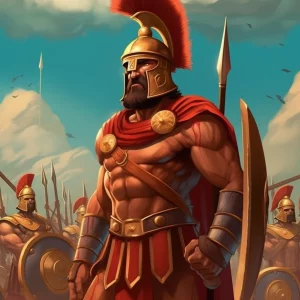 Step into the world of ancient Greece with Fortunes of Sparta online slot game by Blueprint Games. This game captures the essence of the historic battle of Thermopylae and is jam-packed with plenty of rewarding features that will have you feeling like a true Spartan warrior.
The game has an impressive display of 5 reels and 3 rows, with a total of 20 pay lines. The graphics are stunning, and you feel like you are in ancient Greece with the backdrop of the Acropolis. The theme combines the might of the Spartan army and the riches that come with it. As soon as the reels spin, you'll notice that the game's symbols perfectly capture ancient Greek mythos, with swords, temples, helmets, and war paint all taking center stage.
But it's not just about the incredible graphics. The power behind the Fortunes of Sparta slot game lies in the impressive features. The game can take you to the warzone with the Spartan Streak, which triggers a bonus round with a Spartan warrior charging across the reels, locking symbols in place for re-spins. The game also has a free spins feature, where you can earn up to 100 free spins depending on how many bonus symbols you land.
Overall, Fortunes of Sparta is an excellent online slot game that combines rich graphics, a compelling soundtrack, and a fun theme. Blueprint Games has done a great job of crafting an enjoyable game that is both entertaining and rewarding. The only downside is that it's addictive, so be sure to set your limits before spinning those reels!
Gameplay Features
Get ready to march into battle and claim your stake in the Fortunes of Sparta slot game! To emerge victorious and win big, players must place at least 3 identical symbols on the board during spins. The gods are watching, and the Wild symbol can payout up to 4,000 times the value of the wager made – talk about divine intervention! Heck, with that kind of payout, even Zeus himself might give up his coveted seat on Mount Olympus.
The Spartans were known for their legendary stamina in battle, and the Fortunes of Sparta slot game delivers that same level of excitement through the Spartan Streak feature. When the Spartan Streak appears on the reels, the game intensifies with additional Wild symbols that remain fixed in the following spins. It's like having an army of Spartans on your side, except with fewer abs and more cash.
The free spins feature can be activated with a minimum of 3 bonus symbols, and players can earn up to 100 free spins. That's right, 100! It's like being granted a long and prosperous life by the fates themselves. Just be careful not to get too caught up in the excitement – remember that the fortune favor the brave, but it also favors those who know when to walk away.
Graphics And Sound Effects That Will Transport You To Sparta
Are you ready to immerse yourself in the ancient world of Sparta? Then you're in luck because Fortunes of Sparta has the graphics and sound effects to transport you back in time. The quality of the visuals is nothing short of excellent, with symbols such as armor and weapons that evoke the beauty of a timeless plot. It's like being in a classic battle you've only heard about in history books, but this time, you get to experience it for yourself.
But it's not just the visuals that make this game special, it's also the sound effects. Every spin of the reel is accompanied by music that will get your blood pumping, reflecting the risk and challenge of fighting for what we believe in. It's not everyday that you can have an immersive experience like this, so grab your helmet and shield, and get ready to embark on one of the most thrilling slot game experiences in history.
And just a heads up, this game is not for the faint-hearted! The sound effects of swords clashing and shields colliding will have you feeling like you're right there with the Spartan warriors. But don't worry, you won't be harmed in any way, unless you count your ego when your luck runs out. Just have fun and let the game take you on a wild ride!
Winning Potential
When it comes to winning potential, Fortunes of Sparta packs quite a punch. The Spartan with the spear is the luckiest among the base symbols, with the potential to earn up to 20 times the bet. But let's be real here, we're all in it for the Wild symbol. This bad boy can payout up to 4,000 times the value of the wager. That's right, you read that correctly. 4,000 times. Not too shabby for a slot game, eh?
And if you're not satisfied with just those chances to win, Fortunes of Sparta throws in bonus games and features for good measure. The Spartan Streak and free spins are just a couple of the ways players can increase their chances of scoring big. Trust us, it's worth sticking around for.
Return to Player Percentage
Are you looking for a slot game that pays out generously? Look no further than Fortunes of Sparta! This game boasts an impressive fixed RTP of 97.04%, which is above average for most slot games out there. This means that you can expect to win back $97.04 for every $100 you wager on the game in the long run. Not bad, eh?
With such a high RTP, your chances of winning are pretty darn good. You could say that playing Fortunes of Sparta is like going into battle with an army of big win potential on your side! Plus, if you're lucky, you could walk away from the game with some serious riches – and who doesn't love a bit of bling, am I right?
This game is a great choice for anyone who wants to maximize their chances of winning big. With a fixed RTP of 97.04%, you can be confident that your wagers will pay off in the long run. So, what are you waiting for? Grab your sword, put on your armor, and get ready to fight for your fortunes in Sparta!
FAQ
What is Fortunes of Sparta?
Fortunes of Sparta is an online slot game created by Blueprint Games, with a historical theme of the Spartan warriors.
What is the game grid?
The game grid is a classic 5 reels and 3 rows structure, with 20 pay lines that the gamer must use to place their bets.
What are the symbols used in the game?
The symbols used in the game include armor and weapon symbols, as well as a wild symbol that can provide up to 4,000 times the value of the wager made.
What is the Spartan Streak feature?
The Spartan Streak feature appears during gameplay, and it expands to bring in additional wild symbols that remain fixed during the spins that follow.
How do I activate the free spins mode?
The free spins mode can be activated by getting at least 3 bonus symbols during play, with a maximum value of 100 free spins.
What is the RTP of Fortunes of Sparta?
The RTP of Fortunes of Sparta is fixed at 97.04%, which means the game has good payout potential.
Is Fortunes of Sparta an innovative game?
Fortunes of Sparta is not innovative in terms of themes and techniques, but it offers interesting gameplay modes.
What is the main takeaway from the game?
Overall, Fortunes of Sparta offers good bonus features and animations, with excellent sound effects, and a high RTP, making it an exciting game to try out.
What we like
Excellent quality graphics
High winning potential with Wild symbol and bonus features
Free spins feature can be activated with minimum 3 bonus symbols
High Return to Player percentage
What we don't like
Low payouts for base symbols
Limited variety in bonus features