Flaming Fox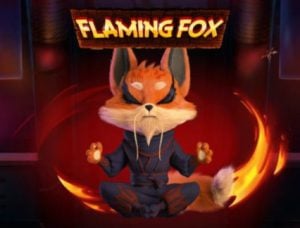 Flaming Fox is a slot game with a Chinese temple theme that will take you on a wild ride. If you're looking for a game that will have you feeling like you're in the middle of a Chinese temple, then this is the one for you. The graphics are so detailed that you'll find yourself looking at the screen in awe, just like the ninja fox hidden in the background
If you're like us, you'll appreciate the immersive atmosphere provided in Flaming Fox. The beautiful and serene Oriental music that accompanies the rotating reels will transport you straight to another world. You can imagine the temples and gardens as you spin and win big. However, you may need to watch out for the ninja fox – he's sneaky and you never know when he'll appear to surprise you!
This game truly stands out when it comes to attention to detail – everything is accounted for and perfectly executed. The game board, which is located in the heart of the temple, boasts intricate and beautiful graphics that will leave you breathless. And, admiring it all is the fiery Flaming Fox that will guide you through the game. He is not only entertaining, but he also brings the heat with his fire breathing feature. So, get ready to see not only stunning surroundings but amazing bonus features too! The game is a true visual masterpiece that will keep you mesmerized for hours on end.
Bet Limits And Paylines
Are you a penny pincher or a high roller? Either way, Flaming Fox has got you covered! With a minimum bet per line of only $0.02 and a maximum total bet of $20, you can adjust your wager to match your budget.
Flaming Fox features 10 fixed paylines, which means you don't have to worry about choosing how many paylines to activate. It's like the game is reading your mind and doing the work for you.
And did we mention that winning combinations can occur from left to right AND right to left? Yep, you heard that right. This feature is almost as rare as a unicorn sighting, but Flaming Fox delivers on this unique twist.
So whether you're a frugal fox or a fancy feline, Flaming Fox has something for everyone. Just don't forget to cash out before you're broke like a dead joke.
Symbols and Wilds
Get ready to meet the symbols of the Flaming Fox slot game! From playing cards to fox paw-shaped boots and a mask, there's a lot to take in. But where's the fox? Don't worry, you'll find him in the game too. But he's not just any ol' fox. This ninja fox will randomly appear and trigger some serious special features.
Speaking of symbols, did we mention the silver-plated bands? They're so shiny, you might need to wear sunglasses while you play. And then there's the fiery parchments. We heard they're so hot, they'll make your screen sizzle. But the coolest symbol of them all is definitely the ninja sword. It's the highest paying symbol in the game, so make sure to keep an eye out for it.
The Wild symbol is a real jolly fellow. In front of two crossed fox tails, he replaces all regular symbols. An all-around helpful guy, don't you think? When the ninja fox shows up, he can trigger special features, like revealing a second set of reels with Wilds and high-value symbols. That's twice the fun. He can also turn symbols into fixed Wilds or award Free Spins. What a generous ninja fox he is!
Flaming Fox: The Hottest Slot Game of the Season
Are you ready to experience the heat of the Flaming Fox? This casino slot game is guaranteed to set your winnings ablaze with its gripping gameplay and fiery features.
Flaming Fox is not for the faint of heart, as this game boasts high volatility. But don't fret, players-when you do win, you can expect big payouts. With an RTP of 96.11%, Flaming Fox offers a better return than many of its online slot competitors.
Now let's get to the burning question on everyone's mind-does Flaming Fox deliver? After playing it, it's clear that this game is well worth a try. While the high volatility and RTP may intimidate some, it's a true thrill ride for those seeking a heart-pumping slot experience. In fact, you might even find yourself feeling the heat from your computer screen!
FAQ
What is Flaming Fox?
Flaming Fox is a Chinese temple themed online slot game created by Red Tiger.
How many paylines does Flaming Fox have?
Flaming Fox has 10 fixed paylines.
What is the minimum and maximum bet amount for Flaming Fox?
The minimum bet per line for Flaming Fox is $0.02 and the maximum total bet is $20.
Can winning combinations occur from right to left in Flaming Fox?
Yes, winning combinations can occur from right to left as well as from left to right in Flaming Fox.
What is the RTP of Flaming Fox?
The RTP of Flaming Fox is 96.11%.
What are the highest paying symbols in Flaming Fox?
The highest paying symbols in Flaming Fox are the fiery parchment and the ninja swords surrounded by flames.
What is the Wild symbol in Flaming Fox?
The Wild symbol in Flaming Fox is the word 'Jolly' in front of two crossed fox tails, which can replace all regular symbols.
What are the Bonus features in Flaming Fox?
The Bonus features in Flaming Fox include the flaming fox performing fiery combat techniques that reveal a second set of reels with Wilds and high-value symbols, the fox hitting symbols and turning them into fixed Wilds, and getting Free Spins with additional extra spins.
What we like
Impeccable attention to detail with stunning graphics
Authentic oriental music creates an immersive atmosphere
Innovative Bonus system with random special features
Possibility to win extra Free Spins during the Bonus feature
What we don't like
High volatility may not appeal to players seeking frequent wins
Limited maximum bet of $20 may not satisfy high rollers