Fish Eye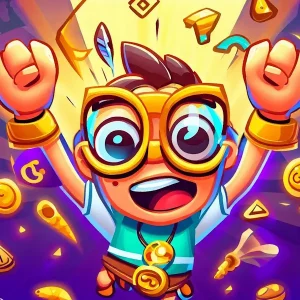 Are you tired of the same old Egypt-themed slot games? Bored with pyramids and hieroglyphics? Then let me introduce you to Fish Eye, the Pragmatic Play slot game that will take you to the bottom of the Nile!
That's right, forget pharaohs and mummies, Fish Eye invites you to explore the ancient world in a unique way. This game sets itself apart from the rest by placing the game grid right at water level, with beautiful floating vases on the surface that add to the immersion. The graphics are top-notch, and every symbol is impeccably detailed.
You'll be delighted to know that Fish Eye doesn't take its name lightly! The game features an eccentric cast of underwater creatures such as crocodiles, hippos, and colorful fish, adding a fun twist to the game. And, of course, no Egypt-themed slot game is complete without scarab beetles and ankh symbols, which are also present in Fish Eye.
But it's not just the visuals that rank high with Fish Eye. The game has a generous RTP of 96.5%, and players have a chance to win up to 5,000x their bet. So, what are you waiting for? Dive into the thrilling world of Fish Eye and see what treasures you can uncover!
Special Symbols and Multipliers
Get ready to take a plunge into the underwater world of Fish Eye, the fantastic new slot game that is making a big splash in the casino world! As you swim around, you will find nine base symbols and two special symbols. The lower-value symbols are represented by the classic royals, ranging from the 10 all the way up to the mighty Ace. But don't worry – there are plenty of more profitable symbols to look out for too. Keep your eyes peeled for the eye, cat, bird, and beetle. Trust us, they could be your ticket to big wins!
But what about those special symbols we mentioned? Well, first up, there's the golden fish. This charming fishy friend is waiting to boost your chances of winning big! Depending on the number of these symbols you find on a single spin, you could walk away with a whole heap of multipliers. Get 4 fish on your reels and you'll nab a 1x multiplier. But why stop there? If you find 7 lucky fish, you'll get a sweet 10x multiplier to help you boost your winnings even further. But if you manage to catch a school of 15 fish in a single spin, you'll be rewarded with a massive 2,000x multiplier. Now that's what we call a catch!
And let's not forget about the other special symbol – the Eye of Ra. This beautiful symbol, complete with a pyramid background, is the scatter symbol that you need to look out for. Why? Because this symbol could be the key to unlocking 10-20 free spins! The more frequently you manage to land it on the reels, the more free spins you'll receive. Remember, these free spins are your chance to play even more Fish Eye without having to spend any of your own cash. So make sure you keep your eyes peeled for the Eye of Ra, and watch those free spins roll on in.
Egyptian Theme at the Bottom of the Nile
Fish Eye offers an innovative take on the Egyptian theme by developing the game at the bottom of the Nile. And let's face it, nothing says excitement like the thought of diving headfirst into one of the world's largest river systems and coming face-to-face with ancient Egyptian relics. It's a good thing this game is a lot less dangerous than actually doing that.
The graphics in Fish Eye are nothing short of stunning. From the shimmering golden hieroglyphs to the hauntingly beautiful underwater tones, this game presents an immersive and visually stunning experience that transports you back to ancient times.
As you play, you'll notice that the symbols are adorned with numerous details that make the game a little gem. It's like discovering hidden treasures just waiting to be claimed. The game grid is located below the water level, with a few vases floating on the surface. It's as if you're sitting at the bottom of the Nile, witnessing the mysteries of ancient Egypt firsthand. And who knows, one might even spot Cleopatra swimming by!
Go Big or Go Fish
Are you tired of slot games where you only win peanuts? Look no further than Fish Eye! With high volatility, this game is not for the faint of heart. But for those willing to take the risk, the rewards are worth it. With a maximum win of 10,000x the bet, you could be swimming in gold.
Don't get discouraged by the lack of wins, as they say, good things come to those who wait. And when they do come, they come big. Just like the fish in the game that can grow to enormous sizes. But instead of catching them, you can catch wins on this game. So put on your fishing gear, cast your line, and get ready for the big one.
Bonus Play with Golden Statue and Cleopatra Symbols
Are you ready to collect some fish symbols and remove all low-value symbols in Fish Eye? During Bonus play, you'll encounter two unique symbols: the pharaoh's golden statue and the enchanting Cleopatra. Let's dive into how they affect your gameplay!
The golden statue, known as the Collection symbol, will help make your collection process easier by capturing fish symbols. Acquiring four of them gives you 10 extra Free Spins! Just like a fisherman with his net, the more fish you collect, the more likely you are to reap the rewards.
Cleopatra, the Removal symbol, knows how to remove the low-value symbols from your current game and overall bonus game. Pairing two Removal symbols will earn you an additional three free spins. With Cleopatra on your side, you can truly rule the slots with her hypnotic gaze and cunning sense of strategy.
It's not every day that you get to collect fish symbols with a golden pharaoh statue and remove low-value symbols with Cleopatra in a slot game. Embrace the uniqueness of Fish Eye and enjoy the bonus play for yourself. Who knows what other treasures may lie beneath the depths of the slot reels?
FAQ
What is the theoretical return to player percentage in Fish Eye?
The theoretical return to player percentage (Return to Player or RTP) in Fish Eye is 96.07%.
What is the maximum win amount in Fish Eye?
In Fish Eye, the maximum amount that can be won in a single game is 2,000x the bet.
How many paylines does Fish Eye have?
Fish Eye has non-modifiable paylines.
What is the cost per spin in Fish Eye?
Each spin in Fish Eye costs $0.10 ($0.01 per payline).
What is the volatility level in Fish Eye?
The volatility level in Fish Eye is high, meaning you win less often on average, but when it happens, the figures are always very substantial.
How many Free Spins can I get from the Scatter symbol in Fish Eye?
With the Scatter symbol in Fish Eye, you can get from 10 to 20 Free Spins depending on the number of symbols that appear.
What is the function of the golden statue of the pharaoh in Fish Eye?
The golden statue of the pharaoh in Fish Eye is the Collection symbol, which is used to collect the fish symbols. If 4 appear, they give an additional 10 Free Spins.
What is the function of Cleopatra in Fish Eye?
Cleopatra in Fish Eye is the Removal symbol, which removes low-value symbols from the current game and overall bonus game. With two Removal symbols, three additional free spins are obtained.
What we like
Impressive graphics and detailed symbols
Innovative Egyptian-themed game set at the bottom of the Nile
High volatility for big wins
Bonus play with golden statue and Cleopatra symbols
What we don't like
Less frequent wins due to high volatility
Not suitable for players who prefer low-volatility games