Esqueleto Mariachi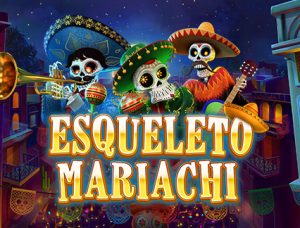 Are you ready to meet the dead mariachi band and groove with their bones? The game opens with a thrilling mariachi sound and colorful illustrations of the deceased. Esqueleto Mariachi features five reels, four rows, and 40 fixed paylines that pay for at least three identical symbols on adjacent reels from left to right.
The game is the perfect mix of music, culture and gambling. The game includes features such as the Guitarrista Spins, where the band's lead guitar player will start spinning and turn the reels wild. In addition, the Trompetista Spins can turn random symbols into wilds on each free spin, and the Maraquero Spins can match the symbols to create more significant winning combinations!
Esqueleto Mariachi is one of those games that hooks you with its music and keeps you hanging with suspense. With bets as low as $0.20 to a high of $500, this game caters to both penny players and high rollers. Don't let the colorful and fun aspect of this game fool you. The theoretical return to player (RTP) is 96.1%, which is comparable to most slot games, making this a game worth playing repeatedly!
If you're looking for a good time and a chance to win some cash, then this game is the one for you. Esqueleto Mariachi is a great addition to the world of online gaming, promising an exciting experience, all while giving us a reason to celebrate death with joy, music, and dance.
Esqueleto Mariachi Graphics and Sound
The graphic department of Esqueleto Mariachi certainly does not disappoint. In fact, it blew me away like a gust of wind on Dia de los Muertos! The designers have gone all out with the bright colors, crystal-clear imagery, and captivating scenes that truly transport you to a festive Mexican carnival. And let's talk about the sound – it's the perfect accompaniment to the theme, with upbeat and catchy tunes that make you want to get up and start dancing. I have to admit, I couldn't stop tapping my feet while playing this game!
But what really makes this slot stand out is the three Mariachi skeletons that front the game. They're the life of the party and add an extra layer of excitement to the playing experience. With their witty and amusing comments, they're like the crazy uncles at a family gathering that always keep you entertained.
Discover the Exciting Esqueleto Mariachi Special Features
If you're looking for a slot game with unique and thrilling special features, Esqueleto Mariachi is the game for you! Not only does it have a Wild symbol, but it's also a girl dressed as Santa Muerte; this symbol can replace other symbols to create winning combinations. This game also boasts other special symbols, jokers, and bonuses that add to the excitement.
One of the most exciting parts of Esqueleto Mariachi is the three Mariachi protagonists that can randomly land on the reels. These characters each have a unique functionality. They can trigger free spins or provide instant cash bonuses, so you never know what you're going to get. And let's be honest, surprises are always more fun when they pay out!
The Free Spins feature in Esqueleto Mariachi is activated when three scatters appear on the reels. Players can earn up to 25 free spins, which can be a great way to win big without risking any of your own money. But that's not all. During these free spins, the three Mariachi characters are more likely to appear and activate their special features, making the potential for big wins even greater.
In summary, Esqueleto Mariachi has everything you could want in a slot game: exciting special features, surprising bonuses, and the potential for big payouts. Plus, who doesn't love slot game protagonist skeletons in bright mariachi attire? It's a fun and enjoyable game that is sure to keep you entertained for hours on end.
Esqueleto Mariachi Payouts
Are you ready to dance with the Mariachi skeletons in Esqueleto Mariachi? The game offers a maximum payout of 1,000 times the value of the bet or $500,000, which is enough to make anyone want to bust a move. Just make sure you don't step on any toes on your way to the bank!
With a theoretical return to player (RTP) of 96.1%, Esqueleto Mariachi is right in line with most slot games. But who cares about the numbers when you have a trio of elegant skeletons serenading you while you spin the reels? We know we're supposed to be professional, but even we can't resist busting a move to the Mariachi beats.
So, if you're looking for a fun and lively slot game, Esqueleto Mariachi is definitely worth checking out. It may not pay out the highest jackpot, but the entertaining gameplay and musical flair make this game a true gem in the sea of online slot options. Plus, let's be honest, who doesn't love a good Mariachi band?
Esqueleto Mariachi Theme
If you're looking for a fun and engaging online slot game, Esqueleto Mariachi is definitely worth checking out. This game is designed around the theme of Dia de Los Muertos or the Day of the Dead, which is rich with tradition and symbolism in Mexican culture. The designers who created this game really went all out with vivid colors and characteristic images that make it a feast for the eyes while you're playing.
One of the standout features of this game is the trio of Mariachi skeleton musicians who entertain you while you're spinning the reels. These three jolly skeletons add a touch of humor and lightheartedness to an otherwise spooky theme. Watching them jam out and play their instruments will bring a smile to your face, guaranteed.
The symbols used in Esqueleto Mariachi also add to the overall feel of the game. You'll see skulls adorned with flowers, cacti wearing cowboy hats, and bottles of rum. It's a unique and creative way to incorporate Mexican culture into a slot game. Even the standard card symbols have been given a makeover to fit in with the theme.
As far as graphics and theme go, Red Tiger Gaming, the creators of Esqueleto Mariachi, absolutely nailed it. They truly understand the importance of creating a game that's immersive and engaging. It's no wonder that this game has become a favorite among online gamblers.
So if you want to experience the excitement of Dia de Los Muertos in a fun and playful way, Esqueleto Mariachi is the game for you. Give it a spin and get ready to dance along with the Mariachi skeletons!
FAQ
What is Esqueleto Mariachi?
Esqueleto Mariachi is an online slot game developed by Red Tiger Gaming with a Mexican Dia de Los Muertos theme.
Can I play Esqueleto Mariachi for real money?
The game may not be currently available for real money players in every country. Check your local gaming regulations and online casinos.
What types of symbols are in Esqueleto Mariachi?
Esqueleto Mariachi features card symbols, skulls, rum bottles, and cacti with hats, among other thematic symbols.
What is the highest payout in Esqueleto Mariachi?
Esqueleto Mariachi has a maximum payout of 1,000 times the value of the bet or $500,000.
What is the minimum and maximum bet for Esqueleto Mariachi?
The range of bets on Esqueleto Mariachi is from $0.20 to $500.
What is the return to player (RTP) for Esqueleto Mariachi?
Esqueleto Mariachi has a theoretical RTP of 96.1%, which is on par with most slot games.
Does Esqueleto Mariachi have any special features?
Esqueleto Mariachi has the Wild symbol, Free Spins feature, and unique functionalities and free spins that are activated by the Mariachi characters.
Who is Esqueleto Mariachi suitable for?
Esqueleto Mariachi is perfect for novice to experienced gamblers alike due to its simplistic gameplay and special features.
What we like
Captivating graphics and well-realized scenes
Engaging theme with vibrant colors and characteristic images
Exciting special features and bonuses
High maximum payout potential
What we don't like