Egyptian Riches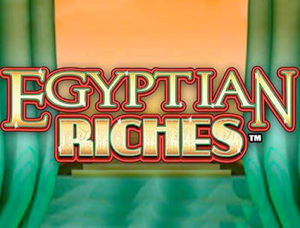 Step right up, folks and get a load of the symbols on this slot game! You won't find any boring old bars or sevens here, no sirree. In Egyptian Riches, everything is themed around ancient Egypt, and we mean everything. Want to see some multicolored scarabs? How about cats? How about Anubis himself, the jackal-headed god of the afterlife? We've got 'em all and more, spinning right there on the game grid. And don't forget the canopic jars! Finally, a game where you can actually say 'I hit the jackpot with a mummified liver container.'
With all the authentic details on display, you'd be forgiven for thinking you're actually in Egypt. Just don't be fooled by the slot game's name – you won't be retiring on the riches of Cleopatra. But hey, that's what makes it all the more exciting, right? The next spin could always be the one that changes your life forever. Or, you know, just gets you a few extra dollars to waste on snacks.
Bonus Features
Are you ready for an adventure of a lifetime? Then come on over to Egyptian Riches, where the action never stops, and the bonus features keep on giving! This game offers not one, but two bonus features, making gameplay even more exciting and rewarding for players.
First up, we have the pharaoh's wife, who acts as the Scatter symbol in this game. Find at least three Scatter symbols in a single round, and you'll be on your way to the exciting bonus mode. Just be sure to keep an eye out for her; after all, nobody likes to be kept waiting by the queen!
The title of this slot game serves as the Wild symbol, replacing all the other normal symbols to help create winning combinations. It's almost like having your own personal genie; just rub this lamp, and watch the magic happen!
If you're looking for a game that packs a punch, then Egyptian Riches is the perfect choice for you. With two bonus features, your chances of hitting the jackpot are higher than ever. So what are you waiting for? Grab your adventurer's hat, and let's go!
Paylines
Oh boy, 20 paylines! That's more than enough to satisfy any gambler's thirst for riches. And the Egyptian Riches slot game delivers on that thirst…mostly. But seriously, who can resist the allure of ancient Egypt?
The game itself features five reels with three symbols on each one, for a total of 15 symbols. That may seem like a paltry number compared to some other slot games, but remember, it's quality over quantity that counts. And with winning combinations based on symbol matches, the odds are always in your favor (well, kind of).
Graphics
Let's start with the graphics. I gotta say, Egyptian Riches is on point when it comes to capturing the essence of ancient Egypt. It's almost like you're travelling back in time to the land of pharaohs and mystical hieroglyphics. The color scheme is spot on, featuring shades of yellow and light blue which are almost synonymous with paintings that depict this region.
But enough about colors, let's talk about the background of the slot. You've got columns and drapes overlooking the vast and unforgiving Egyptian desert. It's like you're getting a private tour of the country's most iconic landmarks without ever leaving your couch. They're designed with such detail and intricacy that you'll almost forget you're actually playing a game of chance and not studying for an exam on ancient Egyptian history.
Overall, I gotta say that the graphics in Egyptian Riches are definitely worth the hype. They manage to capture a sense of wonder and amazement that's all too often lacking in modern slot games. You won't regret spinning these reels and getting lost in the wonders of ancient Egypt!
Similar Titles
Egyptian Riches may take you on an epic adventure through the land of the Pharaohs, but it's not the only slot game that plunges you into the World of the Ancients. In fact, there are plenty of other slot games out there that will transport you to that magical time in history.
Pragmatic Play's Ancient Egypt may have a somewhat less imaginative title, but don't let that stop you from giving it a spin! It boasts some similar features, such as Free Spins and Bonus Rounds that'll help you climb up the leaderboard.
Then there's Novomatic's Book of Ra – come on, what's not to love about a game that literally features a book full of riches? It's another one set in Ancient Egypt, so you'll once again be surrounded by all the symbols and artifacts that we know and love.
But Egyptian Riches certainly holds its own against these games. And let's be honest, if you're a fan of this theme, then you can never have too many Egyptian slots in your life. So why not try them all?
FAQ
What is the theme of Egyptian Riches?
The theme of Egyptian Riches is Ancient Egypt, with symbols and designs that relate to this historical period.
How many reels does Egyptian Riches have?
Egyptian Riches has five reels that show three symbols on each spin. Fifteen images per turn.
How many paylines does this game offer?
There are 20 paylines in Egyptian Riches.
Does Egyptian Riches have bonus features?
Yes, it has two different bonus features: a Scatter symbol that allows access to the bonus function, and the title of the slot itself which acts as a Wild multiplier.
Is there background music in Egyptian Riches?
Yes, there is background music and jingles related to winnings. However, they are only active during gameplay to avoid tiring the player during breaks.
What are some similar games to Egyptian Riches?
Some other popular slots with an Ancient Egyptian theme are Pragmatic Play's Ancient Egypt and Novomatic's Book of Ra.
Can I play Egyptian Riches on my mobile device?
Yes, you can play Egyptian Riches on your mobile device as it is mobile-friendly.
Is Egyptian Riches a high or low volatility game?
Egyptian Riches is a medium volatility game, which means that wins are moderate in size and happen somewhat frequently.
What we like
Thematic symbols
Bonus features
Paylines
Graphics
What we don't like
Limited bonus features
Lack of originality