Dungeon Quest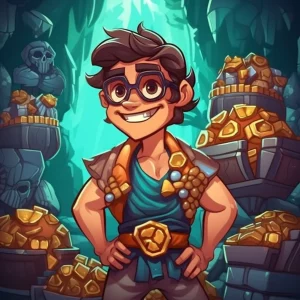 If you're a fan of slot games that offer exciting gameplay and innovative features, you won't want to miss Dungeon Quest. This 5-reel, 7-line slot game offers a unique layout and 29 pay lines that pay both ways, giving you plenty of opportunities to win big. But the real fun starts when you delve into the depths of the dwarf mines and start collecting the treasures that await.
But don't worry, you don't need to be a seasoned adventurer to play this game. Dungeon Quest is easy to pick up and play, and you can set the auto-spin function and modify your bet from 0.20$ to 100$ per spin to suit your preferred playing style. The game is optimized for mobile devices, so you can play whenever and wherever it suits you best.
One of the best things about Dungeon Quest is its bonus features, which can turn raw minerals into power gems and provide even more opportunities for lucrative wins. The randomly activated Power Stone feature is particularly exciting, as it can transform a 2×2 area into wild symbols and turn corresponding mineral symbols into wilds. This can lead to some truly epic wins!
Overall, Dungeon Quest is a fantastic slot game that offers plenty of excitement and the chance to score some seriously impressive payouts. So why not don your adventurer's hat, grab your pickaxe, and head down to the mines to see what treasures await?
Immersive Visuals and Sound Design in Dungeon Quest Slot Game
Get ready to embark on a thrilling journey in the world of Dungeon Quest! The design of this online slot game is not only visually appealing, but it also complements the overall gaming experience. The gemstone symbols incorporated in the game are playful and bring back memories of the classic game, Bejeweled. The simplicity of the graphics is refreshing and offers a polished feel to the game.
The sound design of Dungeon Quest is on-point with the visual elements. The adventurous music somehow manages to fill the player with excitement while the reels spin. The soundtrack makes the gameplay all the more enjoyable, taking you through an immersive journey.
The graphics and sound design effectively convey the theme of the game, without overdoing the 3D animation. The slot game remains crisp and clean, which makes the visuals and sound design a joy to experience.
Overall, the simplistic yet captivating visuals and sound design enhance the experience of playing Dungeon Quest. With this slot game, players can immerse themselves in a world of adventure and treasures, all while enjoying the aesthetics and sounds of a well-designed game.
Discovering the Themes and Inspirations of Dungeon Quest
If you're a fan of Dungeons and Dragons then you'll love Dungeon Quest. This casino slot game takes you on an exciting journey through abandoned dwarf mines where you can discover treasures beyond your wildest dreams. And let's be honest, who wouldn't want to be a part of that adventure?
As you navigate through the mines, you'll get the chance to play as one of four courageous characters including a wizard, a warrior, a viking, and an elf. Each has their unique abilities and attributes, and it's up to you to use them to your advantage to gain the biggest payout possible. And who said playing casino games couldn't be as thrilling as playing a game of dice rolling and character building?
The cartoonish design of Dungeon Quest is a refreshing change from the usual dark and ominous graphics that other slot games utilize. With gemstone symbols and the catchy adventure-style music, it's easy to feel like you're part of the game. The combination of the exciting visuals and sound effects creates a truly immersive experience that's perfect for anyone who's looking for something different from the usual online casino games.
All in all, there's a lot to love about Dungeon Quest. With exciting gameplay, fantastic graphics, and an engaging musical score, you can spend hours lost in the game, chasing the treasures that lurk within the abandoned mines. You don't need to be a hardcore Dungeons and Dragons player to enjoy this game, but it definitely helps if you're a fan of the genre. So why not give Dungeon Quest a spin today? Who knows, you might just strike it lucky and walk away with a hoard of wealth that would make even the dragons jealous!
Comparison and Contrast with Other Slot Games
Dungeon Quest may not be the most unique or groundbreaking game out there, but it's certainly worth checking out. With a solid RTP of 96.27%, players can feel confident that they're getting a fair shot at winning big. But if you're looking for something a little different, you might want to check out some other games.
For example, if you're in the mood for some jungle-themed fun, you might want to try out Temple Of Treasures Megaway. With its whopping 117,649 possible ways to win and Aztec-inspired design, this game is sure to give you an adventure you won't forget. And with the potential for some truly massive payouts, you'll have plenty of reasons to stick around and explore.
But hey, if you're feeling nostalgic for the good old days of classic slots, there are plenty of options out there for you too. Whether you're into fruity themes, lucky sevens, or something a little more off the beaten path, you're sure to find a game that suits your tastes. Just remember, no matter which game you choose, always play responsibly and have fun!
Maximize Your Wins with These Proven Strategies for Dungeon Quest
If you're looking for a thrilling online slot game, Dungeon Quest has got you covered. But let's face it – at the end of the day, it's all about the wins. In order to help you maximize your chances of bringing home the big bucks, we've put together some proven strategies and tips that are sure to up your game.
First off, we highly recommend taking advantage of the auto-spin feature. This function allows you to sit back and relax while the game does the spinning for you. Plus, it can help speed up your play and give you more chances to hit that elusive winning combo.
Another important factor to consider is your bet amount. While it's tempting to go all in for the big payout, it's important to find a balance between risk and reward. We recommend starting with a smaller bet and gradually increasing it if you're having a lucky streak. Of course, you can always adjust your bet amount to suit your personal preferences and budget.
One of the most exciting features of Dungeon Quest is the bonus rounds. Keep an eye out for the Power Stone feature, which can trigger up to 10 free spins and a potential multiplier of up to 30x your original bet. Talk about a jackpot!
However, the most important strategy to keep in mind is to play responsibly and have fun. As with any form of gambling, it's important to set a budget and stick to it. Don't chase your losses and remember – it's all about the experience and adventure of the game.
So what are you waiting for? Try out these proven strategies and see if you can conquer Dungeon Quest and bring home the big wins!
FAQ
What is the layout of Dungeon Quest?
Dungeon Quest has a unique layout of 5 reels and 7 lines, with 29 pay lines that pay both ways.
What is the minimum and maximum bet size in Dungeon Quest?
You can bet anywhere from 0.20$ to 100 $ per spin, making it perfect for both penny players and high rollers alike.
What is the RTP of the game?
Dungeon Quest offers a reasonably standard RTP (Return to Player) of 96.27%.
What are the bonus features in Dungeon Quest?
Look out for the randomly activated Power Stone feature, which can turn corresponding mineral symbols into wilds, providing plenty of opportunities for a minefield of wins!
What is the theme of Dungeon Quest?
Dungeon Quest is inspired by the popular Dungeons and Dragons theme, with four courageous characters embarking on a journey to discover the treasures hidden within abandoned dwarf mines.
What type of graphics does Dungeon Quest use?
The graphics in this game are simple yet enchanting, with cartoonish gemstone symbols and a pleasing graphic design that you can watch spin for hours.
How do I spin the reels in Dungeon Quest?
To spin the reels, just click the big button on the right that contains an arrow (or the smaller autoplay button in the lower right corner).
Is there a similar game to Dungeon Quest?
If you enjoy Dungeon Quest, you will love Temple Of Treasures Megaway, which offers 6 reels and 117,649 possible ways to win, and enormous prizes to those brave enough to seek them.
What we like
Unique layout and plenty of opportunities to discover treasures
Simple gameplay with auto-spin function for convenience
Bonus features that can lead to lucrative wins
Pleasing visuals and sound design
What we don't like
Standard RTP compared to other slot games
Lack of flashy 3D effects for those seeking a more immersive experience